On Sunday I woke up from an early afternoon nap with a seasonal itch to bake cookies.
Now, at any given moment I carry around in my brain a list of recently acquired, exciting ingredients I want to use, and in my half-slumber I started to review them. Jumping to the forefront were the broken walnuts I'd gotten for a good price at the organic store — if you're going to chop them, why buy whole kernels? — and a handsome bag of grated chocolate from Alain Ducasse's bean-to-bar manufacture*, which I'd been sneaking a spoonful of here and there while trying to think of a more respectable use for it.
Chocolate walnut cookies; that's what I was going to make.
I wanted a simple, one-bowl cookie base that would get me from start to finish in under an hour, and I wanted something reasonably nutritious so I could share with my toddler without triggering a surprise inspection from the bad parent police. The recipe for these walnut and date cookies, which I've been making regularly for the past three years, fit the bill perfectly.
Once the cookies had cooled on the window sill, we all agreed they were well worth the wait.
Rice flour and rolled millet, equal parts finely chopped walnuts and grated chocolate, a little cinnamon and a sprinkle of sea salt on top — these were easily made, swiftly shaped into small pucks, and soon inserted into the oven. The only difficulty then was to find activities tempting enough to distract said child from the oven, at which he would otherwise be pointing while repeating, with increasing urgency, "Gâteau ! Gâteau !"
And once the cookies had cooled on the window sill, we all agreed they were well worth the wait: crisp-edged but tender in the middle, rich with the perfect flavor combo of walnut and chocolate, they were the ideal snack for the Christmas tree decorating session we held later that day, with glasses of mulled apple cider for the grownups.
Join the conversation!
What would you have done with the broken walnuts and grated chocolate? (I have some of both left.) And are there snacks you particularly like to keep around this time of year?
[sc:cinnamon_note]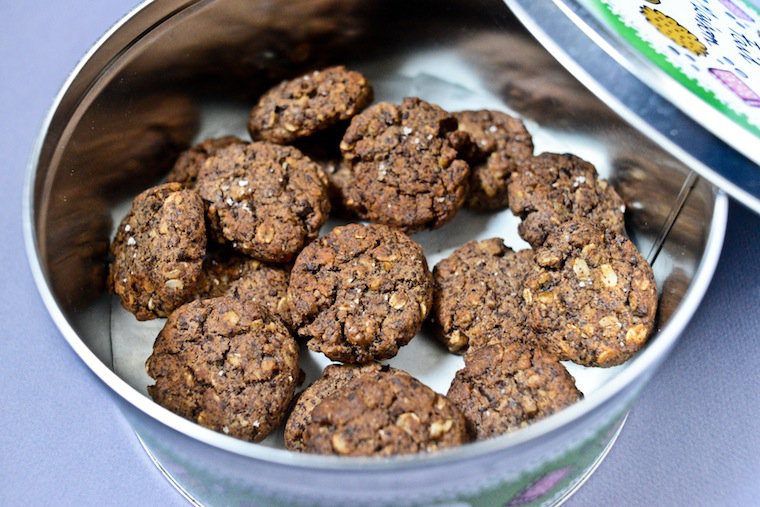 *Disclosure: I received the bag of grated chocolate from Alain Ducasse's PR department, with no obligation to write about it. All opinions expressed are my own.

Have you tried this? Share your pics on Instagram!
Please tag your pictures with #cnzrecipes. I'll share my favorites!
Chocolate Walnut Cookies Recipe
Ingredients
140 grams (5 ounces, about 1 cup plus 1 tablespoon) brown rice flour (substitute wheat flour if preferred)
80 grams (3/4 cup) rolled millet (substitute other rolled grains, such as quinoa, spelt, or oats)
80 grams (1/4 cup plus 2 tablespoons) unrefined light cane sugar
75 grams (2 2/3 ounces, about 3/4 cup) walnut halves, finely chopped (chop them super finely if you're sharing with a young child)
75 grams (2 2/3 ounces) dark chocolate, finely grated
1/2 teaspoon baking soda
1/2 teaspoon ground cinnamon [sc:cinnamon_link]
1 large egg (substitute 2 tablespoons ground flax seed soaked in 2 tablespoons water to veganize)
60 ml (1/4 cup) olive oil
80 ml (1/3 cup) plain yogurt (substitute silken tofu or non-dairy milk to veganize)
salt flakes
Instructions
Preheat the oven to 180°C (360°F) and line a baking sheet with a silicone baking mat or parchment paper.
In a medium mixing bowl, combine the flour, rolled millet, sugar, walnuts, chocolate, baking soda, and cinnamon.
Add the egg, oil, and yogurt, and stir them in until the dough comes together. It should be moist enough that you can shape cookies with it, but not so moist as to be gooey. Add a little yogurt or flour as needed to adjust the consistency.
Scoop out pieces of dough, about the size of a walnut, and shape into balls. Arrange on the prepared baking sheet, giving them a little room to expand. Flatten slightly with the back of a wet tablespoon, and sprinkle the tops with a little salt.
Bake for 15 minutes, until set. Transfer to a cooling rack.
Notes
The cookies' texture is most pleasant on the day they're baked, but they will keep well for a few days in an airtight container.
https://cnz.to/recipes/cookies-small-cakes/chocolate-walnut-cookies-recipe/
Unless otherwise noted, all recipes are copyright Clotilde Dusoulier.