The days are getting shorter, the air is getting chillier, and our collective noses are getting snifflier. It's time for a warming bowl of wholesome, immune-boosting ingredients, and this pink lentil soup is precisely that.
It is drawn from an early review copy of Sarah Britton's upcoming book My New Roots, which won't come out until spring, but this particular recipe is one that's actually available on her beautiful blog of the same name.
The entire book is a treasure trove of inspiration and I've tagged many recipes to try, but this one was first in line: it is incredibly quick to put together, with hardly any prep work at all, and mostly pantry ingredients you likely have on hand as we speak.
The result is a remarkably satisfying, lightly chunky soup that hits all the right spots — the sweetness of the lentils, the earthiness of the cumin, the acidity of the lemon, the umami of the tomatoes, the fiery kick of the ginger and chili pepper — and I can already see it becoming a staple of my wintry repertoire.
Join the conversation!
What's your favorite warming, soothing dish to prepare when you need to keep the cold, and the sniffles, out?
PS: A winter vegetable curry, my favorite gift ideas for the holiday, and chocolate walnut cookies.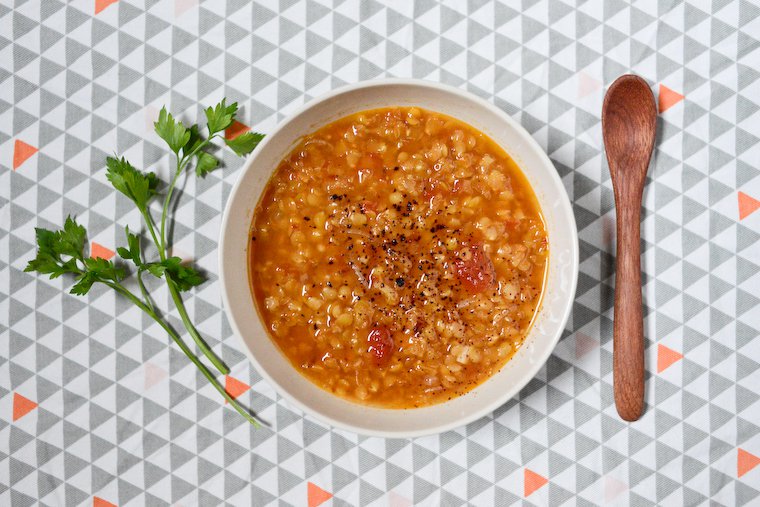 Have you tried this? Share your pics on Instagram!
Please tag your pictures with #cnzrecipes. I'll share my favorites!
Warming Pink Lentil Soup Recipe
Ingredients
1 tablespoon coconut oil or olive oil
2 medium onions, thinly sliced
3 cloves garlic, minced
1 thumb-sized piece fresh ginger, finely grated (I use a Microplane grater)
1 tablespoon cumin seeds
1/4 teaspoon Cayenne pepper or other ground chili pepper
400 grams (14 ounces) jarred whole tomatoes (see note) or 5 large fresh ones, chopped, if in season
200 grams (1 cup) pink lentils (also called red lentils), rinsed and preferably soaked overnight
1 organic lemon
1 liter (4 cups) stock, homemade if possible
A few sprigs fresh parsley or cilantro
Fine sea salt
Freshly ground black pepper
Instructions
Heat the oil in a soup pot. Add the onions, garlic, and 1/4 teaspoon salt, and cook for a few minutes, stirring regularly, until softened. Add the ginger, cumin, and chili pepper, stir, and cook for a couple minutes more, until fragrant.
Add the tomatoes, and crush them with your spatula once them landed in the pot. Add the lentils, stock, and 1/2 teaspoon salt, and stir well. Cut four slices from the middle of the lemon and add them in. Bring to a simmer and cook on low for 30 minutes, until the lentils are tender.
Add a good squeeze of lemon juice, taste, and adjust the seasoning.
Divide among bowls, top with a sprig or two of fresh herbs, sprinkle with black pepper, and serve.
Notes
I buy my preserved tomatoes jarred, not canned, because most cans have an inner lining that contains BPA, and the acidity of tomatoes make them prime candidates for those compounds to leach. Starting from January 1, 2015, BPA will be banned from all food containers in France, but we know little about the new materials that will be used.
If you can make the soup a day ahead, or manage to have leftovers, you'll find it tastes even better the next day.
Recipe minimally adapted from Sarah Britton's My New Roots.
https://cnz.to/recipes/soups/warming-pink-lentil-soup-recipe/
Unless otherwise noted, all recipes are copyright Clotilde Dusoulier.