Peeling onions is one of my least favorite cooking tasks. The stubborn papery skin that refuses to come away smoothly, the pesky little flakes that get stuck under your fingernails and on the cutting board, not to mention the occasional outer layer that's part flesh part skin (what to do with those?), all conspire to vex me.
Yet I adore onions and the pungent or sweet things they do, so I put my head down and try to take each specimen as an opportunity to refine my onion peeling skills, hoping I may one day come to enjoy the process.
And for a welcome respite when I want perfectly tender, caramelized onions without the peeling hassle, there's roasted onions, as presented in the book What Katie Ate by Katie Quinn Davies, food photographer and author of the same-name food blog.
The idea is quite simple and I have no idea why it never occurred to me before, but I am certainly grateful to Katie for introducing me to it: you just halve onions — with! the! skin! on! — place them on a baking sheet, drizzle with oil, sprinkle with salt, and place in a hot oven.
And just a little while later, what you pull out is a batch of beautifully softened onion halves, the concentric layers tinged a dark gold at the rims.
These you can serve with or without the skin, as you prefer. But when I tried the recipe with the cute plum-sized onions I was putting off using because they were so small the peeling daunted me, I confess I just plopped the baking sheet on the table and we helped ourselves right off of it, plucking the little morsels of sweet onion flesh out of their skin nests.
Katie sprinkles thyme sprigs over the onions before baking, but I opted against it, fearing that they might burn during the roasting. If you'd like to add the thyme back in, I suggest sprinkling it on for the final 10 minutes of baking.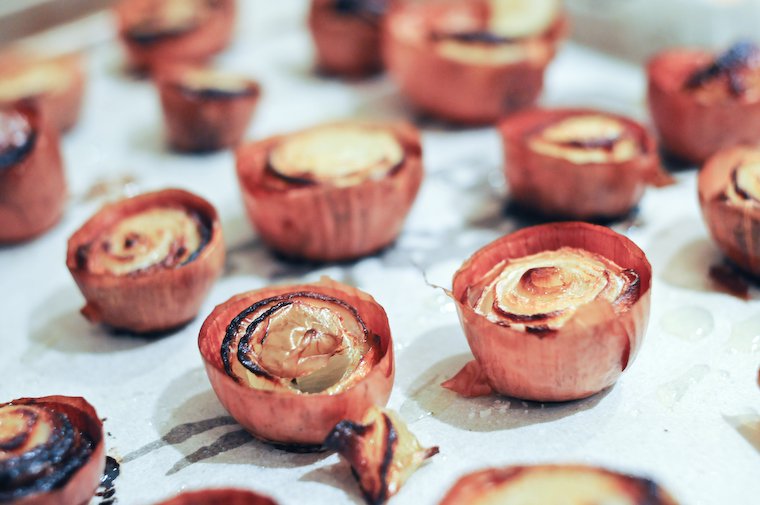 Have you tried this? Share your pics on Instagram!
Please tag your pictures with #cnzrecipes. I'll share my favorites!
Ingredients
500 grams (1.1 pounds) small organic onions, such as pearl or pickling onions (see note), unpeeled
olive oil
sea salt
freshly ground black pepper (see note)
Instructions
Preheat the oven to 200°C (400°F). Grease a baking sheet or line it with parchment paper.
Wash the onions and remove just the outer layer of skin if it is blemished or pulling away. Slice the onions crosswise (= along the Equator if the onion were the Earth) and cut off a thin slice at both ends -- the root end and the stem end -- so each half will have a stable base to sit on.
Arrange the onion halves on the baking sheet. Drizzle with olive oil, sprinkle with salt, and insert in the oven. Bake for 30 to 50 minutes, depending on the size of the onions, until caramelized on top and cooked through (you can test for tenderness with the tip of a knife).
Sprinkle with pepper and serve immediately, with or without the skin. The onion flesh will lift easily, satisfyingly, out of the skin.
Notes
If you only have large onions, you can cut them in slices, about 2-3 cm (1 inch) in thickness.
These days my pepper mill contains the pretty hot and very flavorful Wynad peppercorns from Kerala, a sample of which I received from Salt Traders.
Adapted from What Katie Ate, by Katie Quinn Davies.
https://cnz.to/recipes/vegetables-grains/roasted-onions-recipe/
Unless otherwise noted, all recipes are copyright Clotilde Dusoulier.