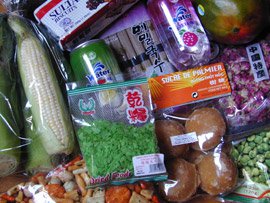 Saturday was the first day of my vacation, and Maxence and I decided to take a little trip to Asia : all it took was a twenty-minute motorcycle ride to the Parisian Chinatown where I had, for reasons I cannot fathom, never been before.
We sat down at a Vietnamese restaurant for a bo-bun (a delicious salads of noodles and beef with lemongrass, soy sprouts, mint and ground peanuts), then did a little shopping at Tang Frères, a gigantic Asian grocery store — so huge and busy they've even built a private railroad track that leads to their warehouse.
There, we marvelled at all those unusual and unknown fruits and vegetables, but since we were leaving just the next day, we couldn't get too much fresh produce. We did get two big Kent mangoes, sweet and juicy. We adore mangoes, and it seems to be a really good year for them : they are everywhere these days, excellent and very affordable. We also got a few ears of fresh corn, which are nowhere to be found in regular stores : in France, corn is eaten mostly from a can and used in salads, so corn still in its husk is a rarity. Corn on the cob, here we come!
We went on to browse the aisles, and got a package of soba noodles, to replace the one the little grain mites had feasted on recently, wasabi peas and a bag of mixed Japanese crackers, two cans of flavored sparkling water in starfruit and lychee flavors, and a package of sultana biscuits, those thin rectangular cookies with raisins which I used to love when I was little, but seem to have disappeared from the shelves since.
In addition to that, I got a package of Chinese dried globe amaranth (tiny purple flowers), a package of palmtree sugarloaves, and a package of bright green flattened sweet rice. I have no idea what to do with either of these, but I figured I would just ask you! Any suggestion?
I also love Asian bakeries, so we visited a few until we found a small one where everything looked terribly tempting, and where we got a little assortment of cakes. Luckily Maxence was there to stop me from buying the whole store, I so wanted to sample everything, but we still ended up with : a cream-filled rolled cake, a slice of pistachio and coconut steamed cake, a lemon and almond chiffon cake, two steamed coconut balls (one filled with soy paste, the other with a peanut and sesame paste), and two little flaky papery cakes filled with soy paste and lotus paste.
All of these we shared with our neighbors in a large-scale tasting session, and all of them were delicious, moist and tasty, with interesting flavors and textures that surprised our tastebuds. My favorites were the steamed coconut balls (especially the peanut-sesame one) and the steamed pistachio cake. I have never ventured into the wonderful land of steamed cakes myself, but I think I really need to look into it!
Tang Frères
48 avenue d'Ivry
75013 Paris
01 45 70 80 00
Pâtisserie de saison
2 rue Simone Weil
75013 Paris
01 45 84 37 70