On December 22, 2016, twenty years to the day after our first date, Maxence and I got married.
It was a small wedding — just our parents, siblings, sons, and closest friends — that we decided on and planned in just two months, because we're crazy like that.
It was, quite suitably, the most magical, the most romantic day of my life, and I kinda want to do it again this year, and the next, and the next (with the same man, obv.).
One of the benefits of getting married when you're thirty-seven years old and you've been together for twenty, is that you know yourself and the other person very, very well. You can make swift and easy decisions that feel 100% you, and you can flow through the planning in a way that is joyful and exciting and a celebration of your relationship.
In that spirit, I want to share with you some of the choices that added up to create the perfect day for us.
If you don't give two figs about weddings, I'm not offended in the least; I was firmly in your camp up until three months ago, so click away, my friend, click away.
But for those of you who geek out on this kind of stuff, here goes. (Also, I have put together this mini-guide of 10 Romantic Ideas in Paris that is free to download!)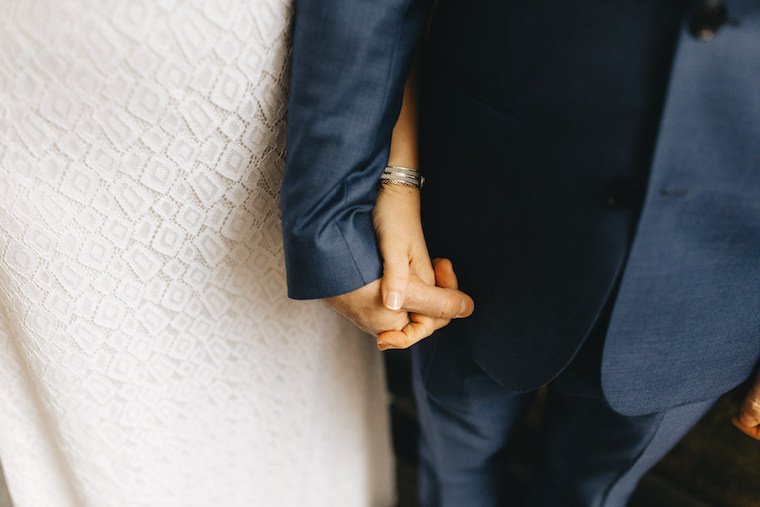 I got my dress from My Philosophy, a small ethical fashion boutique in my neighborhood where I've bought several (non-wedding) dresses in the past. The designer and co-founder Kroeusna Khaou buys remainder fabric from haute-couture collections, creates her designs, and has them made in a dedicated workshop in Cambodia that employs young women in need, providing them with shelter, training, and respectful working conditions.
In addition to creating this amazingly comfortable dress of chic and simplicity (love at first wear), Kroeusna was also super warm and available, helping me figure out how I could wear my hair, suggesting accessories that would complement the outfit, and getting sweetly and genuinely excited for me.
She's the one who suggested I wear a pearl pendant, and as luck would have it, my mother had one that my father brought her back from Mallorca in 1964, one month into their relationship. (It was my "something borrowed".) I also wore my late grandmother's silver wind-up watch, and her own wedding ring ("Eugène uni à Marcelle 25-2-33"), which I've worn every day for the past twelve years or so. (Adding up to a lot of "something old".)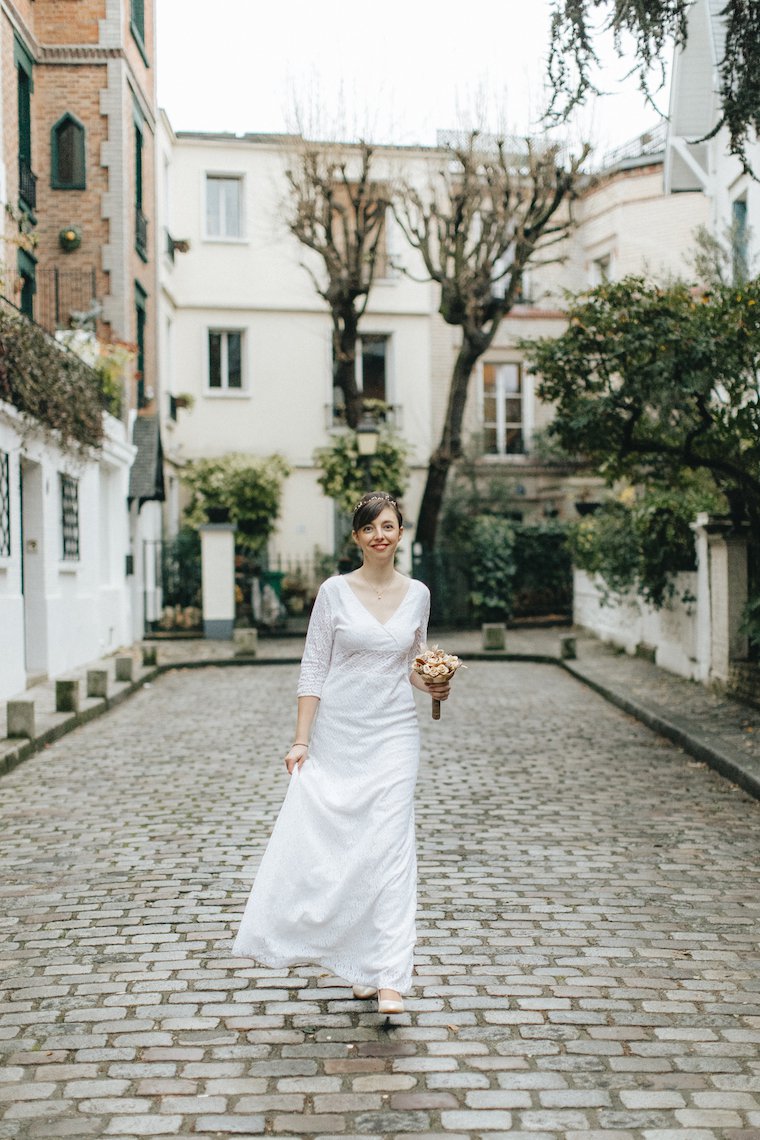 Because it was a winter wedding, I needed to find a coat and a scarf so I wouldn't end up as The Newlywed with Pneumonia. I tried to borrow one or the other, but it turns out normal people don't really own white coats or scarves. So I ordered this fake fur jacket that is warm and cosy, with a hood and zipper that give it a modern touch. I found an ivory white scarf at Sac & Sac, an independent boutique on rue des Abbesses where I have bought many a bag and scarf and shoe over the years. ("Something new.")
I wanted a hair accessory and scoured Le Bon Coin (the most popular site for classifieds in France) for second-hand options. I lucked out on this Cécile Boccara tiara, sold at a steep discount by a lovely woman, who was also full of happy thoughts and good advice for me.
I got my shoes on Le Bon Coin as well, buying ivory white heels from a bride who had bought different pairs to try on for her own wedding, and had not worn these in the end. The fit was perfect and she happened to live right across from the Mairie* where we got married, so that was a fun coincidence.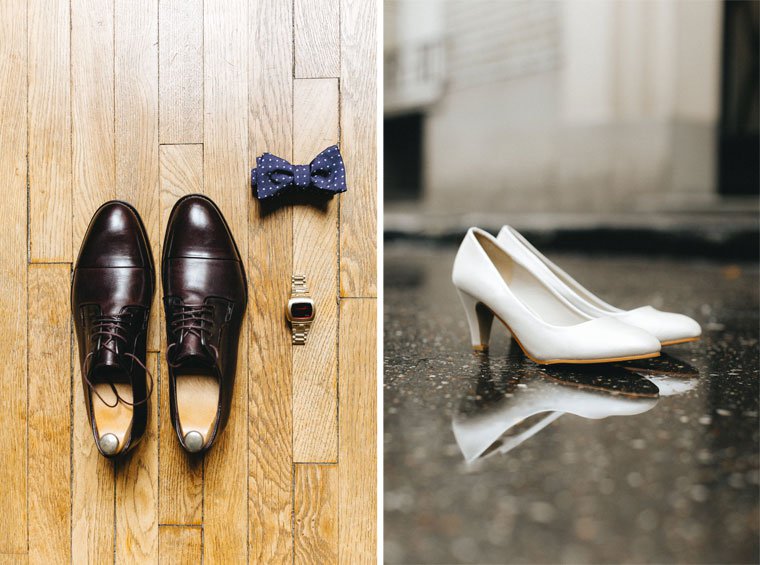 Next to the dress, my bouquet was the most personal, most meaningful choice I made: I asked my friend Apollonia, who runs the Poilâne bakery, if she would make one for me. The concept came to me as a revelation one sleepless night ("I want a bread bouquet !"), and in the morning I wrote to her to ask if it was a crazy, or a crazy good idea.
I gave her carte blanche, and she and Félix, the artist-baker who crafts their wonderful decorated loaves — one of which I received for the birth of each of my sons — got to work. Together they created the most delicate bouquet of bread roses in three colors of dough, with slender leaves and ears of wheat. It was a thing of beauty that stole the show, got compliments from everyone, and kept our sons happily occupied during the ceremony. They may or may not have eaten a few of the leaves.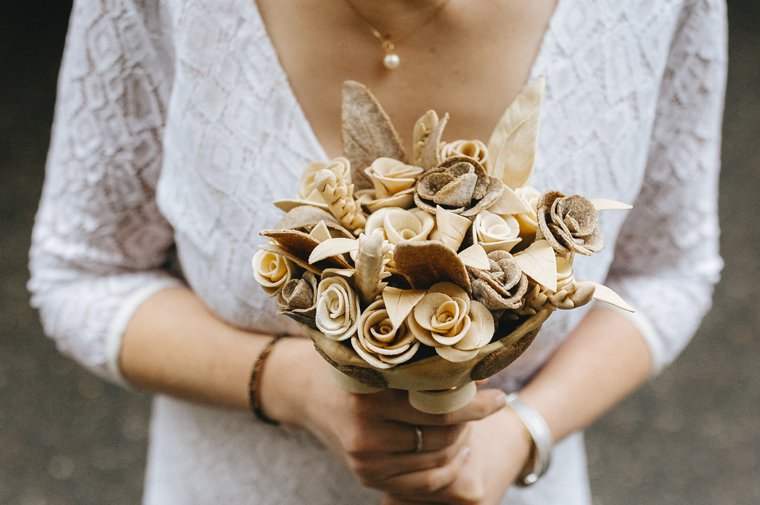 It's always a headache to know where to put your phone and lipstick and tissues when you're wearing a wedding dress (right?). My oldest dearest friend (and witness**) Marie-Laure offered to make a clutch bag for me, which she sewed by hand in a stunning gold-and-blue Japanese fabric. (It was my "something blue.")
The day before the wedding, I got my nails done with a simple French manicure (FYI, we call it une French manucure here) at a nail bar near me. In early morning on the big day, I headed out to Profession Coiffeur so Michel, the head stylist, could get my hair into a bun, according to the style we had chosen together during a test session the week before.
I did my makeup myself — professionals often overdo it and I want to cry and wipe it all off — but I benefited from the private makeup course that my thoughtful friends booked for me at La Maison du Dr. Hauschka on my (quote unquote) bachelorette day. (Right before we had tea at Amami, saw the laugh-till-you-pee show Les Coquettes, and had dinner at Café Trama. Best. Friends. Ever.)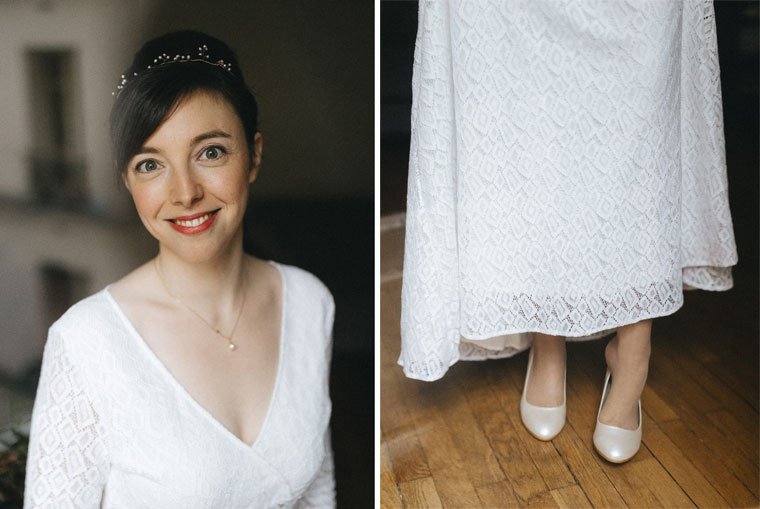 During the civil ceremony at the Mairie, we exchanged the wedding rings of hammered red gold that we bought from Paulette à Bicyclette, a Parisian designer of ethical jewelry who works with certified fairmined gold, and got engraved.
You can pick out songs to be played while you sign the register at the Mairie, and we chose this, this, and this. We also realized these three song titles were perfect to name our three tables at the restaurant: Love, Stars, Remember. In three words, all was said! And since I dabble in hand-lettering lately, I made the table and place cards by hand.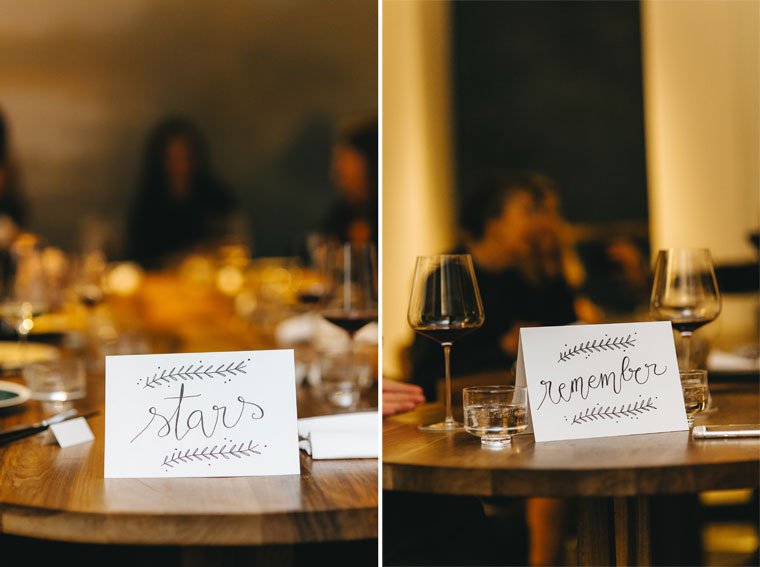 After the Mairie, Maxence and I walked up the most charming streets of Montmartre toward the magical Hôtel Particulier, where we had booked a room for the night. We had a little time there to rest and recharge before the evening.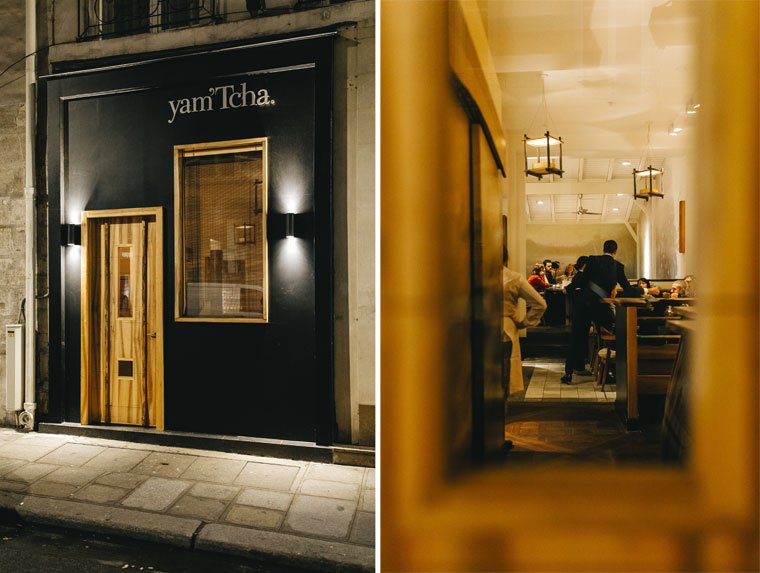 Our wedding cocktail and dinner were held at yam'Tcha, our very most beloved restaurant in Paris, where we've celebrated Maxence's birthday every year since it opened***. Adeline Grattard and her team hosted us like friends (friends that would also be kings), and outdid themselves with a memorable meal that blowed our collective minds.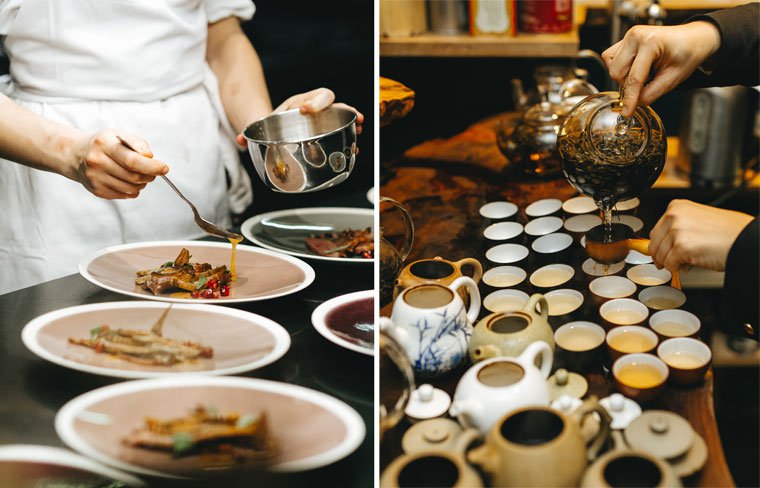 I also enlisted Apollonia Poilâne for the wedding favors: instead of the traditional dragées (candied almonds), our guests left with little bags of heart-shaped Punition sablés — a.k.a. the world's best butter cookies — marked with our initials. They were distributed alongside short mad lib questionnaires I had drawn up in lieu of a guestbook (thank you Pinterest), which were super fun to read at breakfast the next morning.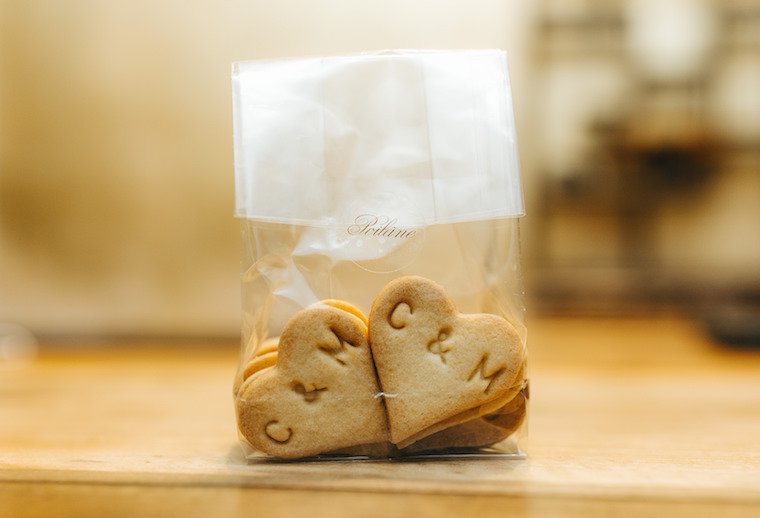 And to document it all, wedding photographer extraordinaire Fabien Courmont, who was such a friendly, kind, fun, and warm presence at our sides, you would have sworn he was one of our friends; apparently he gets that a lot. A perfect fit for us. (And if you want to meet him, he'll be at the alternative wedding show LOVE/ETC in Paris on February 3 and 4. Tell him I said hi!)
In parting, here are two nuggets of wisdom I received, and would like to pass on:
1- My friend Bérangère recommended that I get absolutely everything sorted and organized in advance, so I'd have nothing to do on the day of, but to enjoy it. It may sound obvious, but I did catch myself many times thinking, "Oh, we can just call the taxi when we're ready to leave" or "I'll just pull out the bedsheets for the sitter before we go" or some other tiny thing, and remembered Bérangère and her wise words. So I scheduled the taxi rides in advance, prepared a bundle of sheets and towels for the baby-sitter way ahead, and on and on. My sailing? So. Much. Smoother.
2- A few days before the wedding, I heard the amazing Sarah Von Bargen on the Create Lounge podcast. She mentioned this thing that she does right after a trip or a vacation: she writes down 100 memories from it, big or small, in no particular order. I thought it was a wonderful idea and applied it to our wedding day. I sat down the next night and soon got to eight pages and 137 memories, which I slipped into our envelope of memorabilia. I don't know when I'll re-read the pages, but I know they'll make me smile. And probably cry a little bit. Can't promise I won't.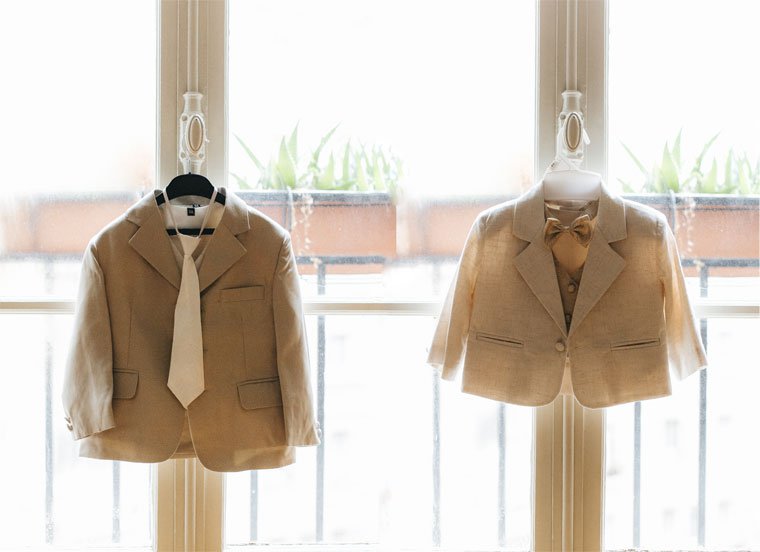 * In France, you have to get married at the city hall (à la mairie) of the place where you or your parents reside. In Paris, each arrondissement has its own mairie. Because of the separation of church and state, this civil ceremony must happen before any kind of religious celebration.
** In France, we don't have maids of honor or best men, we have witnesses (témoins); for the civil ceremony you can have four in total, of any gender. Most often the bride choses two female friends and the groom two male friends, but there's no obligation either way.
*** Except the year it was closed when it moved location, but still we picked up baos from the boutique.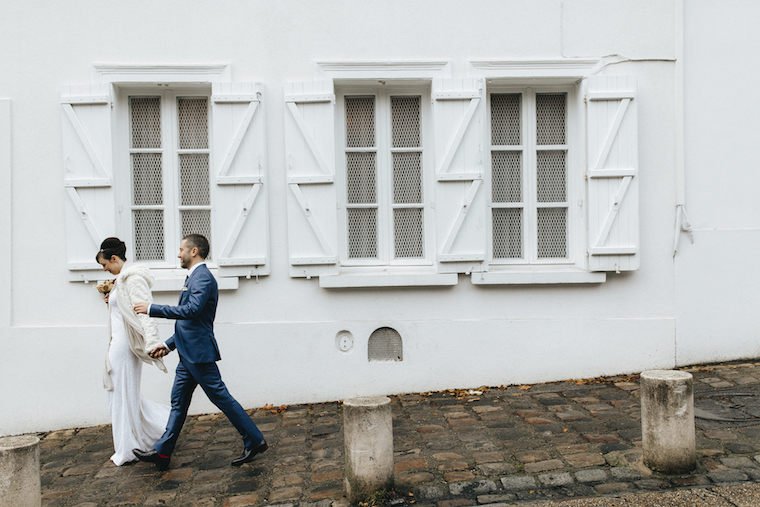 Note: None of these links are sponsored in any way, but the bouquet was a wedding gift from Apollonia.
PS: Don't forget to grab your FREE mini-guide of 10 Romantic Ideas in Paris!