Punitions is the name given to the delicious, blond, thin, crisp, unique, buttery cookies, made by the world-famous Poilâne bakery.
You can purchase them by the weight (200g for roughly 4 euros), but there is a basket of them on the counter for you to help yourself when you buy a quarter, a half, or a whole round of the legendary Pain Poilâne.
Warning: it is strongly advised to practice restraint and limit yourself to one, or at the most two — or maybe three if you pretend to share them with imaginary little children accompanying you, but whom the lady sitting behind the counter cannot see because, you know, she is sitting behind the counter.
When I was little, on Saturday mornings, my father would often take my sister and me to the comic book stores in the Quartier Latin (this is probably why Saturday mornings remain my favorite time of the week, so fresh and full of promises), and on the way home we would occasionally stop by the Poilâne bakery on boulevard de Grenelle (the second shop Lionel Poilâne opened after his first one rue du Cherche-Midi) and buy bread for lunch. We were too small (especially me) to reach the basket on the counter, but as we left the lady would always hand us one Punition each, that we would savor religiously, in tiny nibbles.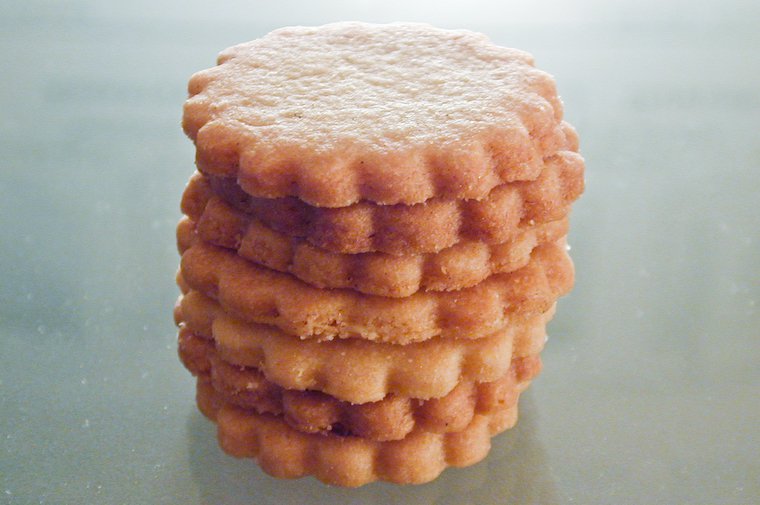 Oh, I have eaten my share of sablés and butter cookies of all kinds, but I've never tasted any that came close to these: I don't know what it is exactly, but their flavor really is one-of-a-kind, and their size and consistency… well, they're perfection made cookie.
Dorie Greenspan has a recipe for them in her book Paris Sweets
and by coincidence, it is the recipe that's given as an excerpt in Amazon's Look inside!
feature (she also gives Poilâne's explanation for the name). I must warn you though, my mother gave the recipe a try and declared, "Those are good sablés indeed, but they are not the same as Poilâne's".
I'm guessing the secret lies somewhere between the ingredients (the flour especially), the wood-burning oven, the hand that mixes the dough, the lingering aromas of the loaves that were baked before…
But that's okay; some pleasures are just meant to be enjoyed in their natural habitat, no?
Poilâne
8 rue du Cherche Midi, 75006 Paris
49 boulevard de Grenelle, 75015 Paris
This post was first published in May 2005 and updated in July 2016.