All right, I'm back! Technically, I have been back from my vacation for ten days, but as soon as I returned, I left again to be a witness at the wedding of two of my favorite people in the world, an honor and a duty that I took very seriously, although they ended up requiring very little work from me — the purchase of a pretty dress, the signing of a registry, and, at one point, the making of a salad dressing.
No sooner had I touched ground after the ceremony and assorted celebrations that I found myself aboard the Eurostar, whooshing my way to London for two booksigning events, a few nice meals, and an elating food shopping session at the new Kensington Whole Foods store, with the best food shopping companion one could hope for, one with the curiosity of a child and the stamina of a marathon runner.
It took me a few days to recover and attempt to catch up with three weeks of unanswered emails — the gods of the Internet are chuckling, presumably at the absurdity of such an ambition — but here I am now, ready to take over the world or, at the very least, refill the gaunt shelves of our fridge and start cooking anew.
And just like every child deserves cool gear to start a fresh school year, I have acquired a new little helper.
Please meet my Laguiole pocket knife!
Eleven centimeters* when folded, twenty when it stands at full height, it has a rosewood handle, a Swedish stainless steel blade, and a hand-forged, hand-etched spring adorned with the signature bee (some say it is a fly; I say feh). It is sharp, it is beautiful, and I haven't been this knife-proud since my father bought me a tiny opinel when I was eight.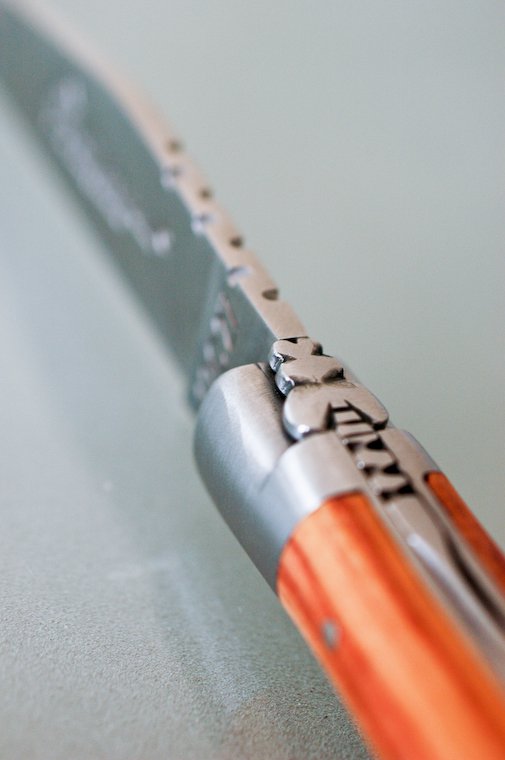 My knife was purchased directly at its birthplace, in the gray-slated village of Laguiole** in the Aubrac region, whence come, among other edible marvels, an eponymous and delicious breed of cow, a dish of mashed potatoes made springy by the addition of fresh mountain cheese and called aligot, as well as a spit-roasted cake called gâteau à la broche.
We happened to drive through this breathtaking area en route from Dordogne to Les Vosges, having decided to take a detour and be awed by the Viaduc de Millau, the tallest vehicular bridge in the whole wide world, yes siree. From there, we were relatively close to Laguiole, home of Michel Bras, a fine AOC cheese, and tip-top cutlers. It was quite natural for us to make a stop there.
Understandably, this being a last-minute trip, Michel had not thought to hold a table for us, but the kind lady I talked to on the phone directed us to Le Méjane in the nearby village of Espalion ("They don't have a star, but they deserve one"), where we had the most enjoyable meal of our vacation.
The next day, our self-appointed mission was to get a set of table knives, something we had been dreaming of for years. We had entertained the notion that we would simply enter the village, locate the knife shop, and buy our knives, but as we walked up and down the main street, it soon became apparent that the process wouldn't be quite so easy: every other business on that street was a knife shop, each window offering more options than the other and threatening to overwhelm us impromptu buyers. But we kept a cool head, followed our hearts, and were quickly drawn to one artisan in particular, whose knives, simply and elegantly designed, were exactly what we'd been looking for.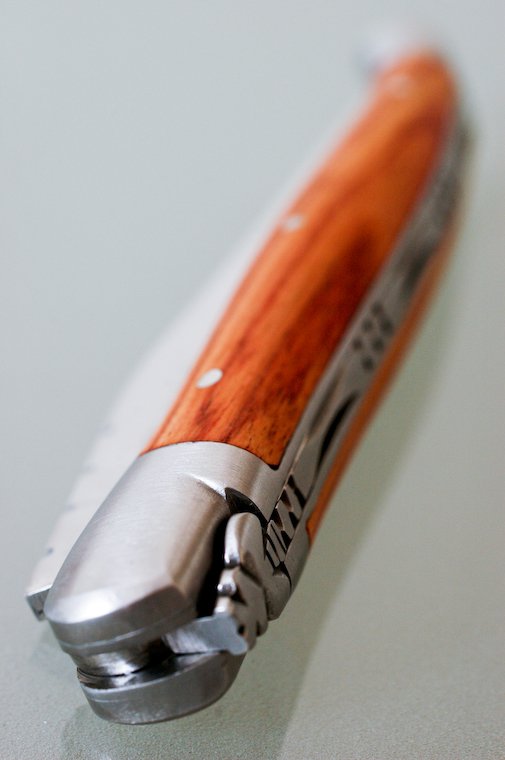 We chose our set of six and matching cheese knife, and went for wooden handles, which should be regularly and lovingly nourished with linseed oil: these knives should never ever be put in the dishwasher, on penalty of buckling and splitting and other horrifying pains inflicted upon their innocent handles. (If the dishwashability of a table knife is a non-negotiable feature for you, you might consider getting an all stainless-steel set.)
We gladly accepted the offer to take a short tour of the workshop, and this allowed us to discover the many steps involved in the crafting of a single knife, and learn that each knife is made by the same cutler from start to finish, which I find very moving, for some reason.
A Laguiole pocket knife with my name engraved
And then, it occurred to me that I could no longer live without my own personal folding Laguiole knife — you know, for picnics and such. I pointed at the one that was calling my name in the display case, held it in my hand, pondered its heft, stroked its wood, unfolded the blade, snapped it shut again, and called it mine — I even went so far as to have my name engraved on the blade.
My enthusiasm was infectious enough that Maxence got one, too, so that we now have his-and-hers, ebony-and-rosewood Laguiole knives, like all self-respecting couples should.
A word of caution, should you be tempted to join the club: the term Laguiole, as applied to knives, has not been trademarked or protected in any way, so there are plenty of cheap imitations out there, mass-produced elsewhere and from mediocre, if not downright worthless, materials. Before you buy, inquire about where and how the knives are made, and, if possible, buy them from a store where they'll let you examine them, checking the details of their finishing and feeling their weight in your hand.
* That's 4 1/3 inches when folded, 8 inches when not.
** The "gu" is silent: Laguiole is pronounced "lah-yoll".