When I went out and got my knives sharpened recently, I had to solve the question of how to transport them safely, and my intuitive idea was to roll them up in a kitchen towel.
When the guy at the shop handed them back to me to take home a week later, I was pleased to hear him say that this was the best method. I also noticed his fold was a lot neater than mine, so I thought I would share it with you.
Learning how to transport your knives
Naturally, if you're a traveling cook who has to carry knives around frequently*, it might make sense to buy a special carrying case such as this knife roll, but if you're only transporting them a few times a year to cook at a friend's house or to get your blades sharpened, you can definitely save the money and use a simple kitchen towel.
The trick, as you'll see in the animation below, is to pick one of your thicker kitchen towels, and to fold it so that the tips of the blades push against a double layer of fabric, so they won't just slice through.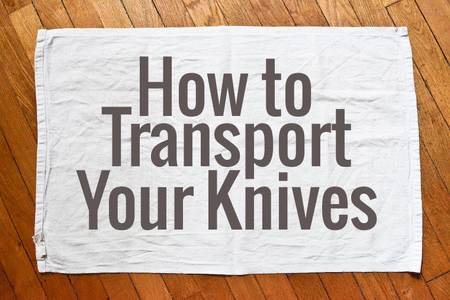 And once the blades are all rolled up, you can tie an elastic band around the bundle and be on your merry way.
Join the conversation!
Do you sometimes need to carry your knives around? How do you like to wrap them for safe transport?
* The French law considers that a knife of any type or size is a weapon, and it is strictly forbidden to carry one around on your person, unless you have a legitimate motive, such as being a professional chef, going to get your blades sharpened, attending a picnic where there will be yummy cheese and charcuterie to slice, etc. Here's a detailed discussion (in French) of what the law says.