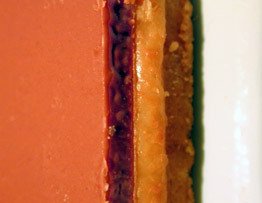 Oh my.
This is one of the many luscious gifts that my blog-friend Jackie gave me when we met in London. Those square layered cookies come in a pack of three, each with a layer of buttery shortcake biscuit, a layer of creamy caramel, and a layer of sweet milk chocolate to top it all off.
Naturally, I expected something rich, so I cut one up into fourths and had a piece with a cup of tea. It was so good, the different layers melding together, the caramel getting squished between the crunchy biscuit and the velvelty chocolate, that I just had to have another quarter.
By then I was in such a sugar high that I couldn't bear the thought of the two remaining quarters feeling lonely and neglected, so I let them join their little buddies and happily gobbled them up.
And then I spotted the nutrition facts on the package. And thought : "There has got to be some mistake." Oh well.
Update : I was just catching up with Jackie's posts. Now if that isn't synchronicity…