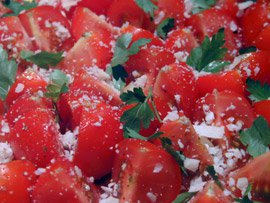 [Plum Tomatoes with Pecorino]
The last tasty plum tomatoes of the season, a piece of pecorino cheese your parents brought back from their Florence getaway (oh how well they know you), five minutes of preparation, and here's a pretty and tasty little appetizer to bring to your neighbor-friends' place when invited for the apéro (pre-dinner drink).
Watch as people wonder how to approach the tomato quarters, venture two tentative fingers, pick one up delicately, realize the quarters are really attached together, reconsider their strategy and grab the four quarters together, lift their hand and pop the whole thing into their mouth quickly, to avoid droplets of tomato juice and olive oil. Watch as they appreciate the sweet freshness of the tomato, the flattering company of the olive oil and parsley, and the sharp contrast of the pecorino.
When there are no tomatoes left, watch how they take little bites of bread and mop the shadow of the dish, a delicious mixture of olive oil, tomato juice, parsley and pecorino.
Watch and smile, but don't forget to do just the same as they, before it's all gone.
Petites Tomates au Pecorino
– 500 g plum tomatoes
– 40 g pecorino cheese
– mushroom salt (substitute regular salt)
– a small handful of flat-leaf parsley
– freshly ground pepper
– balsamic vinegar
– olive oil
Rinse and dry the tomatoes and parsley. Cut each tomato in quarters without cutting all the way through, so that the quarters still hold together. Transfer them onto a large plate, arranging them close together and prettily.
Pour a little olive oil and balsamic vinegar all over, sprinkle with salt and pepper. Grate the pecorino thickly, and sprinkle on the tomatoes. Separate the little leaves of parsley from the sprigs, and distribute them evenly over the tomatoes. Let sit for about an hour if possible before serving.