I love to keep seasoned breadcrumbs on hand: they add a finely crunchy touch to salads and other vegetable preparations (incl. zucchini noodles), and they top pasta dishes and gratins beautifully. They are also a required ingredient if you want to make breaded chicken cutlets or eggplant slices.
But what if you're trying to go easy on the gluten and the carbs? Do you have to envision a breadcrumb-free life? Not so with these gluten-free almond breadcrumbs!
They came into my own life by way of my friend Claire, who runs the cold-pressed juice company Nubio here in Paris. They make their own almond milk, so they process quite a lot of almonds, and they've been looking for creative ways to use the remaining solids so they don't go straight to the compost.
This is made up of finely chopped almonds, slightly moist from the soaking and pressing process. It doesn't quite have the flavor and nutrition of raw almonds — a good portion has gone into the almond milk — but it's still a valuable byproduct.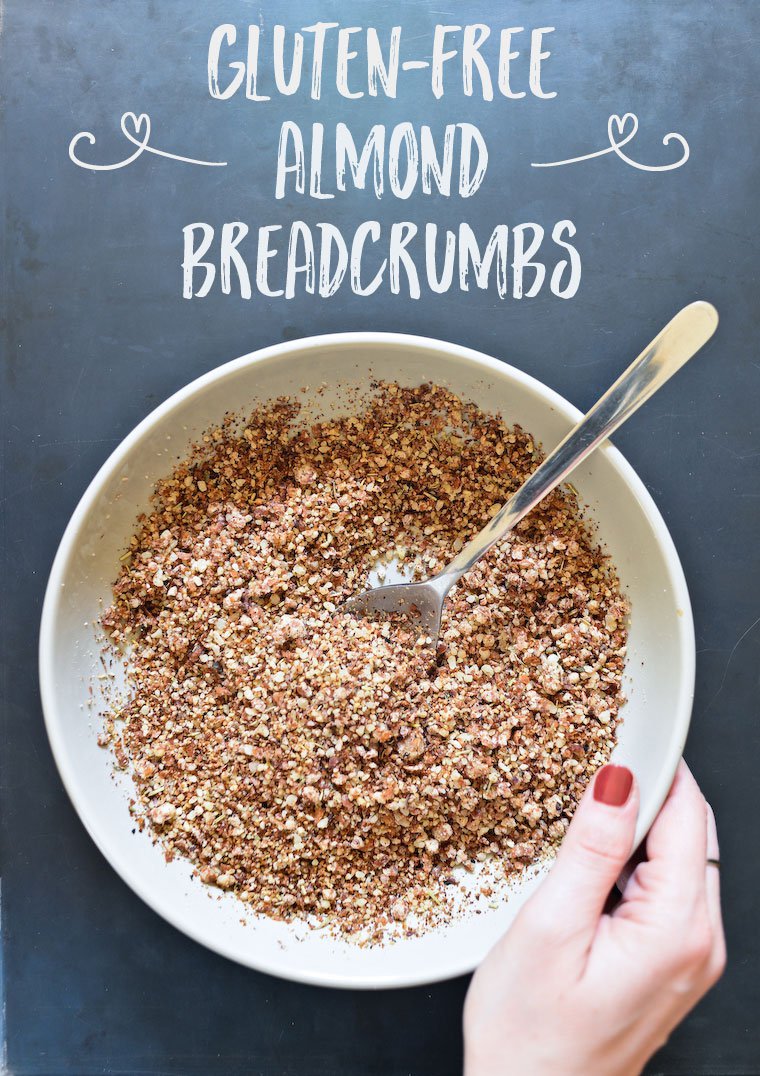 The Nubio team refers to it as almond okara, using the Japanese term that relates to soy milk making, and they've issued an e-book (in French) with lovely recipes for edibles and cosmetics that use this okara. They are also willing to give some away for free to anyone who requests it kindly and with at least a day's notice, and can come pick it up at their workshop*.
And the other day, when I came by to visit their new offices, take a tour of their state-of-the-art lab, and have lunch at the nearby Mokonuts, Claire sent me off with a little pouch of almond okara to experiment with.
I have made some raw(ish) buckwheat crackers, which will be included in volume 2 of their almond okara cookbook. Also, these magnificently easy and super quick gluten-free almond breadcrumbs, which I've been using on all the things since then, but chiefly to sprinkle over my salads and various vegetable concoctions — pictured below, a pretty typical lunch bowl of roasted root vegetables, French lentils, sliced avocado, and: my almond breadcrumbs.
So if you make your own nut milk, consider using the leftover solids to make your own breadcrumbs. And if you don't, you can certainly make this recipe using good old almond flour — you will get even more flavor from it (but please don't get all smug).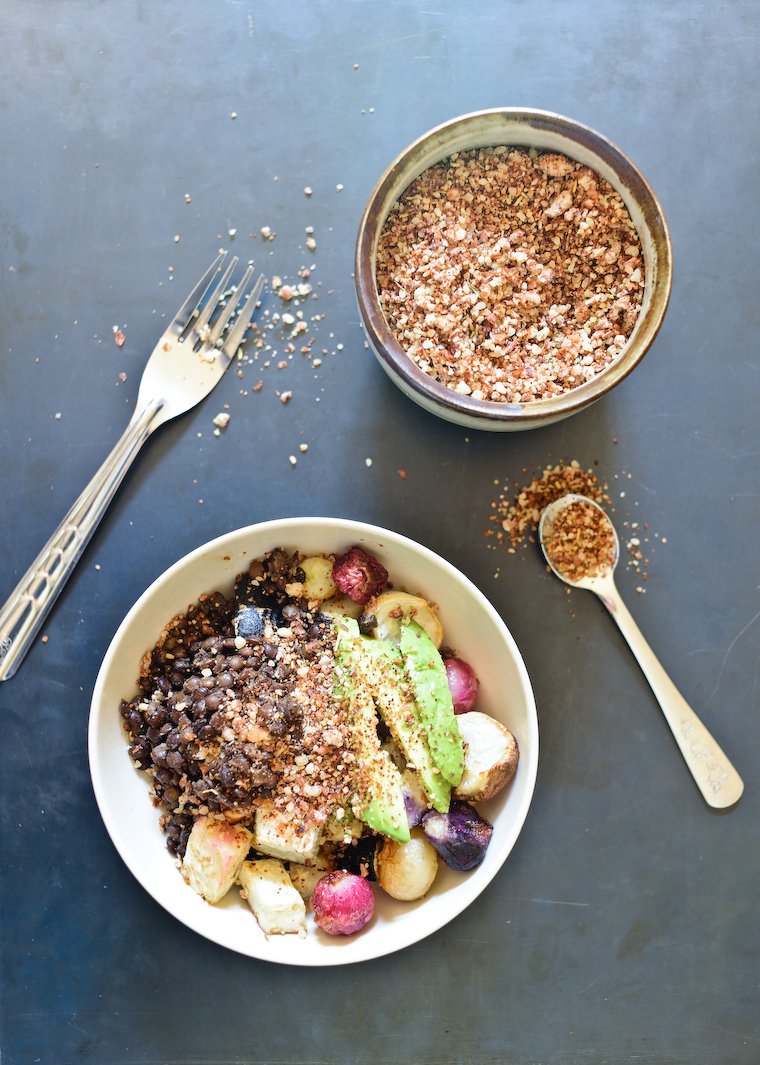 Join the conversation!
Do you make your own nutmilk? What do you do with the remaining bits of nuts? And what do you like to use breadcrumbs for?
* The Nubio offices and lab are at 4 rue Paul Bert, 75011 Paris, +33 (0)9 84 35 51 13. Please note that this is not a shop, and they can only accommodate visitors by appointment.

Have you tried this? Share your pics on Instagram!
Please tag your pictures with #cnzrecipes. I'll share my favorites!
Gluten-Free Almond Breadcrumbs Recipe
Ingredients
1 cup almond flour (100 grams) or almond okara (solids leftover from making almond milk, 145 grams)
1 tablespoon mixed dried herbs, such as Herbes de Provence (thyme, basil, rosemary, oregano...)
3 cloves garlic, pressed with a garlic press, or 2 teaspoons dried garlic flakes
1 teaspoon fine sea salt
Instructions
In a bowl, combine the almonds, herbs, garlic, and salt.
If using almond flour, add 45 ml (3 tablespons) water, and mix it in until thoroughly combined.
Place a dry skillet over medium heat, and add the almond mixture.

Cook for a few minutes, stirring regularly, until golden and fragrant.

Allow to cool completely -- it will crisp up as it cools -- then transfer to an airtight container.
Keep in the fridge and use within 2 weeks.
https://cnz.to/recipes/basics/gluten-free-almond-breadcrumbs-recipe/
Unless otherwise noted, all recipes are copyright Clotilde Dusoulier.