It has been very hot around here lately.
I am not complaining, as I actually like the peculiar atmosphere heatwaves create — blazing sun, closed shutters, quiet afternoons, glistening faces — and it happens seldom enough in Paris for me to welcome the meteorological oddity.
Not to mention the opportunity to wear tank tops and strappy sandals.
To ward off dehydration, I have been making batch after batch of this no-sugar, mint-infused lemonade. (Citronnade à la menthe, if you're practicing your French.)
It is simple as can be — in this heat, who has the energy for anything elaborate? — and it is a delightfully refreshing beverage to tinkle your ice cubes in.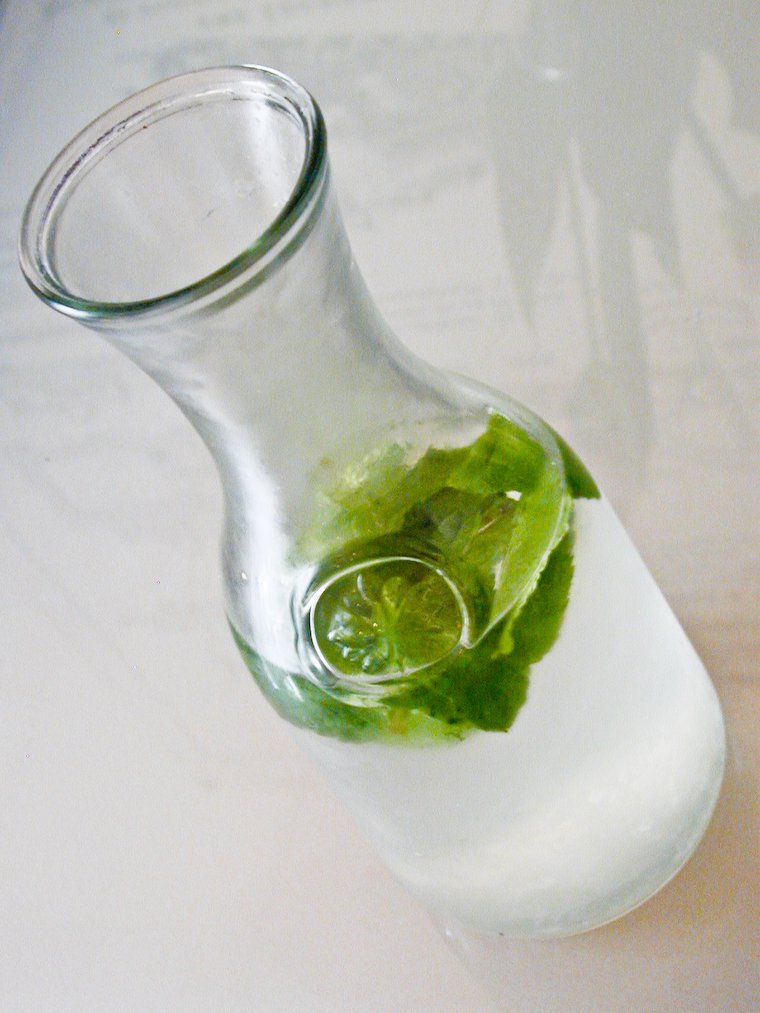 Have you tried this? Share your pics on Instagram!
Please tag your pictures with #cnzrecipes. I'll share my favorites!
Ingredients
2 organic lemons
2 liters (2 quarts) fresh water (preferably filtered)
12 leaves of fresh mint
Ice cubes
Instructions
Walk barefoot into the kitchen.
If you have the energy, grate the zest of 1 lemon (I use a microplane zester). If you don't, don't worry about it.
Slice the lemons in two, juice them, and add the juice and zest to a 2-liter (2-quart) jug. Pour in the water.
Rinse the mint leaves and add them in.
Stir with a long wooden spoon. (I am in love with those.)
Take a moment to recuperate after this strenuous activity.
Cover the jug, and allow to rest in the fridge for a couple of hours.
Take a nap in the meantime.
When you wake up, put a couple of ice cubes in a glass, stir the lemonade again, and pour some in your glass.
If a mint leaf escapes into your glass, keep it as a pretty garnish.
Drink avidly.
Press the cold jug on each of your cheeks in turn, eyes closed.
Pour yourself another glass, return the jug to the fridge, and go sit close to that fan.
Notes
Repeat every hour, or as often as needed.
https://cnz.to/recipes/drinks/mint-lemonade-recipe/
Unless otherwise noted, all recipes are copyright Clotilde Dusoulier.
This post was first published in August 2004 and updated in July 2016.