Interestingly enough, one of the most popular recipes I've ever posted on Chocolate & Zucchini is not for a cake or a salad, but for a personal hygiene product: it's an easy-as-pie formula for homemade natural deodorant made with coconut oil, baking soda, and starch.
I myself have been using it for two years, and I am so happy with it I sing its praises to whomever will listen: just a couple of weeks ago, I converted the sales assistant at the store where I splurged on this cute dress.
I have tinkered with the formula a bit since that initial post, and thought I would now share the latest version.
Improving my homemade natural deodorant
The first modification I made was to add a few drops of palmarosa essential oil. Its rose-like smell is quite lovely, and because it has anti-bacterial properties (among many others*), it reinforces the action of the deodorant on your body, and ensures that said deodorant remains uncontaminated. In France, it is easily available wherever essential oils are sold — at organic food stores, for instance, or online.
I am so happy with it I sing its praises to whomever will listen; I recently converted the sales assistant at the store where I splurged on a cute dress.
The second upgrade comes courtesy of Didier, a resourceful and generous reader who explained at the bottom of the French version of the post that he had modified the formula to include a small portion of beeswax**, which made the deodorant more temperature-stable. Indeed, the basic formula is mostly composed of coconut oil, which is solid at low room temperature, but turns to butter then oil when the temperature increases.
Making my homemade natural deodorant travel-friendly
This isn't much of a problem if you're staying home: you can either keep the deodorant in the fridge, or embrace the creaminess and apply it like a lotion. But when you travel, it can get messy. Last summer, we were on vacation in the Basque country during a heatwave, and my deodorant split, leaving me with a liquid layer of coconut oil at the top, and a starchy sludge at the bottom. I survived, but vowed to find a more travel-friendly formula.
And this is most definitely it: since beeswax doesn't melt until 63°C (145°F), it keeps the deodorant nice and set even at a high room temperature (even if you vacation at Furnace Creek Ranch in Death Valley), and prevents it from splitting or leaking from the container, so you can use it whenever and wherever you like, all summer long.
What about you: do you make your own cosmetics? What's your favorite formula?
* I often use essential oils to cure various small ailments, and my go-to reference book is Danièle Festy's Ma Bible des huiles essentielles.
** The beeswax I used was special-ordered from the guy who sells honey at the Anvers greenmarket on Friday afternoons.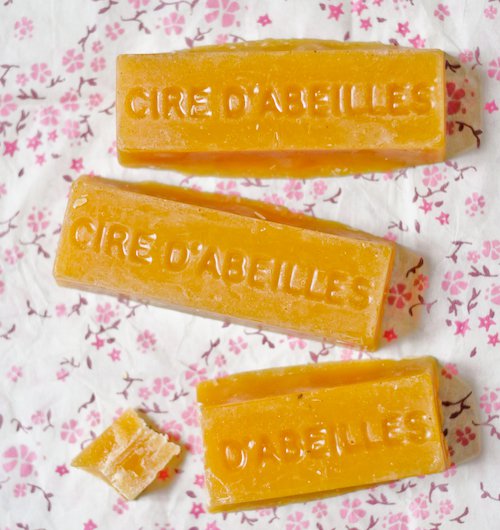 Have you tried this? Share your pics on Instagram!
Please tag your pictures with #cnzrecipes. I'll share my favorites!
Homemade Natural Deodorant (Travel-Friendly) Recipe
Ingredients
6 grams (1/5 ounce) beeswax
40 grams (1 1/3 ounces) coconut oil
35 grams (1 1/4 ounces) baking soda
15 grams (1/2 ounce) arrow-root (or other starch, such as potato starch, corn starch, etc.)
20 drops palmarosa essential oil
Instructions
Put the beeswax in a heat-resistant bowl and place it over a pan of simmering water. Let it melt gently (don't overheat).

Add the coconut oil and let it melt, stirring to combine (I use a small whisk).

Remove from the heat. Stir in the baking soda and arrow-root until you get a creamy consistency.

Add the essential oil and mix again.

Scrape into a small container (or an empty deodorant stick) and let set at room temperature, or in the fridge to speed things up.
Notes
Use organic ingredients wherever possible.
The photos illustrating the process were taken on a day I tripled the recipe.
For an even simpler process, check this three-ingredient formula.
https://cnz.to/recipes/other-recipes/homemade-natural-deodorant-travel-friendly-recipe/
Unless otherwise noted, all recipes are copyright Clotilde Dusoulier.