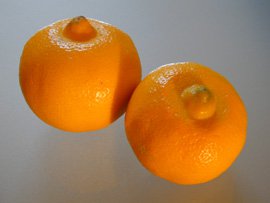 [Bergamot Oranges]
I bought these two from a basket at the Batignolles market the other day, intrigued as I was by their label and shape (notice the cute nipples).
Alternative citruses have been getting more and more attention these past few years, with yuzus, combavas, kumquats and cedrats coming out of the shadows, infusing dishes with unusual flavors, and perking up restaurant menus ("Um, what is yuzu again?", the rookie diner asks).
The Bergamot Orange (simply called la bergamote in French, whereas "bergamot" in English is a herb from the mint family) is mostly grown in Italy and is believed to be a natural cross between lime and sour orange. Needless to say, this heritage makes it quite the sour little guy, but its distinctive and complex flavor more than makes up for it.
Its rind is very rich in essential oils, used in perfumes and cosmetics, and its zest and juice are used in pastries and confections: in particular, the square bergamot candy is a famed specialty from the French city of Nancy. And of course, bergamot is the dominant flavor in Earl Grey tea, as I suddenly remembered just after juicing one, trying to make out what the smell on my fingers reminded me of.
I used some of the juice in a pleurotte mushroom salad (recipe on its way), to which it gave a delicious aromatic twist. The rest I squeezed and served to my friend's daughter Maïa, with whom I share an uncanny taste for pure lemon juice to make the tongue recoil and who, being quite the little taste adventurer, asked for seconds of this novel and exciting version.