Gâteau à l'orange et au gingembre
This is another cake I baked for our Goûter de Cousins last Sunday. I tasted my first flourless orange cake about a year ago at Rose Bakery, and absolutely loved it. I had tried to reproduce it then, and had made an Orange and Poppyseed version, adapting a recipe found on the web. It was really good — the orange and poppyseed pairing was great — but the texture wasn't quite what I was looking for.
This time, I drew inspiration from Trish Deseine's book Mes petits plats préférés. Her recipe for "Gâteau de clémentines pochées" (Poached Clementine Cake) is pretty similar to the one I used a year ago — and one that appears in a Nigella Lawson cookbook as well — with just a little more almonds and a little more sugar.
As you know, following a recipe without throwing in my two cents just isn't as much fun, so I decided to make an orange and ginger version of this cake, adding fresh ginger and candied ginger to the batter. The oranges I used were three of the small blood oranges from my last Campanier basket. I also lowered the amount of sugar, used baking soda in place of baking powder, shortened the baking time, and added an icing with pearl sugar.
This cake was a real hit and I received lots of compliments about it. Incredibly moist and flavorful, with the wonderful taste of orange marmalade, the subtle kick of ginger and a delicious sugar crust, it also looks beautiful. I will definitely make this again while the orange season lasts.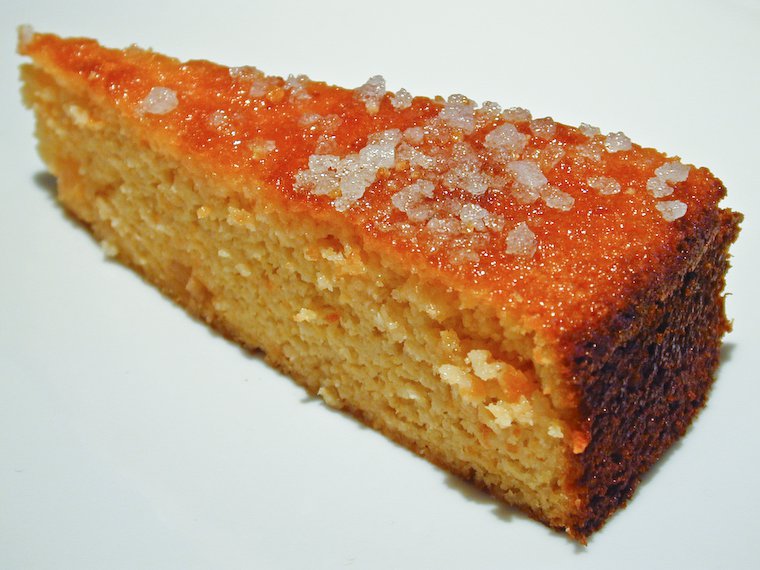 Have you tried this? Share your pics on Instagram!
Please tag your pictures with #cnzrecipes. I'll share my favorites!
Flourless Orange and Ginger Cake Recipe
Ingredients
3 small organic oranges or 2 large organic oranges, about 600 g (1 1/3 lb) total
6 large eggs
200 g (1 cups) sugar
250 grams (2 1/3 cups) almond flour (= almond meal or ground almonds)
a thumb-sized knob of fresh ginger
1/4 cup candied ginger
1 teaspoon baking soda

For the topping:

the zest and juice of a lemon
60 grams pearl sugar (from a baking supplies shop, ordered online, or homemade)
Instructions
Preheat the oven to 180°C (360°F). Grease a 24-cm (10-inch) springform cake pan.
Wash the oranges well. Put them in a medium saucepan, and cover with water. Put the saucepan over medium heat, cover, and simmer for two hours, adding a little hot water if the level gets too low. Drain, and let cool. Cut in quarters and puree in a food processor, blender, or food mill.
Peel and chop the fresh ginger. Dice the candied ginger finely. In a large mixing bowl, beat the eggs with a fork. Whisk in the orange puree, sugar, almonds, baking soda, and fresh ginger, until well blended. Fold in the bits of candied ginger.
Pour the batter into the cake pan, and bake for 45 minutes, until golden brown and a cake tester inserted in the center comes out clean. Let cool for a few minutes on a rack, while you prepare the frosting. Run a knife around the cake to loosen it, and remove the sides of the pan.
Put the sugar crystals in a small bowl with the lemon juice and zest. Spoon this mixture evenly onto the top of the cake. Let cool completely before serving. It can be made a day ahead, wrapped in plastic and stored in the refrigerator.
Notes
You may, like me, find the smell of whole oranges boiling fairly unpleasant the first time, but it has nothing to do with the smell or taste of the finished product.
https://cnz.to/recipes/cakes-tarts/flourless-orange-and-ginger-cake-recipe/
Unless otherwise noted, all recipes are copyright Clotilde Dusoulier.