For the past couple of months, my weekly vegetable allotment has included big bags of salad greens, oftentimes the scratchy and flavorful kind such as frilly mustard leaves or peppery mizuna or a mix of both.
We love to eat those dressed in a classic vinaigrette or a cooked shallot vinaigrette. But there's only so much salad even I can eat before green tendrils start growing out of my ears — and only so many days these greens can spend in the crisper before they lose their pert. So I devised this green quiche recipe with walnuts to use up a bunch of them, with some walnuts thrown in for extra crunch and flavor.
There's only so much salad even I can eat before baby green tendrils start growing out of my ears, so I devised this green quiche recipe to use up my greens.
I make this green quiche with my trusty and beloved olive oil tart crust: I drape it over and into a deep tart ring to produce a petite but thick quiche, which I find attractive. Such tart rings are available from professional cooking and baking supplies stores — I believe I got mine from E. Dehillerin — but if you don't have that on hand, a regular pie or quiche pan will work just fine.
So far I've kept this quiche vegetarian, but the addition of crumbled bacon, no-additives lardons sautéed until crisp, or torn strips of leftover roast chicken wouldn't hurt one bit.
As a bonus, this green quiche recipe will leave you with scraps of olive oil tart pastry, which I recommend you upcycle into these seaweed and seed crackers.
Join the conversation!
Do you ever find yourself with a glut of greens, and if so, how do you deal with it when you tire of salads?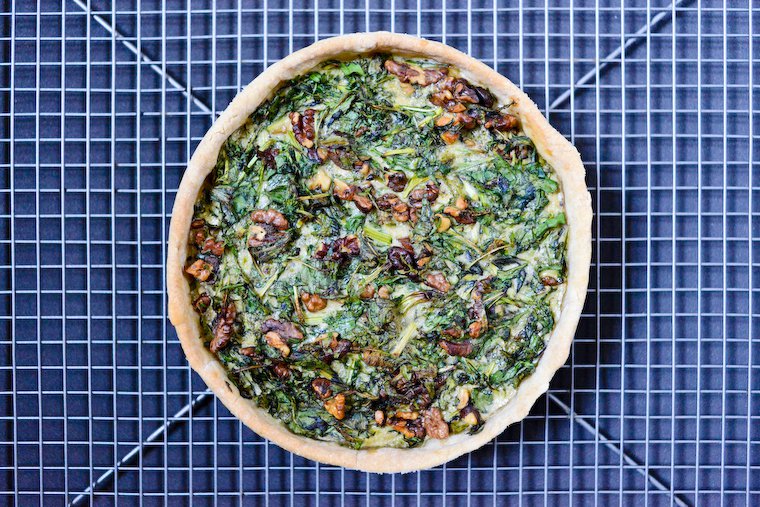 Have you tried this? Share your pics on Instagram!
Please tag your pictures with #cnzrecipes. I'll share my favorites!
Greens and Walnut Quiche Recipe
Ingredients
the uncooked dough for my easy olive oil tart crust, or the tart dough of your choice
250 grams fresh leafy greens, such as mustard leaves, mizuna, dandelion leaves, spinach, or kale (tough spines removed as needed); a little sorrel mixed in is lovely
125 grams (1 1/4 cups) walnut halves, toasted
3 large eggs
180 ml (3/4 cup) milk
60 ml (1/4 cup) cream
Instructions
Line the bottom of a 25-cm (10-inch) quiche pan with parchment paper and grease the sides. Alternatively, use an ungreased, bottomless tart ring -- mine is 20 cm (7 3/4") in diameter and 4.5 cm (1 3/4") in height -- placed on a sheet of parchment paper or silicon baking mat.
Roll out the dough on a lightly floured surface, transfer to the pan, and drape it carefully along the sides.

Trim off the excess dough with a roll of the rolling pin and place in the fridge to rest for 30 minutes. (Use leftover dough to make crackers.)

Chop the greens into bite-size pieces.

Chop the walnuts roughly.

Preheat the oven to 180°C (360°F). Prick the bottom of the pastry with a fork and insert in the oven to bake for 10 minutes.
In the meantime, in a medium mixing bowl, combine the greens, eggs, milk, and cream. Stir vigorously to bruise the greens into a reduced volume. Fold in the walnuts.

Pour into the parbaked crust.

Lower the oven temperature to 160°C (320°F) and bake for another 35 to 40 minutes, until the filling is set.

Let rest for 10 minutes before unmolding and serving, with a lightly dressed green salad.
https://cnz.to/recipes/vegetables-grains/greens-and-walnut-quiche-recipe/
Unless otherwise noted, all recipes are copyright Clotilde Dusoulier.