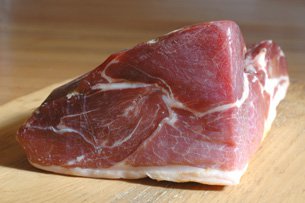 [Ham from the Aldudes Valley]
In the galaxy of first-class hams, this one most definitely deserves its place. It is made by 60 producers in the beautiful valley of Les Aldudes in the Pays Basque, from a specific breed of pig called le porc basque.
This pig, which sports a pretty pink and black outfit, almost didn't make it through the twentieth century: from 140,000 individuals in 1929, the headcount had dwindled down to a dramatic twenty by 1981, when the species was officially declared endangered by the French ministry of agriculture.
A few years later, a group of farmers from Les Aldudes, led by Pierre Oteiza, decided to save the basque pig from oblivion and return to traditional methods of breeding and salting. Their action gradually raised the number of pigs and sows, more farmers joined the cause, and in 1995 the porc basque was officially declared out of the woods.
This is just a manner of speaking because the basque pig is in fact destined to spend most of its life up in the mountain forests, where it feeds on grass, roots and the dried fruits that fall from the trees — chestnuts, acorns and beech nuts (faîne in French, which I'm sure you'll be as happy to learn as I was) — in addition to a mix of non-GMO grains delivered to the herd daily. At 12 to 14 months, the pigs are taken back down to the valley for a somewhat less pleasant episode, which I won't expand upon.
Their legs and shoulders are then salted with natural salt harvested around Bayonne (200 million years ago this area was beneath sea level), rubbed with pepper, exposed to the mountain winds to dry, and aged for 12 to 16 months.
Maxence and I purchased ours from Pierre Oteiza's store just outside the village of Les Aldudes. We admired the cute little piglets that were there (they weren't busy building straw, stick or brick houses, as one might have expected, but rather trying to all graze the exact same spot of grass at the same time, or teaching themselves how to fly), and then went inside to taste and buy (for 40€/kg) a quarter of a leg, probably taken from one of their cousins. Ah well, such is the ecosystem.
A noble dark red, interspersed with little specks and thin layers of flavorsome fat, this ham has a tight and firm texture that melts on the tongue, liberating a powerful and complex taste, brought out (and not at all overpowered) by its saltiness. It is best cut in thin slices with a sharp knife and served at room temperature, at the point where the fat starts to sweat a little.
And of course, like all high-quality hams, you should make sure you get a bit of fat in every bite, an important part of the overall taste experience.
Pierre Oteiza
64430 Les Aldudes
05 59 37 56 11
(Also at 13 rue Vignon, Paris 8ème, but you will miss the whole piglet experience.)