When I returned to Paris after two years of fabulous eats in California, one of the things I missed the most was good Indian food. Since India produces excellent engineers, many of them end up working for Silicon Valley companies, and we made friends with one of them who was kind enough to invite us to dinner now and then. His wife, a fine cook with no work visa, would then spend the day cooking for us, to our collective delight and eternal gratitude.
The memory of those meals has made me particularly fond of family-style Indian cooking, the kind you can practice at home without too much complication, and without chasing a million ingredients around the La Chapelle neighborhood*. This may be paradoxical, but I find these dishes particularly welcome in colder months — probably because of the warmth of their flavors and the richness of their spices, as evidenced by today's recipe.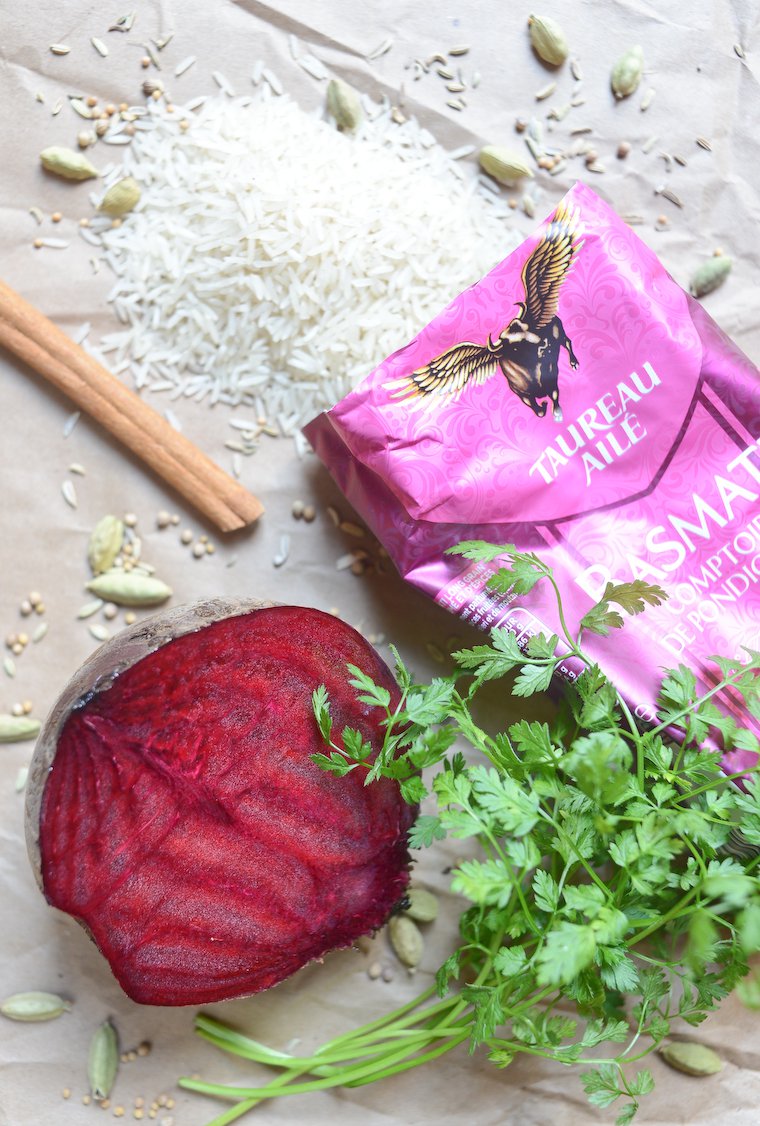 What I want to share today is a super easy spiced pilau rice, a rice dish that you cook in a skillet. I add in diced beets, for the gorgeous color and the earthy sweetness, and to get a complete meal with just. one. pan. to clean. From beginning to end, it can be ready in twenty minutes (half an hour, tops) so it's perfect for those weeknight dinners when you're trying to decide if you're more exhausted or famished.
Scoop this into a bowl, scatter a few fresh herbs and cashews on top, put a fork in it, and settle down in your favorite dinner chair. Deep breath… All is well now.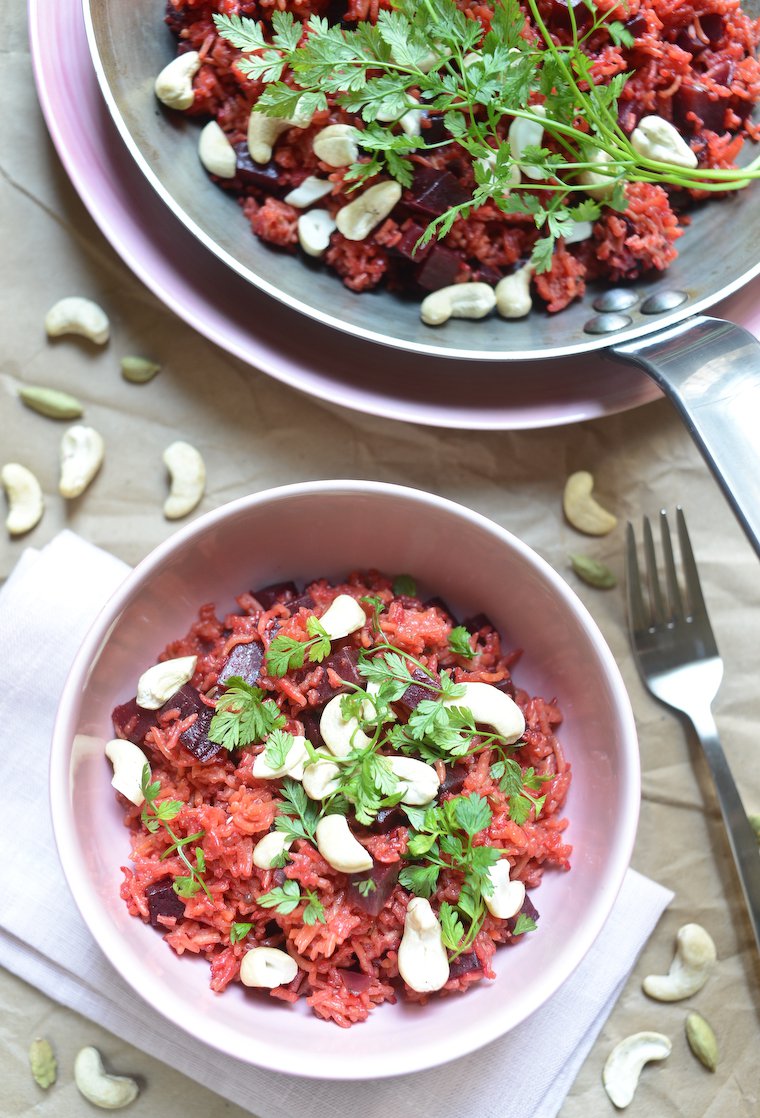 I want more India in my kitchen!
If you share my enthusiasm, I recommend this winter vegetable curry and this easy fish curry with tomatoes and coconut. And if you want to add an Indian cookbook to your culinary library, let me put in a good word for Meera Sodha's absolutely charming Made in India.
[sc:cinnamon_note]
* The "Little India" neighborhood (actually more Sri Lankan) around the La Chapelle metro station, between the 18th and the 10th arrondissement of Paris, is home to dozens of restaurants and markets that should make you very happy.

Have you tried this? Share your pics on Instagram!
Please tag your pictures with #cnzrecipes. I'll share my favorites!
Spiced Pilau Rice with Beets Recipe
Ingredients
2 tablespoons coconut oil
1/4 teaspoon fennel seeds (see note on spices below)
1/4 teaspoon coriander seeds
1/4 teaspoon mustard seeds
1/4 teaspoon freshly grated cinnamon [sc:cinnamon_link]
The seeds from 4 cardamom pods
180 grams (1 cup) white basmati rice (see note on substituting brown basmati rice)
1/2 teaspoon fine sea salt
280 grams (10 ounces) raw beet (1/2 large one), peeled and cut into 1-cm (1/3-inch) cubes
360 ml (1 1/2 cups) vegetable or chicken stock, homemade if available
100 grams (3 1/2 ounces) cashews, roughly chopped, for serving
Fresh cilantro or chervil, roughly chopped, for serving
Instructions
Heat the coconut oil over medium heat in a large skillet. Add in the spices (fennel seeds, coriander seeds, mustard seeds, cardamom seeds) and heat for a few seconds, until they start to pop.

Add the rice and salt, stir to combine, and cook for 3 to 4 minutes, stirring regularly, until the rice becomes translucent.

Add the beets and stir to combine.

Pour in the stock and bring to a simmer. Adjust the heat so it will remain at just a low simmer, cover, and cook without stirring until all the stock is absorbed; this will take 10 to 15 minutes depending on your rice.

Taste for doneness (if the rice isn't cooked through, add a few tablespoons stock and cook for a few more minutes), adjust the seasoning, and serve, with a scatter of cashews and fresh herbs.
Notes
Don't be intimidated by the spices I use here! They're excellent ones to keep in your spice rack, and if you buy them whole they will keep virtually forever. But if you don't have them right now, simply replace the spices with 2 teaspoons good-quality curry powder, and add it in with the rice (no toasting necessary).
If you want to substitute brown basmati rice, use 500 ml (2 cups) stock and allow to cook for 45 to 50 minutes, depending on your rice.
https://cnz.to/recipes/vegetables-grains/spiced-pilau-rice-beets-recipe/
Unless otherwise noted, all recipes are copyright Clotilde Dusoulier.