These days our produce guy is all about tomatoes — big and small, ribbed, smooth, or pointy, red, yellow, green, or pearl — and at the rate I'm going, I am bound to turn into one very soon. I've been making tomato salads and sandwiches like they're going out of style, I've been making tomato tarts and tomato tarragon bread soup, and I've been mixing batches of gazpacho.
(My two stand-by tomato tarts are the tomato tart tatin and the tomato mustard tart respectively featured in my first and second cookbooks. Get yourself a copy of Chocolate & Zucchini and of The French Market Cookbook today!)
Another one of my top uses for this tomato bounty is shakshuka, a preparation that can be found in slightly different incarnations across North Africa and the Middle East. My first encounter with it was in Janna Gur's excellent Book of New Israeli Food, which I told you about here and here, and I have since become acquainted with the Tunisian version as well.
A not-so-distant cousin of Provence's ratatouille, Corsica's pebronata, and the Basque piperade, shakshuka is most commonly a dish of tomatoes stewed with onions, bell peppers, and chili peppers. This forms a thickish sauce, in which eggs are cooked — either scrambled or (my preference) undisturbed so they're halfway between poached and sunny side up.
It is a simple, family-style dish that is quickly assembled, and highly flexible.
You can:
– add other vegetables, especially zucchini or eggplant that you'll cook in the sauce; artichoke hearts, drained from a jar; and diced potatoes, which you should boil beforehand,
– substitute quality canned tuna or merguez (spicy beef sausages) for the eggs,
– garnish the dish with black olives and parsley or cilantro, as I like to do, or serve it plain,
– serve the sauce with lamb skewers or other grilled meats (just not pork, for cultural consistency),
– freeze the sauce for later use: think how thrilling it will be to eat shakshuka in November!
Some recipes call for roasting the bell peppers first, which is good if you find them hard to digest, but I don't think anyone wants to fire up the oven more than strictly necessary when it's hot out. Others suggest you peel the tomatoes, but it seems unnecessarily fussy to me.
If your spice rack boasts a Moroccan spice mix, such as ras el hanout, now would be a good time to use it, in place of the separate spices (cumin, caraway, paprika, turmeric, and cinnamon) I've included. And if you don't have a mix, and you don't have all the spices listed either, don't worry about it too much and just use what you have.
Get your FREE seasonal produce calendar!
If you're excited about greenmarkets, in Paris and beyond, you need my seasonal produce calendar; it's FREE to download! I've drawn up this handy guide to tell you what's in season when, and how long things will stay fresh, so you can cook healthy, colorful meals and not waste a single lettuce leaf, like, ever.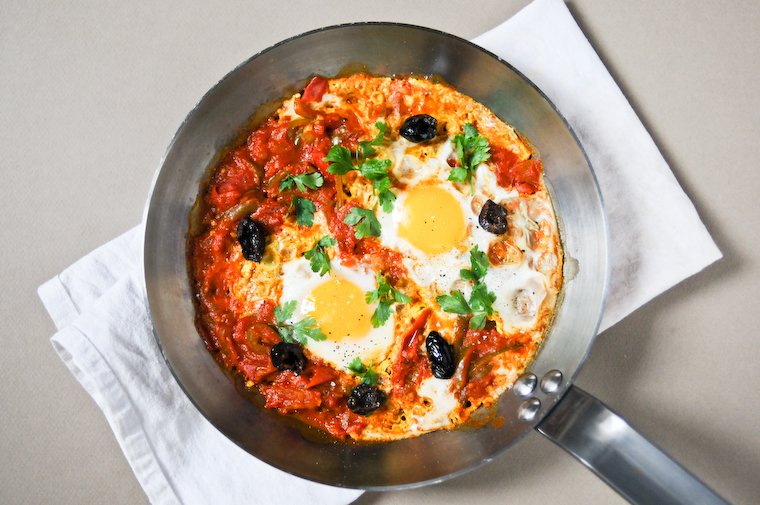 Have you tried this? Share your pics on Instagram!
Please tag your pictures with #cnzrecipes. I'll share my favorites!
Ingredients
olive oil
1 clove garlic, finely chopped
200 grams (7 ounces) onions, thinly sliced
200 grams (7 ounces) bell peppers (2 small or 1 large; I like green for the color contrast), seeded and thinly sliced
1 small chili pepper (optional; ground chili powder or harissa may be substituted to taste), thinly sliced (keep the seeds if you like it hot, remove them otherwise)
1/2 teaspoon fine sea salt
1 teaspoon cumin (whole seeds or ground)
1 teaspoon caraway seeds
1 teaspoon paprika (sweet or hot, smoked or not)
1 teaspoon ground turmeric
1/4 teaspoon ground cinnamon
1 kilogram ripe tomatoes, cut into big chunks (out of season, you can substitute 800 grams/28 ounces jarred or canned whole tomatoes; if canned, pick a brand with no BPA in the lining)
6 to 8 fresh eggs
the leaves from a few stems of fresh parsley or cilantro
16 Greek-style black olives, pitted and roughly chopped
freshly ground black pepper
good crusty bread, for serving
Instructions
Heat 1 tablespoon olive oil in a large skillet. Add the garlic, onions, bell peppers, and chili pepper if using. Stir and cook over medium heat, stirring regularly, until softened, about 5 minutes. Add the spices (cumin to cinnamon), stir well, and cook for a minute until fragrant.
Add the tomatoes, stir, and simmer uncovered over medium-high heat, stirring regularly, until all the ingredients have melded together, the excess juices from the tomatoes have evaporated, and you're left with a thickish sauce -- exact timing will depend on how juicy your tomatoes are, but expect around 20 minutes of simmering. Taste and adjust the seasoning. (The recipe can be made in advance until this point. Let cool, transfer to an airtight container, and refrigerate; reheat in the skillet before using. The sauce may also be frozen.)
Make sure the sauce is quite hot before you add in the eggs. Depending on the number of guests, form 6 to 8 shallow wells in the sauce, and break an egg into each. Some of the whites will spill over to the next wells and that's fine. Cook over medium heat without disturbing until the whites are set to your liking. You can cover the pan to speed up the cooking. (Alternatively, if cooking for one, you can heat up a single serving of the sauce in a small skillet, as pictured.)
Sprinkle with parsley, olives, and pepper, and drizzle with a little bit of olive oil. Serve immediately, using a spatula to lift the eggs without breaking the yolks, with bread for mopping up the juices.
https://cnz.to/recipes/vegetables-grains/shakshuka-recipe/
Unless otherwise noted, all recipes are copyright Clotilde Dusoulier.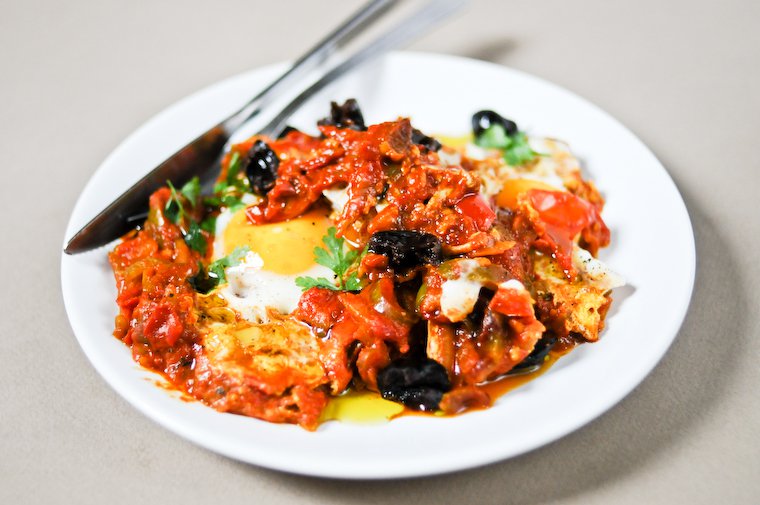 This post was first published in August 2013 and updated in July 2017.