A few weeks ago, I received an email from a reader named Pamela, who said she was working her way through the C&Z archives — I am so heartened when people do that — and had noticed, in this older-than-salt post, a reference to the weeknight lasagna our friend Zoe made for us when we visited her in London. Did I ever end up sharing that recipe? Pamela asked.
The short answer is: no. The long answer is: I've thought about Zoe's lasagna on a regular basis since then, but somehow the opportunity to reproduce it failed to arise. Such is the fate, I'm ashamed to admit, of 99% of the recipes I collect, because I seldom cook from recipes at all, and because I collect a staggering volume of them anyway.
From the oven emerged a well-balanced, flavorful lasagna, satisfying but not too rich, which fed a tableful of appreciative friends.
But Pamela's note was the nudge I needed: I opened the drawer in which I keep my old notebooks, and found the one that had accompanied me to London. I flipped through the pages, read the notes I'd jotted down according to Zoe's explanations, and rolled my eyes: my scribblings had probably made sense at the time, but five years later they had become rather dim, and in particular, I had included no ingredient measurement whatsoever.
Still, the overall process was documented, and lasagna-making is no exact science after all, so I decided to wing it. What was the worst that could happen? And instead, the best did: from the oven emerged a well-balanced, flavorful lasagna, satisfying but not too rich, which fed a table of appreciative friends.
So if, like me, you tend to overlook the most evidently pleasing dishes in your pile of recipes, I can only encourage you to stop, and make this one.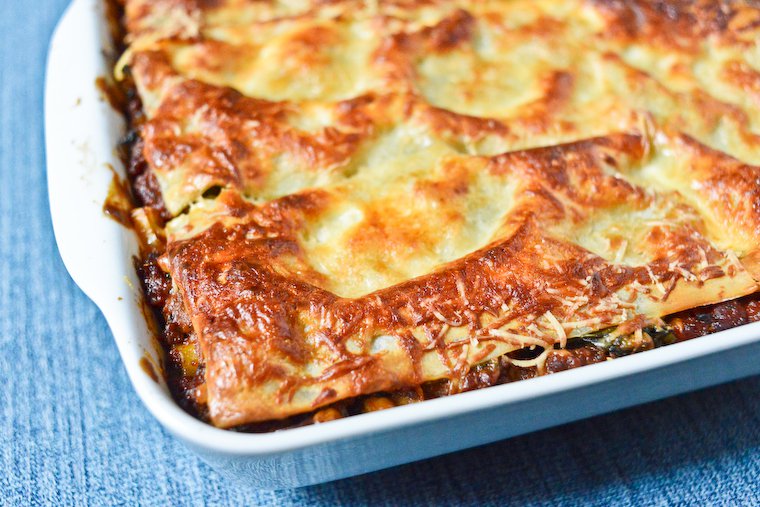 Have you tried this? Share your pics on Instagram!
Please tag your pictures with #cnzrecipes. I'll share my favorites!
Meat and Vegetable Lasagna Recipe
Ingredients
For the meat sauce:

400 grams (14 ounces) ground beef (the leanest type available), preferably organic
300 grams (10 ounces) uncooked pork and/or veal sausages (I use Toulouse-style sausages, one smoked, one regular; they're similar to the Italian sausages shown on that page), preferably organic, casing removed
2 small yellow onions, minced
2 cloves garlic, chopped
1/2 teaspoon whole cumin seeds
1 teaspoon herbes de Provence (or a mix of dried oregano, basil, thyme, and rosemary)
1/4 teaspoon salt
1/4 teaspoon chili pepper
500 grams (17 1/2 ounces) tomato paste/purée (not double concentrated; I avoid canned; jarred or in a carton tastes much better)
400 grams (14 ounces) diced or crushed tomatoes, preferably from a jar, or fresh (peeled and seeded)
120 ml (1/2 cup) red wine

For the vegetable and cheese layers:

600 grams (1 pound 5 ounces) mixed grilled vegetables, cut into bite-size strips (I used the very good mix of zucchini, eggplant, and bell peppers sold at Picard, thawed; you can substitute roasted bell peppers, sautéed zucchini, browned mushrooms, sautéed spinach, rucola...)
250 grams (1 cup, or 9 ounces) ricotta cheese
1 egg
60 ml (1/4 cup) milk
freshly ground black pepper

And finally:

A pat of butter
250 grams (9 ounces) sheets uncooked dried lasagna
70 grams (2/3 cup) freshly ground parmesan
Instructions
Prepare the meat and tomato sauce:

In a heavy pot set over medium-high heat, add the beef, sausage meat (casing removed), onions, and garlic, and cook until the meat is cooked through and browned, about 10 minutes, stirring frequently. If the meat renders a lot of fat, remove the excess. Sprinkle with the cumin, herbs, salt, and chili pepper, and cook for 2 more minutes, until fragrant.
Add the tomato paste, crushed tomatoes, and wine, and stir to combine. Bring to a simmer, cover, and cook at a low simmer for at least 1 hour, and up to 3 hours (the longer, the better), stirring every once in a while to make sure nothing sticks to the bottom of the pot. Taste and adjust the seasoning. (The sauce can be made up to a day ahead; let cool, cover, and refrigerate.)

Prepare the vegetables and ricotta sauce:

While the sauce simmers, prepare and cook whatever vegetables you'll be using -- I used a mix of grilled vegetables that simply need thawing. Make sure the vegetables are drained well. They can be prepared a day ahead, too.
In a medium mixing bowl, whisk together the ricotta, egg, and milk, and season with a little salt and plenty of freshly ground black pepper.

Assemble the lasagna:

Preheat the oven to 180°C (360°F), and butter the bottom and sides of a large baking dish, preferably square or rectangular -- mine is a square 26-cm (10 1/4-inch) ceramic dish.
Arrange a layer of lasagna evenly across the bottom of the dish, without overlapping; you may have to break sections of the sheets to fit.
Spread 1/2 of the meat sauce over the lasagna sheets. Top with 1/2 of the vegetables, and 1/3 of the ricotta sauce.
Arrange another layer of lasagna sheets on top. Top with the remaining meat sauce, the remaining vegetables, and 1/3 of the ricotta sauce.
Arrange a final layer of lasagna sheets over the top, spread with the remaining ricotta sauce, and sprinkle with the parmesan. (You can prepare and assemble the lasagna a few hours in advance. Cover and refrigerate until ready to bake.)
Cover loosely with foil and bake in the oven for 30 minutes. Remove the foil and bake, uncovered, for another 30 minutes, until the top of the lasagna is nicely browned and crusty.
Bring to the table and serve with a green salad.
https://cnz.to/recipes/pasta/meat-and-vegetable-lasagna-recipe/
Unless otherwise noted, all recipes are copyright Clotilde Dusoulier.