Spring has sprung in Paris, and we have had a few of those sky-so-blue, light-of-gold, fill-my-heart-to-bursting days, the kind that makes every Parisian mellow out and smile the way not other time of year does.
There is still a definite chill in the air, though, which is part of the charm of this particular turn of season, and we are not quite out of stew territory yet. It is an in-between I love and embrace, and the perfect time to make the quickest, easiest Beef Bourguignon you can imagine.
In my first cookbook I have a recipe for traditional Boeuf Bourguignon that is really really good (do you know my first book is full of staples from my repertoire?). But when I'm pressed for time, I streamline the process quite a bit to have it be ready in just two hours, most of which is just the pressure cooker working its magic while you paint your toenails (I wish) or herd the small people in your life (more like).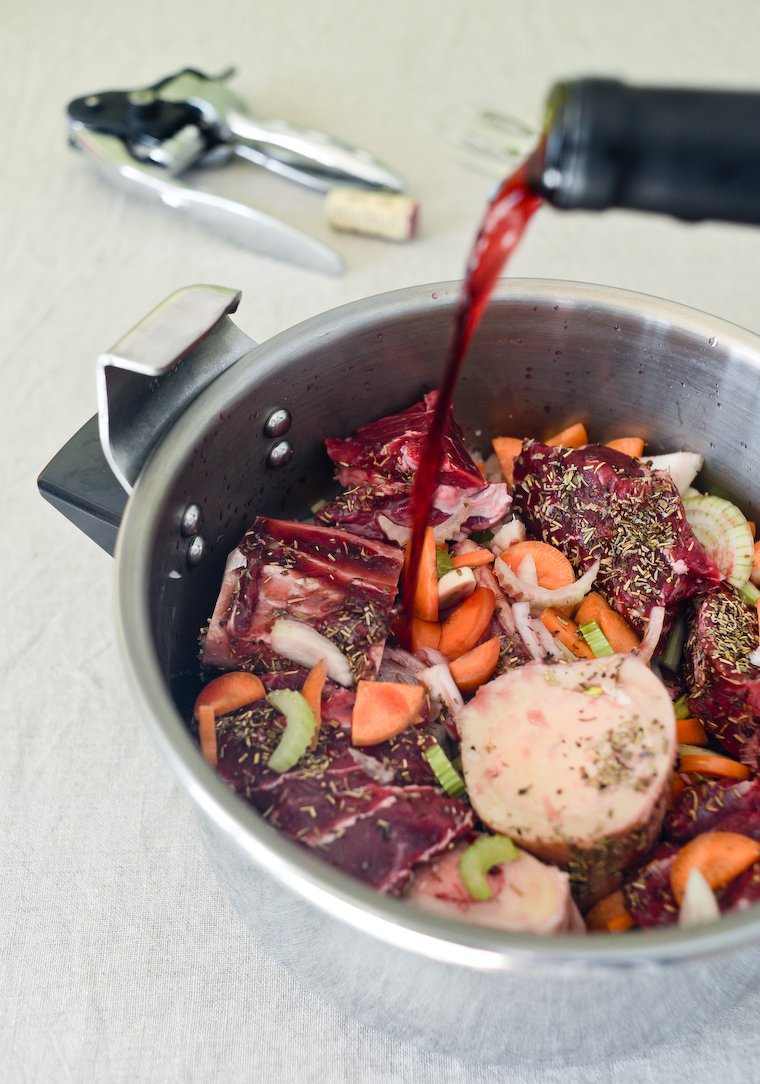 I'm sure a side-by-side taste comparison would reveal more depth of flavor in the cookbook version, which includes marinating and browning the meat before stewing, but the bang for your buck of this pressure cooker beef bourguignon is quite extraordinary.
So get thee to your favorite butcher shop or meat counter (check out my tips on buying meat like the French) and buy some sustainably-raised beef. Pick up a reasonably priced bottle of red, and have yourself a lovely French meal.
Oh, and let me point out that the recipe only uses two-thirds of the wine; do with the rest what you will.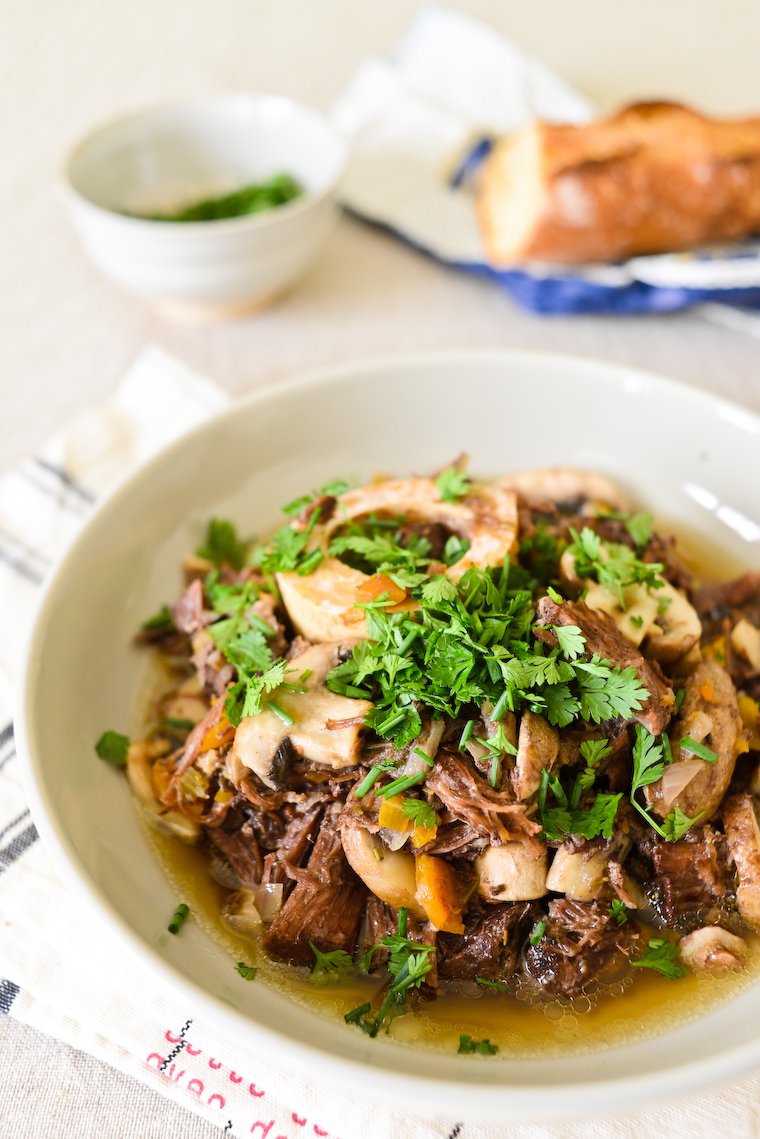 Have you tried this? Share your pics on Instagram!
Please tag your pictures with #cnzrecipes. I'll share my favorites!
Pressure Cooker Beef Bourguignon Recipe
Ingredients
1 kilogram (2.2 pounds) stew-friendly cut of sustainably-raised beef (such as beef chuck), cut into 5-cm (2-inch) cubes (your butcher can do that for you)
1 marrow bone, cut (by the butcher) into 5-cm (2-inch) slices (optional)
3 stalks celery, thinly sliced
3 medium carrots, halved or quartered lengthwise depending on thickness, and sliced thinly
2 medium yellow onions, sliced thinly
2 cloves garlic, chopped finely
2 teaspoons mixed dried herbs, such as Herbes de Provence (thyme, rosemary, basil, oregano...)
1 bay leaf
500 ml (2 cups) medium-body dry red wine, preferably Pinot noir or Gamay (in keeping with the traditional grapes of Burgundy)
500 grams (1 pound) fresh brown mushrooms, sliced
Fine sea salt
Freshly ground black pepper

For serving:

Fresh parsley, chervil, and/or chives, snipped
Steamed new potatoes
Crusty bread
Strong mustard
Instructions
At the bottom of a pressure cooker, slow cooker, or Dutch oven, put the beef, marrow bone, celery, carrots, onions, garlic, herbs, bay leaf, and 2 teaspoons salt.
Pour in the wine.

If using a pressure cooker:

Secure the lid. Place over medium-high heat and bring to pressure. Lower the heat to medium-low just to maintain the pressure, and cook for 45 minutes to 1 hour, depending on the pressure level of your pressure cooker (high or medium).
Place the pressure cooker in the sink and run fresh water over the lid to release the pressure before opening.

If using a slow cooker:

Secure the lid. Set the slow cooker on low and let it stew for 9 to 11 hours, until the meat is fork-tender.

If using a Dutch oven:

Cover the pot and place over medium-high heat to bring to a simmer.
Lower the heat just to maintain the simmer, and cook for 3 to 3 1/2 hours, stirring once in a while, until the meat is fork-tender. Add a little more water if the levels of liquid run low.

In all cases:

Add the mushrooms and simmer for an additional 5 minutes, until the mushrooms are just cooked through.
Taste and adjust the seasoning.
Sprinkle with the fresh herbs and freshly ground black pepper, and serve with steamed new potatoes, crusty bread, and strong mustard.
Notes
If you can make this a day ahead, the flavors and texture will be even better. (This applies to the leftovers as well.)
The marrow from the bone tends to slip out after it's cooked. I don't mind as it melds with the sauce and makes it even silkier. If you prefer to keep it in, however, you can either close off each end with a slice of carrot and secure with a piece of kitchen string, or rub the exposed surface of the marrow with coarse salt.
https://cnz.to/recipes/meat-charcuterie/pressure-cooker-beef-bourguignon-recipe/
Unless otherwise noted, all recipes are copyright Clotilde Dusoulier.