We had friends over for brunch on Sunday, and Maxence went out in the morning to the charcuterie shop, cheese shop, and bakery. He came back with a basketload of ready-to-eat goodies — bone-in ham and duck terrine and eggs in aspic and cheese and freshly baked bread — that we served with a simple green salad topped with toasted pumpkin seeds.
And for the sweet part of the brunch (there must be a sweet part to a brunch, otherwise it's just lunch), I baked scones, using my favorite recipe, which is simple and quick, and calls for ingredients I always have on hand.
These scones are delicious plain, but you can add whichever flavoring you like:
spices, such as vanilla, cinnamon [sc:cinnamon_link], ginger, roasted lemon zest powder, cardamom…
dried fruits, such as blueberries, cranberries, or raisins (if using larger fruits such as apricots or figs, dice finely)
nuts, finely chopped, such as almonds, hazelnuts, pecans, walnuts…
citrus zest, freshly and finely grated
orange flower water, not too much for a subtle, non-soapy flavor
chopped or grated chocolate
I baked the scones earlier that morning, and put them back in the oven for a few minutes to reheat before serving, with butter and creamy honey.
[sc:cinnamon_note]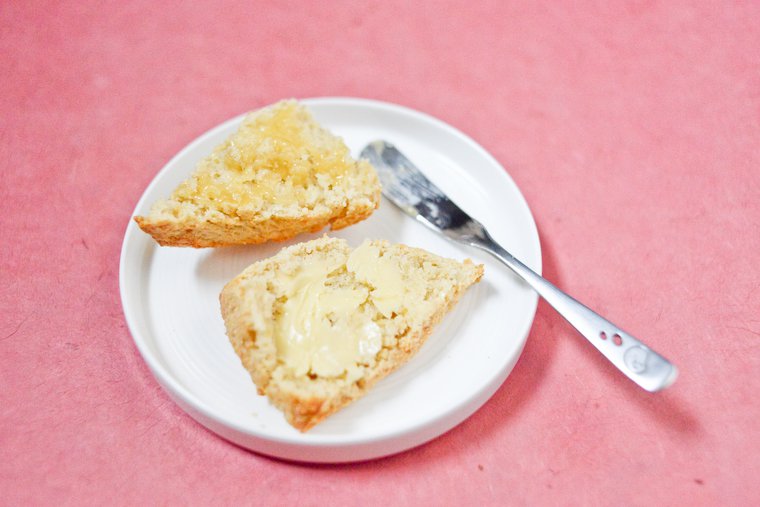 Have you tried this? Share your pics on Instagram!
Please tag your pictures with #cnzrecipes. I'll share my favorites!
Ingredients
220 grams (1 2/3 cup) flour
25 grams (2 tablespoons) sugar, plus more for sprinkling
1 tablespoon baking powder
1/2 teaspoon fine sea salt
55 grams (1/4 cup) unsalted butter, chilled and diced
125 ml (1/2 cup) plain yogurt (not fat-free)
2 tablespoons plus 1 teaspoon milk (not fat-free)

Your choice of flavoring (optional)

2 teaspoons homemade vanilla extract
1 teaspoon ground spice of your choice, such as cinnamon [sc:cinnamon_link]
1 teaspoon finely grated citrus zest
2 to 3 tablespoons finely diced dried fruits
2 to 3 tablespoons finely chopped nuts
2 teaspoons orange flower water
2 to 3 tablespoons chopped or grated chocolate
Instructions
Preheat the oven to 175°C (350°F). Line a baking sheet with parchment paper or a silicon baking mat.
In a medium bowl, combine the flour, sugar, baking powder, and salt. If you're using vanilla extract, spices, or citrus zest, add them in now.
Dice the butter and blend it into the dry ingredients using a fork or pastry cutter, until no visible lump of butter remains.

Stir in the yogurt, 2 tablespoons milk, and any dried fruits, nuts, orange flower water, or chopped chocolate you want to use.

Turn the dough out onto the counter and knead gently just a few times to form a ball. Handle the dough as lightly as you can and avoid overmixing, or the scones will be tough.

Pat the dough into a round, about 12 cm in width and 3 cm in thickness (about 5 inches in width and 1 inch in thickness). Brush the top with the remaining teaspoon milk and sprinkle with sugar.

Slice into 8 wedges with a knife or dough cutter.

Place the wedges on the prepared baking sheet, giving them a little space to expand.

Bake for 15 to 20 minutes, until the scones are set and nicely golden.
Serve warm, with an assortment of spreads, such as butter, clotted cream, jam, honey, nut butter, apple butter, maple syrup...
https://cnz.to/recipes/bread-brioche/yogurt-scones-recipe/
Unless otherwise noted, all recipes are copyright Clotilde Dusoulier.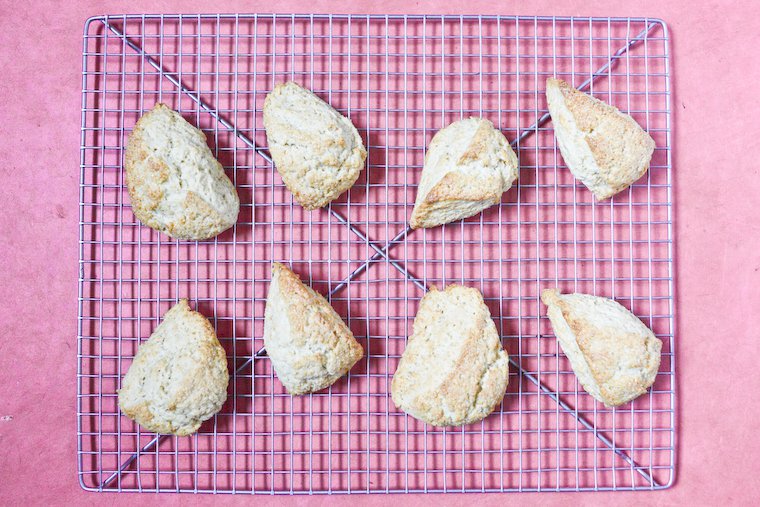 This post was originally published on February 10, 2004.