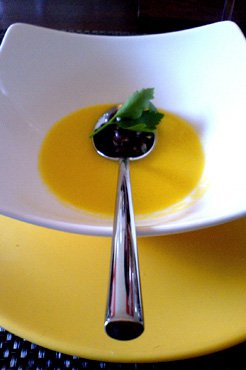 Late last summer, a young chef from Seattle wrote to tell me about his underground restaurant project: Hidden Kitchen was to be set in an apartment somewhere in Paris, where he and his girlfriend would serve a tasting menu with matching wines to twelve diners each week. The price would be reasonable and chef friends visiting from out of town would be invited to cook there on occasion, too.
He had the vision, the name, the funding, the location, and the nifty cut-out cards, but he wanted to reach out and ask for a local's thoughts.
And this local's predominant thought was: yay! (I may have offered a bit more insight — I forget.)
The concept of an underground restaurant is common enough in some countries to be documented on Wikipedia and to have been written up in the press, but I have heard or read very little about similar initiatives in Paris — of course, they may be so underground as to fly below my radar –, so I was excited to learn about this one, and to be in the front row as it made its debut.
It took the team a few months to pull things together, renovate the apartment, set up the kitchen, and decorate the dining room, but the chef wrote again in the spring to announce that things were just about ready: the first official dinner would be held on June 24, but would Maxence and I like to come and lend our taste buds for a proof of concept dinner a couple of weeks before that?
My reply was: see above.
That dinner took place last weekend and, after admiring the rooftop view from the dining room window, oohing at the ornate (but closed off) chimney, aahing at the cool chandelier, and sipping on a white Lillet, all of us happy guests sat down to enjoy the meal, which, as documented on the moblog, unfolded as follows:
~ amuse: blt and gazpacho
~ corn soup with black bean salsa
~ fava beans two ways, soft cooked egg, green goddess dressing
~ chilled crab cake with layered avocado and spicy mayo
~ atlantic salmon over israeli couscous salas and cress
~ watermelon cleanser
~ balsamic marinated steak with spicy peaches
~ heirloom tomatoes over mozzarella fondue
~ cherry handpie and rootbeer float
~ petits fours
(You can watch a slideshow if you prefer.)
This was a highly promising dinner, each dish tastefully plated, well balanced, and clean-flavored, projecting an energy that, to me, epitomizes contemporary American cuisine, as recently tasted at Blue Hill, Schwa, or Nopa: a cuisine that focuses on the quality of the ingredients and the precision of the techniques, but also likes to play around with some of the best loved elements of the American food culture (here, the BLT, the crab cake, the steak and onion rings, the handpie and rootbeer float, or the petits fours).
It is a style of cuisine I thoroughly enjoy but that isn't well represented in Paris, and I am convinced that it will find its public in no time at all. If anything, it may find too large a public for its capacity, as I and other diners/writers report back on their experience and whet their friends' and readers' appetite.
A large part of the charm of an underground restaurant is the fact that the guests are, to a certain extent, friends of friends of friends, recruited through word of mouth. But word of mouth travels at the speed of light in the Internet age — especially now, with optical fiber — and twelve seats fill up just as fast. This is a fantastic thing to get the word out, but in a sort of self-defeating prophecy, there is the risk of losing that "dining society" vibe, along with the likelihood of repeat customers.
This is where the reservation policy comes in and, in my opinion, makes or breaks the underground restaurant: if, as described on Hidden Kitchen's website, only a portion of the seats are available for online reservation, while the others are given away to real life acquaintances shortly before the date of the dinner, a dose of spontaneity and chance can be reinjected in an otherwise locked system.
I would be interested to hear any thought or experience you might have on the subject and I will add, before we part, that I have secured the pastry chef's recipe for those oreo cookies (thank you, Laura!) and will report back as soon as I get a chance to try it out. Stay tuned.