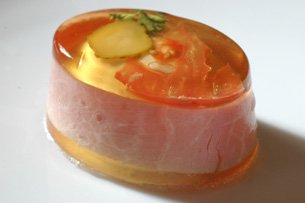 [Egg in Aspic]
And today, let me introduce you to one of the quirky wonders of old-school French charcuterie: the Oeuf en Gelée.
It's a simple preparation, really: a fresh egg, expertly poached into a plump oval, nested in an amber casing of veal aspic, and supported by a few benevolent companions — here, a strip of cooked ham, a bit of chopped parsley, a small piece of tomato and a slice of cornichon.
I am well aware that this may not seem like such a compelling idea, and may even put off more than one aspic-shy eater. I myself turned my nose up at these eggs for years, dismissing them as an obsolete oddity, quite literally congealed in time.
But that was before I actually tasted them (and before I realized you can't just decide you don't like something before you've even tried it). Maxence had been a long-time fan — it was always a treat when his mother got him one for lunch — and when we started living and food-shopping together in Paris, he persuaded me to give them a chance. I was pleasantly surprised, and quick to join him in his devotion.
First, there is the simple joy of freeing the egg from its thin plastic mold, running a knife around the aspic, squeezing the supple sides of the cup, and plopping its contents onto your plate. Secondly, you get to cut through the whole thing with your fork, rupturing the yolk and forming a golden puddle that just begs to be dabbed with a piece of fresh baguette. And then, as you eat your way through the egg, each bite reveals clean and fresh flavors, the glistening smoothness of the aspic responding marvellously well to the rich velvet of the yolk.
Step inside any charcuterie, throw a sweeping glance at the selection, and you will quickly spot the disciplined formation of oeufs en gelée, neatly lined up on a refrigerated shelf. Each shop will have its own shapes and formulas — this one has dill and a sparkling sprinkle of pink peppercorns — and chances are you will also be able to choose from different models. A popular variation features smoked salmon, but I largely prefer the more humble ham version.
I have never attempted to make my own, simply because they are so readily available here and making your own aspic is a tad time-consuming (I recoil at the thought of using instant aspic). But if you feel like embarking on the adventure, there is a recipe in French on Marmiton, and Julia Child also offers one in her famous book
— although I should warn you that Julie Powell did not have much success with it, and even calls it her worse disaster.
[The egg pictured above comes from the Michel Langlois charcuterie, at 20 rue Lepic in the 18th, which I highly recommend for the quality and price of their products.]