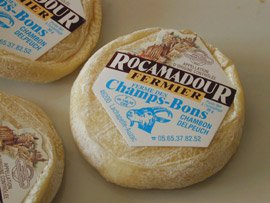 Maxence and I have left the Vosges, and after a diagonal drive all across the Great Kingdom of France, we now find ourselves in the Périgord, the Land of Aplenty. We will spend a few days here, enjoying the breathtaking sights, walking around medieval villages, and eating as many Cabécous as we can lay our hands on.
Cabécou is this little jewel of a goat cheese, a thin little wheel of cheese perfection, ideally sized for a single serving (ha!). It can be enjoyed at its various stages of ripeness, from fresh and mild and mellow to aged and dry and sharp, but we tend to prefer them "bien faits", when they are starting to wrinkle and collapse, and the outer layer beneath the rind is getting to a thick, almost syrupy consistency. This is when the flavor develops fully, and this is when the piece of cheese can sit onto the piece of bread in all its majesty, arranging its soft edges like a robe around the firmness of its heart.
Cabécous are now protected by an AOC (Appellation d'Origine Contrôlée, a certification of origin) which labels them Rocamadour instead (from the name of a nearby village), but Cabécou is the traditional name and it sounds infinitely better, so in our hearts, on our lips and in our tummies, Cabécous shall remain thus named.
Special announcement! My dear friend Marie-Laure has her birthday today : Joyeux Anniversaire Marie!