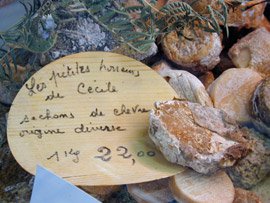 Cécile's Little Horrors. What a fantastic movie or book title this would make.
So far though, it is merely a sign in the window of a cheese store in Bergerac (Périgord), where we bought our tray of Cabécous. Handwritten on a thin circle of wood taken from the bottom of a cheese box, it is here to introduce a selection of extra extra dry — and I do mean extra extra dry — goat cheese ("séchons de chèvre") of various origins.
A little freak show in its own right, a hodgepodge of brittle cheese flints, in camouflage tints of grey, blue, orange and white. Oh-so-touching in their utter lack of vanity, and the humourous way in which they are presented.
Humor. I like that in a cheese store. I also like that they have enough respect for their products not to throw out perfectly good pieces of goat cheese, just because they're ugly and extra-dry. Ugly and extra-dry? Sharp and brittle? Some people will love them all the same, and welcome them wholeheartedly into their homes and mouths!
Sure, it's also a very clever marketing scheme. But I like that in a cheese store too!
Crèmerie Cyrano
12 Marché Couvert
24100 Bergerac
05 53 57 11 47