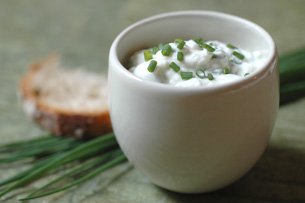 [Goat's Milk Faisselle with Chives]
Originally, a faisselle (feh-sell) is a container pierced with tiny holes, in which fresh cheese is placed so the whey will drain out. But then metonymy came into play (or perhaps came in to play) and the word now also designates an unsalted soft curd cheese sold in such a container, itself nested in a larger, bucket-shaped tub. This clever contraption allows the whey to flow freely around the cheese, keeping it fresh and moist. And when you want to use the cheese, you simply lift the inner rack from the tub, and decide how much of the liquids you want to keep, depending on the consistency you're looking for.
As I've mentioned in the past, good faisselle is hard to come by and the ideal balance of flavor and texture is a difficult one to strike. Products labeled as "faisselle" have become increasingly common in the dairy aisle of French grocery stores, but most are bland and overpriced, so I don't buy them anymore.
To my great pleasure, however, I have recently discovered that the small goat cheese stand I frequent at the Batignolles farmers' market — the stand that appears every other week and has a photo album on the counter, presenting all the goats by name — sells an artisanal goat's milk faisselle. I bought a tub once (2.70€ for 500g) and it turned out to be very close to what I'm looking: soft and silky curds (my only complaint is that they could be a bit more firm), a lightly acidulated sourness, and fresh, clean flavors with hints of barn and hay that reveal themselves when you breathe out through your nose.
So, what does one do with faisselle? Because it is unsalted, it can be used in any number of ways: you can serve it for dessert as you would fromage blanc or yogurt (with sugar, honey, fresh fruit, compote, jam, or a combination of the above), you can drain it and substitute it for cream in sweet or savory tarts (especially zucchini tarts, but I may be biased), and you can season it with herbs and spices to make spreads and dips.
Although faisselle is a good carrier for bolder flavors, I prefer to let its personality shine in the simplest of preparations — the one below is a nod to the Schnittlauchkäse I liked to buy when I visited my sister in Frankfurt and we went to the Kleinmarkthalle (an indoor market) on Saturday mornings.
~~~
As a side note, I was briefly interviewed on Julie Andrieu's radio show on Europe 1 last Sunday: the show is called Droit dans le buffet and it is on every Sunday morning from 11am till noon. You can listen to last Sunday's edition online: select the date of September 17th and click on "Ecoutez l'émission > Play" (my interview starts about fifteen minutes into the show). [The show isn't on anymore, and you can't listen to the archives.]
Faisselle de Chèvre à la Ciboulette
– 250 grams (1 cup) goat's milk faisselle (soft curd goat cheese)
– Fleur de sel or kosher salt
– Freshly ground pepper
– 1 clove garlic (I use pink garlic)
– A small bunch of fresh chives
Set a fine-mesh sieve over a bowl, and let the faisselle drain for an hour. Reserve the whey for another use (drink it if you like the lightly sour flavor, or substitute it for water in recipes for bread, brioches, or crêpes) and transfer the drained faisselle into a small mixing-bowl.
Season with salt and pepper, crush the garlic through a garlic press (or peel and mince it super finely) and stir it into the cheese. Snip the chives with scissors to get about 3 tablespoons and fold them in. Taste and add a little more salt, pepper, garlic, or chives, as needed. Cover and chill for at least an hour, preferably overnight. Serve as an appetizer or for brunch, with toasted slices of crusty bread.