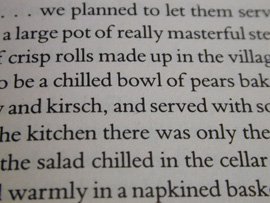 I had been told wonderful things about MFK Fisher (1908-1992, full name Mary Frances Kennedy Fisher), but had never had a chance to read the work of the brightest shining light in American food writing. I had been looking for her books in the English-language bookstores I frequent, but they never seemed to have them in stock and since I wasn't sure which one I wanted, I didn't wish to have them ordered for me.
Just last week though, I stopped by Galignani on the rue de Rivoli, went straight to the section I had been pointed to on a previous visit, and with a jolt of excitement discovered a selection of five. There was just one copy of each so I pulled them all out from the shelf, lest another customer snidely took one before I had time to examine each of them properly.
After an intense session of picking up, leafing through, putting down and picking up again, the finalists were announced: The Gastronomical Me (food memories from 1912 to 1941, from California to Mexico by way of Dijon) and An Alphabet for Gourmets, which compiles 26 of her essays and instantly won me over with the first chapter I read standing in the store: "A is for dining Alone".
Unable to decide between the two, I did what any sensible book lover would do and bought both, even though the price tags very clearly stated: "1 arm + 1 leg". (The cost of imported books in Paris is one of my pet peeves, so I suggest we not go there.) Now I can't wait to finish the book I'm currently reading and immerse myself into Mary Frances' world — but one problem remains: which one will I start with?
Galignani
224 rue de Rivoli
75001 Paris
01 42 60 76 07