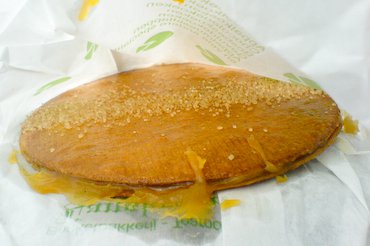 Our trip started in the most inauspicious of ways.
We could have taken the time, as we usually do, to drop by the bakery on our way to the Gare du Nord, where a train was to take us to Amsterdam in just! four! hours!, but no. Instead, we chose to get ten extra minutes of sleep, and thus found ourselves on the Thalys train at lunchtime, pushed towards the voiture-bar — the car where they sell drinks and snacks — by the complaint of our stomachs.
Now, train food is not supposed to be good, I am aware of that. But one expects it to be edible at least, and the styrofoam sandwiches we bought, which we were forced to order by the ludicrous name of ciabatta poulet, did not resemble anything anyone in their right mind would want to ingest: the one bite I took was the most revolting thing I have ever tasted. So yes, we love the Northern European high-speed train network, but we shall remember to pack our own lunch next time.
The prettier side of the coin, however, was that we arrived in Amsterdam in urgent need of nourishment, and that is a happy state to be in when you're visiting a city, for hunger is the best of compasses. As soon as we'd dropped off our bags, we went back out again and happened upon a bright and cheerful café called Lunchroom Klavertje 4.
The various types of ham, cheese, and crudités in the refrigerated case bode well, so we sat down and ordered these opulent open-face sandwiches: a pistolet (Belgian-style white roll) with warm ham, Brie, and mustard sauce for Maxence, and for me, two slices of whole wheat bread groaning under a mound of huttenkaas (cottage cheese, which makes such perfect linguistic sense I'm tickled pink).
What this opening lunch hinted, and what subsequent meals confirmed, is that there is excellent food to be found in Amsterdam, food that is sparklingly fresh, prepared with care, and gently priced.
This wasn't my first trip to Amsterdam, but my last visit dated back to the late nineties, when Maxence and I were students still. This was some time before my culinary epiphany, and I do not remember much about what we ate then, save for little broodjes (bread rolls) filled with fresh cheese and chives, and an extraordinary rijsttafel at an Indonesian restaurant.
This Dutch colonial take on the traditional Indonesian dinner is what we sought on our first evening, and I had read good things about Tempo Doeloe. It was very busy when we walked in, so we went to the bruin café (Dutch pub) across the street to have a beer and work the jukebox while we waited for our table. Tempo Doeloe's "small" rijsttafel unfolded in four cold dishes and eleven warm ones, many of them vegetable-based, and all quite good. Not as spectacular as what I remembered, but fresh and flavorful nonetheless.
The next day, we had sandwiches for lunch again — for sandwich fanatics, Amsterdam is the promised land — at Cafe de Tuin, a bruin café with a lovely skylight in the back, sulky service, and a mighty fine BLCT (bacon, lettuce, chicken, and tomato, for the uninitiated) on brown bread.
This was chased by a stroopwafel from Lanksroon. Stroopwafels, these thin waffle disks smooshed together by caramel syrup, are sold everywhere in Amsterdam, but they rarely seem to have been made on the premises. This one, however, was indubitably homemade, the filling still runny — a rare treat with a cup of coffee. (The more common stroopwafel can be placed over a mug of tea or coffee, so the steam can make the inside gooey again.)
We had no particular plans for dinner that night — our general plan for the weekend was to not make any — but we happened upon Na Siam, a Thai restaurant that looked very inviting. We trusted our instincts and enjoyed the finest and freshest Thai meal we'd had in a long time.
Saturday is organic market day in the Jordaan, but someone high up decided to rain (hard) on our parade, so we seeked lunchtime refuge in the arms of Villa Zeezicht, a canal-side café where we had our third and final sandwich: a stupendous vegaburger I might dream of every night if I lived in Amsterdam.
And then, later that afternoon, it was time to say goodbye. Our bags loaded with multicolored tulip bulbs, artisan cheese from De Kaaskamer, and De Halm muesli found at the organic grocery store Natuurwinkel, we boarded the train that would take us home in just! four! hours!, without neglecting to drop by Patisserie Kuyt — named best pastry shop in Holland in 2006 — to get our share of their deservedly popular appelschnitte* as a train snack: fool me once…
* Kuyt's appelschnitt involves subtly spiced apples, raisins, and sliced almonds layered on a thin, cake-like basis and dusted with confectioner's sugar. Any Dutch pastry specialist out there with a recipe to offer?
~~~
Amsterdam address book:
Lunchroom Klavertje 4 / map it!
Utrechtsestraat 69, Amsterdam
+31 (0)20 624 2849
Tempo Doeloe (Indonesian restaurant) / map it!
Utrechtsestraat 75, Amsterdam
+31 (0)20 625 6718
Cafe de Tuin (bruin café) / map it!
Tweede Tuindwarsstraat 13, Amsterdam
+31 (0)20 624 4559
Lanskroon (pastry shop + tea room) / map it!
Singel 385, Amsterdam
+31 (0)20 623 7743
Na Siam (Thai restaurant) / map it!
Kerkstraat 332, Amsterdam
+31 (0)20 421 0505
Villa Zeezicht (bruin café) / map it!
Torensteeg 7, Amsterdam
+31 (0)20 626 7433
De Kaaskamer (cheese shop) / map it!
Runstraat 7, Amsterdam
+31 (0)20 623 3483
Natuurwinkel (natural foods store) / map it!
Haarlemmerdijk 160, Amsterdam
+31 (0)20 626 6310
Patisserie Kuyt (pastry shop) / map it!
Utrechtsestraat 109a, Amsterdam
+31 (0)20 623 4833