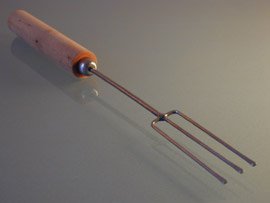 I keep a running list of tools I absolutely need and must acquire at all costs. I'll admit that this list tends to be much longer than reasonable, and completely out of proportion with the capacity of our kitchen or the actual utility of said tools.
But hey, some girls buy shoes, I buy kitchen toys! (Well, shoes too, but I'm trying to make a point, here.)
This "fourchette à tremper" is an item I recently crossed off my list. It is what chocolate makers use to make chocolate-dipped things : you melt some chocolate in a wide and not too shallow pan, you balance whatever it is you'd like to dip onto the tines of the fork, lower the fork into the chocolate, take it out, and deposit the coated bite on a special non-stick plastic sheet ("feuille guitare") for it to dry and harden.
The fork is also used to form the little ribbed lines you can sometimes see on chocolate bites. Just after depositing the coated confection on the sheet, while the chocolate is still soft, you gently apply the fork tines on top of the chocolate, then lift it up and towards you : the chocolate coating will sort of follow the fork's movement, and will keep the imprint of the tines.
I had seen all this demonstrated at the Salon du Chocolat last winter, and had even tried my hand at it, coating a small praline square. It isn't as easy as it looks to make those ribbed lines properly, and the dipping gesture takes a little getting used to. Some people accidently dropped their praline square into the melted chocolate, and tempting as it may be, it is not okay to fish for it with your hand.
I bought my fork at Mora's : if you're looking for chocolate-making equipment, molds and thermometers and stuff, it is really the place to go. And as I love making food gifts, this sounded like a neat tool to make chocolate-dipped citrus peel, candied fruit, cookies, almond paste, or anything that will stand on those fork tines.
And also, if I am ever challenged to a duel, this will be my weapon of choice.