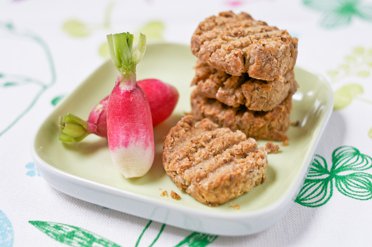 If you read French food blogs at all, you've no doubt come across Clea Cuisine: Clea has been writing since March of 2005 — first from Japan, where she was living then, and now from the South-East of France — and her unique voice has quickly earned her stripes in the French blogosphere.
I've been a reader practically since the beginning — I remember early posts about baking cakes in her rice cooker, teaching members of her French club how to make bugnes (a traditional Mardi-Gras donut), or eating ekiben (railway bento) on the train — and I am very fond of her quietly inspired style, which blends French and Japanese influences, and focuses on simple, wholesome foods.
She's a prolific cookbook author, too, and she writes for an independent French publisher named La Plage (literally "the beach") that's devoted to natural living and vegetarian cooking, and is therefore a perfect fit.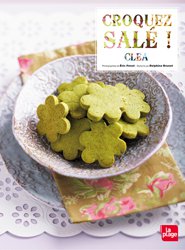 One of her most recent titles is called Croquez salé*, a prettily styled book that contains recipes for savory cookies and crackers to snack on in the afternoon, pack into your lunchbox, or serve with pre-dinner drinks. The savory cookie category is one that definitely deserves more attention than it usually gets, and Clea works to change that with some thirty recipes that manage to be both original and unfussy.
My eye was immediately caught by the Petits croquants au sésame on page 54. The recipe calls for ingredients that are easily kept on hand for an impromptu batch — sesame butter, gomasio, sesame seeds, flour, an egg — and uses the slice-and-bake technique, my favorite shaping method of all.
I make just two changes to Clea's recipe: I use tahini rather than sesame butter (the former is made from hulled sesame seeds, the latter from whole or partially whole seeds) because that's what I usually buy, and I press the rounds of dough with the tines of a fork before baking, to create little grooves and ridges that boost the textural interest.
These tasty little numbers are crisp and crumbly with a vivid sesame flavor, and they pair well with a few radishes at the apéritif. I've also had them with a smear of fresh cheese to accompany a green salad at lunchtime, and they come in handy when you need to hit pause on your appetite because dinner is taking longer to cook than planned.
[More crackers and savory cookies from the archives:
~ Raw multiseed crackers,
~ Olive oil and seed crackers,
~ Cheese thins,
~ Aged gouda and dried pear scones,
~ Carrot and rosemary mini-scones,
~ Zaatar pita chips.]
* An awkward-to-translate phrase that invites you to "bite into something savory."
Savory Sesame Cookies
– 80 grams (1/3 cup) tahini or sesame butter
– 60 grams (1/2 cup) light whole wheat flour (if unavailable, substitute half whole wheat and half all-purpose; use T80 flour in France)
– 2 teaspoons gomasio (a Japanese mix of salt and ground sesame)
– 4 teaspoons sesame seeds, toasted
– 1 egg
For about two dozen cookies.
In a medium mixing bowl, place the tahini, flour, gomasio and sesame seeds, and combine with the tips of your fingers or a fork.
Add the egg and mix until the dough comes together and forms a ball; the dough should be soft but not sticky. Add a few drops of water if it's too dry, or a little flour if it's too tacky.
Divide the dough in two pieces and shape each into a log, about 4 cm (1 1/2″) in diameter. Place in the fridge for 1 hour to firm up.
Preheat the oven to 180°C (360°F) and line a baking sheet with parchment paper or a silicon baking mat. Slice each log into 1-cm (1/3″) slices. Arrange them on the prepared baking sheet (they won't expand much while baking) and press the tines of a fork on each slice to form ridges.
Bake for 15 minutes, until set. Let cool completely before serving. The cookies keep for about 2 weeks at room temperature in an airtight container.
Adapted from Croquez salé by Clea.
Cooking/baking time: 15 min