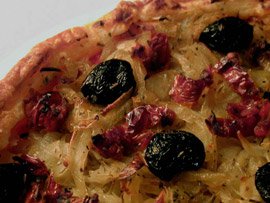 Pissaladière is a specialty from Nice, in the South of France. It's an onion tart with black olives and anchovies, on a thin pizza-like dough. The name comes from "pissalat", a condiment made with pureed anchovies, cloves, thyme and bay leaves, which was spread on the tart before baking.
The name has taken on a somewhat looser meaning in my family, and we use it to mean any Mediterranean-style onion tart, not necessarily involving anchovies. My mother, sister and I made one during our Easter week-end in the mountains, and served it with a salad, dressed with what is now my father's signature vinaigrette.
We were all delighted with the way it turned out : it is hard to go wrong with an onion tart, but the addition of pesto, tomatoes and olives (although un-traditional when it comes to the tomatoes and pesto) really makes it outstanding.
Ours did not include anchovies (which we like, but just didn't have on hand), but you can add some if you'd like. Traditional recipes recommend anchovy fillets in brine, rather than those in oil. They should be rinsed well before using, and you should then omit the salt on the other ingredients. If you use anchovies packed in oil, drain them on a paper towel to absorb the oil.
Pissaladière
– a roll of uncooked puff pastry
– 8 medium onions
– 2 Tbsp pesto (store-bought or home-made)
– 1 C of unseasoned tomato puree, preferably chunky (canned is fine, freshly made would be nicer, of course)
– 16 black olives
– 4 pieces of sundried tomatoes, chopped
– (optionally) 8 to 10 anchovy fillets in brine, well rinsed – omit the salt if using
– salt, pepper, dried herbs (rosemary, oregano, thyme…)
(Serves 4.)
Peel and chop the onions. Put them in a large skillet, and sprinkle with salt, pepper and herbs. Add a splash of water, and cook over low heat for about an hour, covered, stirring from time to time until they're translucent and soft. This can be made up to a day ahead.
Preheat the oven to 200°C (400°F). Line a greased or non-stick tart pan with the dough and prick it all over with a fork. If you have baking beans, line the bottom of the pie shell with a circle of parchment paper, and spill the beans (always wanted to say that) on it. Bake for about 15 minutes, until golden. Leave the oven on.
Add the filling : spread the pesto all over the pie dough, and cover with the tomato puree. Sprinkle with salt, pepper and herbs. Spread the cooked onions evenly on top. Add the anchovies if using (form little crosses made of two fillets, or lay them in a sunray pattern in the center of the pie). Top with sun-dried tomato strips and olives.
Return to the oven for 15 to 20 minutes, until heated through. Let rest on the counter for five minutes before serving. This can be enjoyed hot or at room temperature, with a salad.