Pomegranate molasses was the topic of my very first column in ELLE à Table when I started writing for the French cooking magazine in the spring of 2008. (Pick it up if you're ever visiting France!)
In this article I shared my enthusiasm for this amazing ingredient, obtained by reducing pomegranate juice to a thick, dark red syrup. A staple of Lebanese and Persian cuisines in particular, this fruity and acidic condiment is a treat for fans of tart flavors, of which I am a card-carrying member.
In fact, pomegranate molasses is one of my secret weapons when I want to add a little zing to my cooking, an extra trilling note that will be hard to put your finger on but will make all the difference. I may add a few drops to a vinaigrette, stir a spoonful into a yogurt sauce for bulgur, and use it in muhammara of course. I have glazed duck breasts and fish fillets with it, and seasoned mashed root vegetables as well; it is particularly good with celeriac and parsnips.
When dessert time rolls around, pomegranate molasses can be used with a light hand to season fruit salads (especially berries and blood oranges) and poured over roasted figs, to be served with fresh cheese.
In the recipe I am bringing to you today, pomegranate molasses lends depth and sparkle to a lively marinade for a cut-up chicken. Thus voluptuously coated, the chicken goes into the oven (the stovetop or the grill are equally good options depending on your preference and the weather) and comes out fall-off-the-bone tender and divinely caramelized. It is irresistible.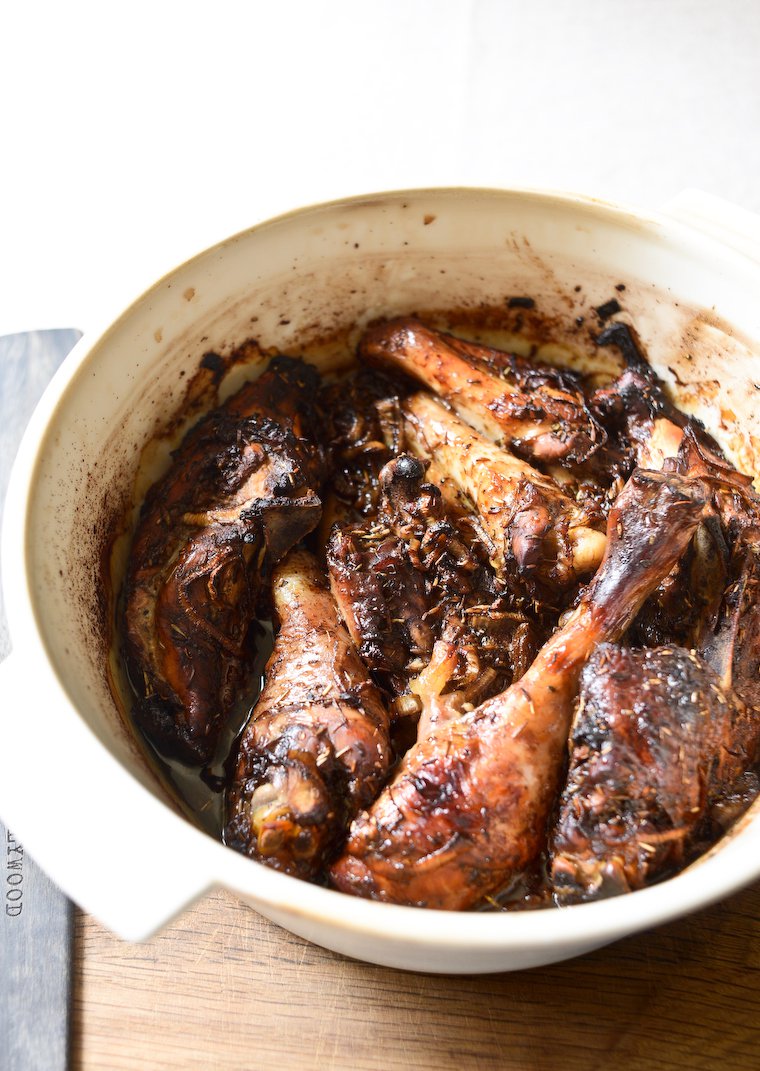 This is a minimalist recipe that has you mix everything in the pot you'll use for cooking, and I think you'll want to add it to your repertoire of simple yet wowing dishes: such rich flavors make it feel like you've surely put a lot more effort into it than you really have.
The only special ingredient involved is the pomegranate molasses. I buy mine at Heratchian Frères, my official supplier of Near Eastern ingredients in Paris. You can also order it online or make your own, from bottled pomegranate juice. If worse comes to worst, I grant you permission to use balsamic vinegar instead.

Have you tried this? Share your pics on Instagram!
Please tag your pictures with #cnzrecipes. I'll share my favorites!
One-Pot Pomegranate Roasted Chicken Recipe
Ingredients
One organic chicken, about 1.7 kilos (3 3/4 pounds), or 4 chicken legs
3 tablespoons soy sauce or tamari (make sure it is gluten-free as needed)
2 tablespoons pomegranate molasses
1 tablespoon olive oil
1 tablespoon honey
1 tablespoon mixed dried herbs, such as Herbes de Provence or a mix of thyme, rosemary, basil
2 teaspoons ground cumin
1/2 teaspoon fine sea salt
1 large shallot or 1 medium yellow onion, finely diced
3 cloves garlic

For serving:

Fresh cilantro, roughly chopped
Steamed rice
Instructions
Preheat the oven to 175°C (350°F).
Cut the chicken into 8 pieces (2 breasts, 2 wings, 2 thighs, 2 drumsticks) following this excellent video tutorial; save the backbone for homemade stock.
Alternatively, have your butcher cut it up for you, or use just thighs and cut them in two at the joint.
Place the chicken in a Dutch oven or other heavy, ovenproof pot with a lid.

Add the rest of the ingredients except for the cilantro, and stir well to combine. (You can prepare this a few hours to a day ahead -- without preheating the oven! -- and allow the chicken to marinate in a covered container in the fridge.)

Place the lid on the pot, put it in the oven, and cook for 1 1/2 hours, checking every 30 minutes or so to flip the chicken pieces and baste them with the juices. (If you find that you don't have very much juice, which depends on the chicken and the airtightness of the lid, add a splash of water.)
Remove the lid and return to the oven for another 30 minutes.

Serve over steamed rice, with a shower of fresh cilantro.
Notes
This can also be cooked on the stovetop for the same amount of time.
If you'd like to use your slow cooker, set it on low and cook for 7 to 8 hours
In grilling weather, you can cook the chicken in indirect heat on the barbecue.
https://cnz.to/recipes/meat-charcuterie/pomegranate-roasted-chicken-recipe/
Unless otherwise noted, all recipes are copyright Clotilde Dusoulier.