The recipe for these vegan muffins is based on this winning vegan coconut banana bread, which I modified to skip the grated coconut, add coarsely chopped bittersweet chocolate, and bake in muffin form, with a sprinkle of unrefined sugar so the top part is extra extra desirable.
The texture of these muffins is astoundingly satisfying, moist and tender and chocolate-chunky, the flavors are big and bold, and they are pretty easy to put together, so they are an ideal baking project if you're pressed for time and energy but mighty hungry.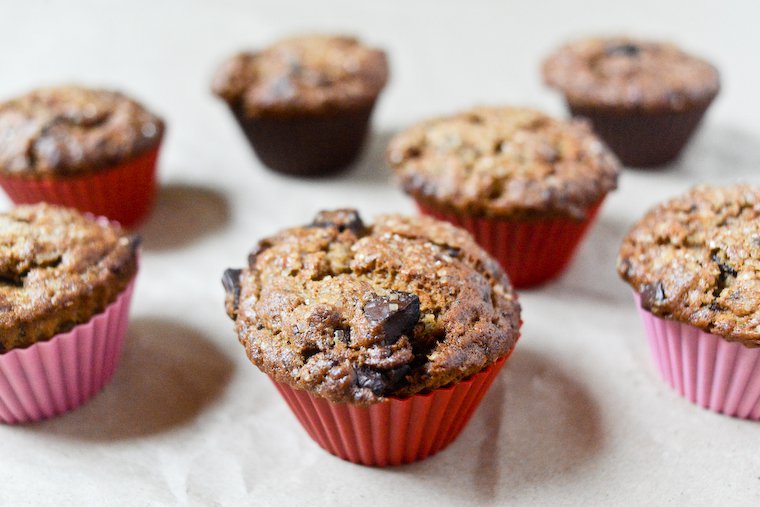 Have you tried this? Share your pics on Instagram!
Please tag your pictures with #cnzrecipes. I'll share my favorites!
Vegan Chocolate Banana Muffins Recipe
Ingredients
130 grams (1 cup) all-purpose flour
130 grams (1 cup) rice flour
1/2 teaspoon baking soda
1/2 teaspoon fine sea salt
150 grams (3/4 cup) unrefined cane sugar, plus 1 tablespoon for topping
150 grams (5 1/3 ounces) good-quality bittersweet chocolate, roughly chopped
3 very ripe bananas, (about 350 grams or 3/4 pound without the skin), thawed if frozen
60 ml (1/4 cup) vegetable oil
60 ml (1/4 cup) coconut oil
2 tablespoons homemade vanilla extract
1/4 teaspoon cider vinegar
Instructions
Preheat the oven to 175°C (350°F) and line a 12-muffin muffin tray with muffin liners (I use reusable silicone liners).
In a medium bowl, combine the flours, baking soda, salt, 150 grams (3/4 cup) sugar, and chopped chocolate. Stir well to combine. Set aside.
In a second medium bowl, mash the bananas with the oils, extract, and vinegar until thoroughly combined.
Add the wet ingredients into the dry ones until no trace of flour remains, without overmixing.

Scoop into the muffin molds, and sprinkle the tops with the tablespoon sugar.
Bake for 30 minutes, until the tops are nicely browned and crusty. Let cool on a rack before serving.
https://cnz.to/recipes/cookies-small-cakes/vegan-chocolate-banana-muffins-recipe/
Unless otherwise noted, all recipes are copyright Clotilde Dusoulier.