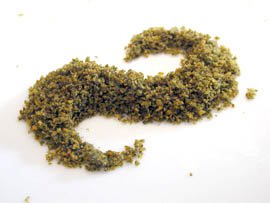 [Spirulina Gomasio]
I'm always happy to try new and intriguing food. It's a hit-or-miss kind of habit and I have on occasion bought things that turned out to be nasty (in that ugh-nasty-nasty-bleh-spit-spit kind of way), but it's all in the name of science and research, yes?
My organic grocery store in particular seems very much aware of that penchant of mine, and regularly puts out displays to subtly direct my attention towards this or that product. I generally steer clear of the things that are too obviously targeted at the health-food nut, because they often cease to look and feel like real food to me. But I recently let one such display convince me.
I bought a little bag of spirulina gomasio, something I had never ever heard of before.
A little explanation is probably in order. Gomasio, you ask? It is sesame salt, prepared by grinding sea salt with grilled sesame seeds, thus producing a nutty-tasting and nutrient-rich condiment, much used in Japan. And the name comes from "goma" — Japanese for sesame.
What about spirulina? Spirulina is an algae of blue-green color, exceptionally rich in vegetable protein. In fact, it is the most protein-rich whole food that scientists know of (and no, protein-shakes don't count). It's been consumed for centuries — Aztecs used to harvest it from a now obliterated lake in the spot where Mexico city is built. The algae has a cute spiral spring shape when you look at it through a microscope, hence the name.
It is apparently chock-full of everything you could possibly want, vitamins, minerals (including the much sought-after iron), phytonutrients and anti-oxydants, and the culture of spirulin is thought to be a possible way to fight malnutrition, in Africa in particular. Some people also say it has fabulous therapeutic virtues for a number of diseases, but research is still under way to back up any of these claims.
In the meantime, this is one tasty condiment: it has a lovely taste that could best be described as a hazelnut from the sea, with both nut and seaweed flavors. The texture is also very unusual, it is a sort of powdery flakey moss. The package suggests using it to season pasta, rice and salads, but so far I have simply used it — and loved it — on raw crunchy veggies, carrots and radishes.