Quick announcement before we begin, for the Instagram enthusiasts among you!
The good people of Food Blogger Pro, a blogging resource site I belong to and love, are hosting a Free Live Q&A this Thursday, November 9, at 12 pm CST / 1 pm EST / 10 am PST / 7pm Paris time, to discuss how they grew their Instagram community to 500K members. I'll be listening in; register to attend too!
And now, on to the recipe…
~~~
Picture in your mind a love story between a Belgian waffle, square and sturdy with deep grooves, and a chouquette, puffy and dainty with a soft heart.
Immediately they would see that they have pearl sugar in common. The waffle would make the chouquette feel safe, and cared for; the chouquette would give the waffle a sense that life is full of whimsy.
Now, what would happen if they had a child together?
This is what would happen: a chouquette waffle, crisp around the edges, tender inside, easy to love, with sugar crystals.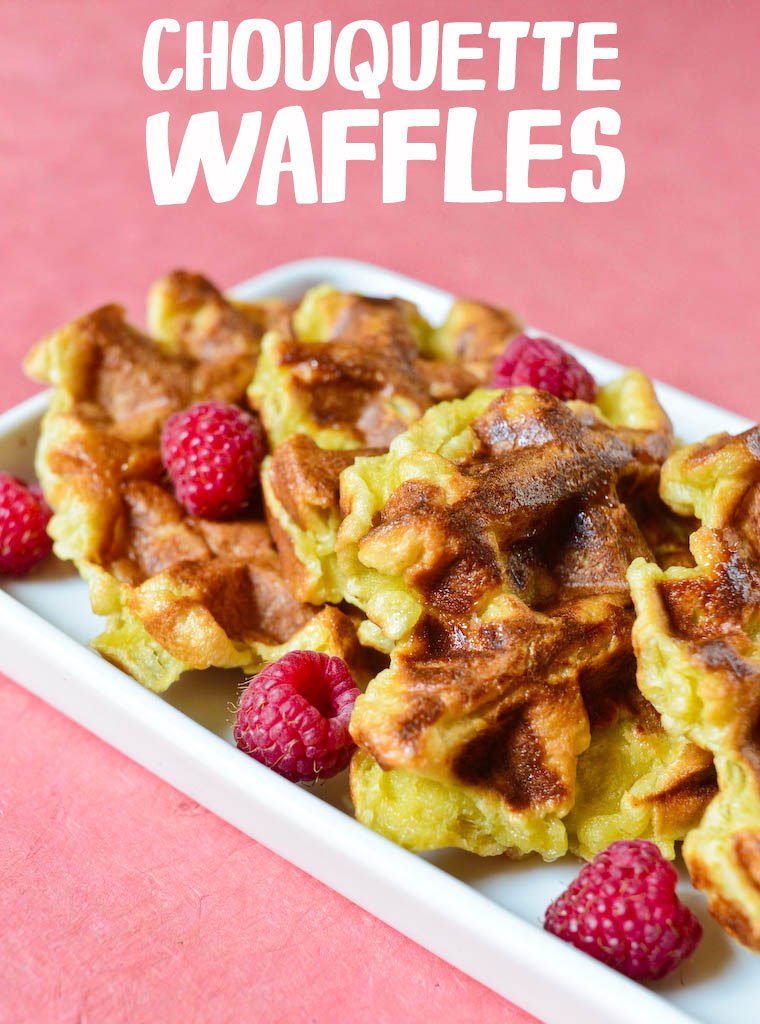 In my kitchen, its destiny was sealed on a Saturday afternoon* when I had choux pastry leftover from an éclair test the day before, but not quite the energy to pipe it into chouquettes for my children.
The waffle iron** winked at me from the lower shelf of my kitchen cabinet. "I'm your guy!" it whispered. "I heat up fast, I clean up easy, and you know we have all kinds of fun when we play together."
And indeed, we did.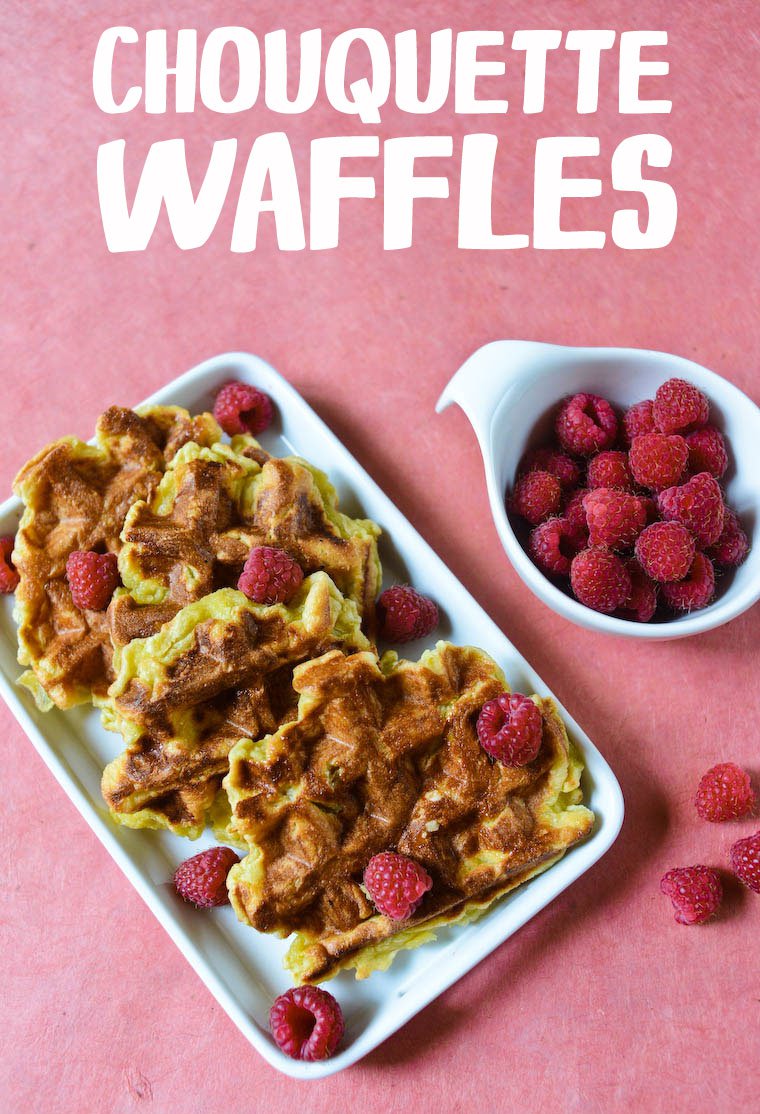 I folded pearl sugar into my leftover choux pastry, scooped it into the iron, and within minutes we had a batch of the most surprising, most delicious waffles you could imagine, crunchy with the sugar but not too sweet, warm and comforting, the perfect afternoon snack.
So if you've always been intimidated by choux pastry because you always worry your puffs won't puff or worse, will deflate, this is a low-risk recipe to dip your toes in, since the recipe's success doesn't rely on the rise and fall of your pâte à choux. And if you're an experienced choux pastry maker looking for new ways to work its magic, this one's for you too!
* As you can tell from the photos, this was a couple of months ago, when fresh, local raspberries felt like our birthright. Skip the berries if they're out of season.
** I use this griddler with waffle plates.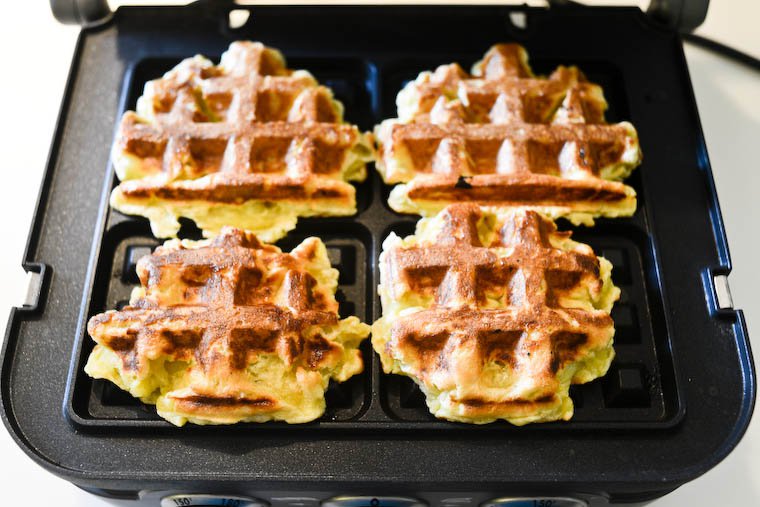 Have you tried this? Share your pics on Instagram!
Please tag your pictures with #cnzrecipes. I'll share my favorites!
Chouquette Waffles Recipe
Ingredients
75 g (6 tablespoons) unsalted butter, diced
1/4 teaspoon fine sea salt
240 ml (1 cup) fresh water
140 g (1 cup) all-purpose flour
4 large eggs, at room temperature
140 grams pearl sugar (order online)
Instructions
Have all the ingredients measured out before you start.
Combine the butter, salt, and water in a medium saucepan (not non-stick), and bring to a simmer over medium-low heat.
Remove from the heat, add the flour all at once, and stir quickly with a wooden spoon until well blended and smooth. This is your panade.
Return the pan over medium-low heat, and keep stirring until the dough is satiny and leaves a slight film at the bottom of the pan, about 5 minutes; this means that all the excess water has evaporated.
Cool for 3 minutes. Add the eggs, one by one, stirring well between each addition; I like to use a dough whisk for this, but a wooden spatula works too. At each extra egg it will seem like the dough won't absorb it, but it will.
Fold in the pearl sugar.
Cover and refrigerate for at least 1 hour, and up to 1 day.
Preheat your waffle iron (I use this griddle and waffle iron) to medium-high.
Scoop 1/4 cup (75 grams) of the choux pastry in each of the waffle prints, close the waffle iron, and cook for 5 to 7 minutes, until puffy and golden-brown.
Cool for 5 to 10 minutes on a rack and serve, slightly warm.
Notes
These taste best fresh out of the waffle iron, but leftover waffles can be reheated in the toaster.
https://cnz.to/recipes/cookies-small-cakes/chouquette-choux-pastry-waffles-recipe/
Unless otherwise noted, all recipes are copyright Clotilde Dusoulier.