I spent my childhood eating Liège waffles we bought at the grocery store. Those thick and cake-like grids studded with sugar crystals seemed to me infinitely superior to the thin waffles stuffed with vanilla cream that my sister prefered and I ignored disdainfully.
I hadn't eaten such waffles since my teenaged days — I stopped buying supermarket pastries years ago — but they made a major comeback into my life earlier this year, when a tiny Comptoir Belge opened a stone's throw from my house, at 58 rue des Martyrs.
This stand offers Belgian waffles in the style of Liège, cooked fresh while you watch and sending seductive, buttery wafts right up to the little carousel on Place Lino Ventura, a powerful marketing ploy indeed. And the first time I tried them, you could have knocked me over with a feather.
The artisanal and freshly cooked Liège waffle is a study in contrast between the crisp shell, the tender and yeasty insides, and the thick sugar crystals that melt and caramelize.
A far cry from its distant plastic-wrapped and palm-oiled grocery store cousin, the artisanal and freshly cooked Liège waffle is a study in contrast between the thinly crisp shell, the tender and brioche-y insides, and the thick sugar crystals that melt and caramelize in the waffle iron.
And since I recently received from Cuisinart (see note at the bottom of this post) a fabulous griddler with waffle plates, it wasn't long until I tackled this monument of Belgian gastronomy.
In my research I found dozens of recipes, with such widely varying proportions my head spun, and my solution was, as it always is, to draw up a spreadsheet comparing the different ingredient amounts in proportion to the flour weight (you can take the cook out of the engineer, etc.). This led me to formulate a recipe that would be best suited to my taste, i.e. less sweet and less butter-heavy than average, while still retaining 100% of its deliciousness.
The resulting waffles are an absolute delight, the recipe is easy, and the dough freezes perfectly well, allowing you to invite your sister over for an impromptu snack one afternoon and, with hardly a finger lifted, have her discover in turn how a Belgian waffle really should be eaten: still warm, caramelized, chewy, irresistible.
Want more fabulous waffle recipes?
Follow my waffle board on Pinterest!
Transparency note : The griddler and waffle plates were sent to me to review by Cuisinart France through their PR agency. I will note that this was actually the model I had set my heart on and was about to get as a birthday gift from my parents when I had the opportunity to receive it for free. All opinions expressed here are my own.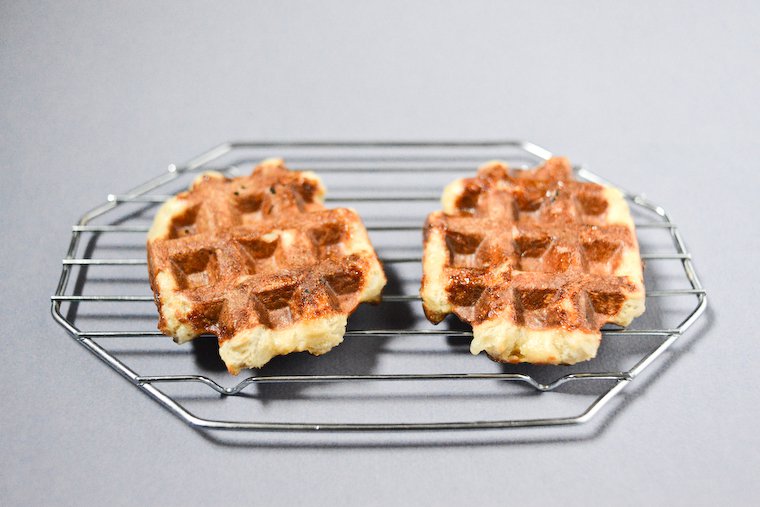 Have you tried this? Share your pics on Instagram!
Please tag your pictures with #cnzrecipes. I'll share my favorites!
Liège-Style Belgian Waffles Recipe
Ingredients
200 ml (3/4 cup plus 1 tablespoon) lukewarm milk (you shouldn't feel a temperature difference when you dip your finger in)
12 grams (1 scant tablespoon) active dry yeast (I use the SAF brand)
500 grams (1.1 pounds) all-purpose flour (about 3 3/4 cups, but I strongly recommend you use a scale to measure this amount)
10 grams (2 teaspoons) fine sea salt
1 teaspoon ground cinnamon (I use fresh cinnamon from Cinnamon Hill)
2 tablespoons unrefined cane sugar (I used Belgian cassonnade, the traditional unrefined beet sugar)
2 large organic eggs
150 grams (1/2 cup plus 2 tablespoons) butter, softened
190 grams (1 1/4 cups) Belgian pearl sugar (available online from the Waffle Pantry, or homemade)
Cooking oil, for greasing the waffle iron
Instructions
In a bowl, combine the milk and yeast and let stand for 15 minutes, until the surface is foamy. (If that doesn't happen, your yeast is probably too old; start again with a freshly purchased packet.)
In the bowl of a stand mixer fitted with the dough hook attachment (see below about making the dough entirely by hand), combine by hand the flour, salt, cinnamon, and brown sugar. Add in the milk mixture and the eggs, and stir by hand again (I detach the dough hook and use that) to moisten most of the flour so it won't fly off everywhere when you turn the mixer on.
Turn the mixer on and knead at low speed for 5 minutes, until the dough is smooth and elastic and no longer sticks to the sides of the bowl.

Add in the butter.

Knead for another 2 minutes, until the butter is fully incorporated. The dough will be quite sticky.

(The kneading can also be done by hand. It's more of a workout, obviously, and the part when you have to work in the softened butter can be a bit messy. The key is to not lose hope -- the dough will eventually absorb the butter -- and take heart in the fact that you'll have the softest hands afterward.)
Cover the bowl tightly with a kitchen towel and leave to rise at warm room temperature, away from drafts, until doubled in size. The exact time needed will vary depending on the temperature in your kitchen, but it should take about 2 hours.

Fold the pearl sugar into the dough -- this will deflate it and that's okay -- so it's evenly distributed.

Divide the dough into 15 pieces, each about 75 grams (2 2/3 ounces), and shape them (roughly) into balls. Let rest at room temperature for 15 minutes before cooking. (See note below on refrigerating or freezing the dough for later.)
Preheat your waffle iron to medium-high; on my own griddler, the ideal temperature is 190°C (375°F).
Brush the waffle plates with oil (this is unnecessary if they're non-stick) and place one ball of dough in the center of each waffle segment.

Close the waffle iron and cook for 4 to 5 minutes, until golden brown.

Lift the waffles from the iron (I use wooden tongs) and let cool 5 to 10 minutes on a rack before eating.
Notes
You can set aside some or all of the balls of dough to cook later: right after dividing the dough, arrange on a plate, cover with plastic wrap, and refrigerate for up to a day. Remove from the fridge 15 minutes before cooking.
You can also arrange the extra pieces on a baking sheet lined with parchment paper or a silicon baking mat. Place in the freezer for 1 hour, or until hard, then collect the pieces into an airtight freezer bag. Thaw at room temperature for 3 hours before cooking.
https://cnz.to/recipes/bread-brioche/belgian-waffles-liege-style-recipe/
Unless otherwise noted, all recipes are copyright Clotilde Dusoulier.