In French food culture, kids aren't offered snacks at all hours of the day. This is often pointed out as a plus when comparing food habits between French and American children.
(I will note that I never go out of the house with my sons without taking something to eat for them. Newsflash: French kids are not immune to low-blood-sugar meltdowns. My go-to snacks then are dried figs or dried apricots, these crackers, and/or almond butter sandwiches.)
As a nation however, we are religiously attached to the mid-afternoon mini-meal we refer to as le goûter. This is our chance to share homemade treats, and it is the happy outlet for most of my baking endeavors.
Perfect chocolate madeleines
On weekends, when my sons have friends over to play, I jump at the chance to whip up a batch of these chocolate madeleines, which are perfect to me. They have a deep chocolate-y flavor, a nice "bump" that everyone loves to bite off first, and they're just the right level of sweetness for kids and grownups to appreciate them.
The recipe is adapted from these perfect madeleines from Blé Sucré pastry chef Fabrice Le Bourdat. I've added melted chocolate and cacao powder to the batter, and adjusted the sugar and butter amounts accordingly.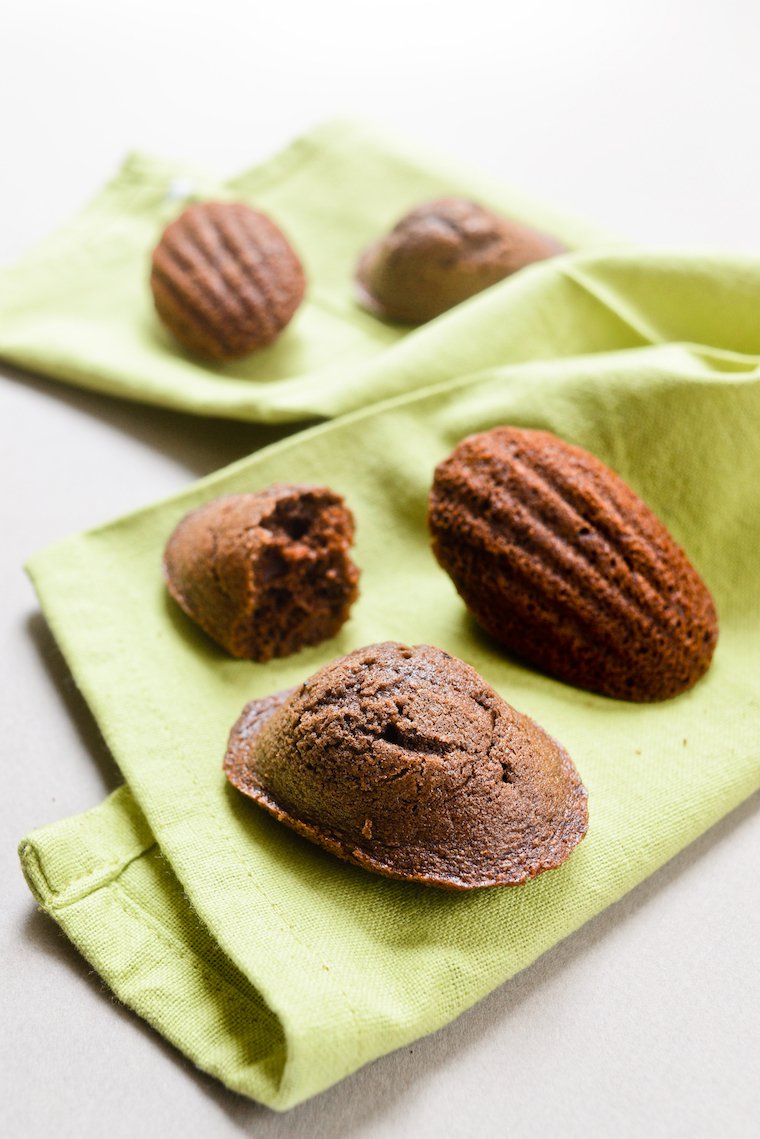 As a bonus, the batter can be made ahead. It is a cinch to prepare, and my eldest, now four, likes to stand on a stool by my side and help. Naturally, he beams when we share the madeleines with our guests and announce we made them together.
More chocolate in your madeleines ?
If you're a lily-gilder (not judging) you are welcome to dip your madeleines in melted chocolate. The best way to do this is halfway up the bottom, or halfway down the tip. But because I'm putting these in the hands of children who will be running around the living room and climbing all over the furniture, my couch is safer without it.
PS: 5 Lessons I've learned about cooking with young children, and this fun book that looks at French-style parenting from the perspective of an American expat.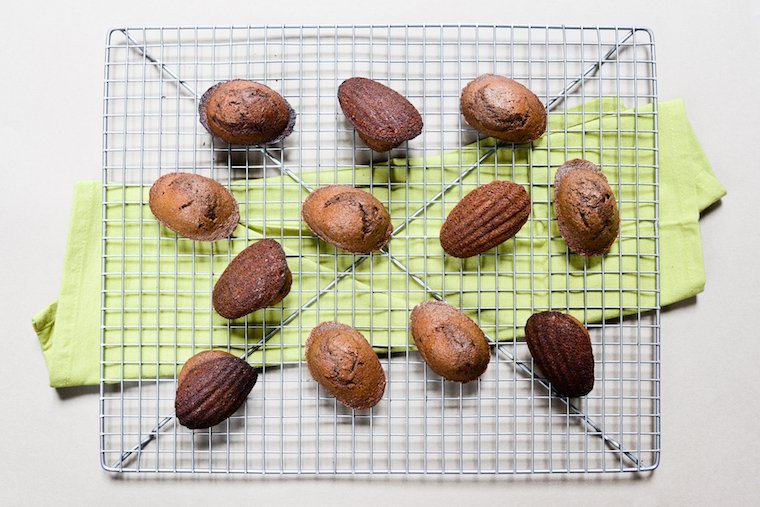 Have you tried this? Share your pics on Instagram!
Please tag your pictures with #cnzrecipes. I'll share my favorites!
Chocolate Madeleines Recipe
Ingredients
6 large organic eggs
260 grams (1 1/3 cups) unrefined blond cane sugar
120 ml (1/2 cup) milk
150 grams (5 1/3 ounces) high-quality bittersweet chocolate, melted
375 grams (13 1/4 ounces, about 2 3/4 cups) all-purpose flour
3 tablespoons unsweetened cocoa powder, sifted if lumpy
1 tablespoon baking powder
1 teaspoon baking soda
1/2 teaspoon fine sea salt
350 grams (1 1/2 cups) melted unsalted butter, hot, plus more for brushing
Instructions
Prepare the batter at least 2 hours ahead, or up to 2 days before.
In the bowl of a stand mixer or in a large bowl by hand, beat together the eggs and the sugar until frothy.
Stir in the milk and melted chocolate until combined.
In a separate bowl, combine the flour, cocoa, baking powder, baking soda, and salt.
Fold the flour mixture into the batter just until no trace of flour remains.
Stir in the melted butter until incorporated.
Cover and refrigerate for at least 2 hours, or overnight. The batter will be fairly stiff after refrigeration.
Preheat the oven to 230°C (450°F) and grease a madeleine tray (preferably tin) with butter.
Scoop the batter into the prepared madeleine tray, filling each mold to three quarters.
Insert into the oven and immediately lower the heat to 180°C (360°F). Bake for 12 to 14 minutes, until the madeleines are domed and set.
Remove from the oven and unmold immediately: holding the tray with both (oven-mittened) hands and facing away from you, bang the side of the tray on a cutting board or a sturdy counter; the madeleines will pop right out. (Don't be shy! It's a great destressor.)
Transfer to a rack to cool completely.
For subsequent batches, get the oven temperature back up to 230°C (450°F) before inserting the tray, then down to to 180°C (360°F) after inserting.
https://cnz.to/recipes/cookies-small-cakes/chocolate-madeleines-recipe/
Unless otherwise noted, all recipes are copyright Clotilde Dusoulier.