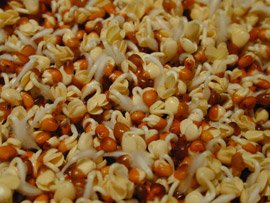 At the lovely Pousse-Pousse boutique the other day, I bought myself a sprouter, and two tubs of sprouting seeds. A tub of pink radish seeds, and a tub of the "longevity mix", which includes alfalfa, broccoli, turnip, lentil, mustard, black radish and soy seeds.
They have a lot of other seeds to choose from, but the pink radish is peppery while the longevity mix has a more mellow taste (devoid of aniseed), so the duo seemed like a good place to start.
I left them to soak in water for the night, before placing them on different racks of the sprouter, and have been faithfully watering them, twice a day, with water filtered in our Brita jug. They're supposed to be ready after 5 days, and so far so good, so Monday should find us eating our first sprouted seeds salad!
Pousse-Pousse
7 rue Notre-Dame de Lorette
75009 Paris
01 53 16 10 81