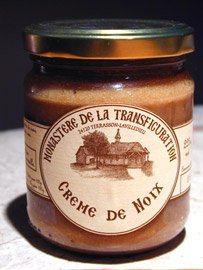 [Walnut Butter from the Monastery]
I take bus 67 to get home from work every day. This bus line isn't very crowded, and takes me from the South of the 13th to the 18th arrondissement along a very pleasant route. You can usually find me sitting by a window, reading, writing, or just gazing outside and observing. At one point, in the 4th, the bus drives up the rue du Pont Louis Philippe, a typical Marais street, lined with small and arty store windows. They all intrigued me very much, but it never seemed to be a good time to get off the bus and explore, so I never had.
But when I was out shopping in that area last Saturday, I finally walked up that street and spent some happy time going in and out of these beautiful – if pricey – stores : home decoration, jewellery, clothes, paper and calligraphy supplies, japanese earthenware and kimonos…
Among these stood a very unusual store named "Monastica". Kept by nuns in full nun-wear, it sells products made by nuns and monks in French monasteries : candles, ceramics, beauty products, religious items, notebooks, as well as cookies, candy, herbal teas, honey and jams. Browsing the shelves, I noticed this little jar of "crème de noix" which looked very good. I had never seen anything of the kind, and decided to shell out the 4.85 euros they asked for it (this has got to be excellent karma, right?).
It is made with just ground walnuts, sugar and water, at a monastery called "Monastère de la Transfiguration", in Terrasson-Lavilledieu, in the Périgord (South-West of France). I spread some on toasted bread for breakfast, and can officially declare it delicious. It's nicely grainy, like artisanal nut butters tend to be, with a full walnut flavor, brought out – not overshadowed – by the sugar. I am also seeing lots of potential uses in desserts, probably pear or apple-based…
Monastica
11 rue du Pont Louis Philippe
75004 Paris
01 48 87 85 13