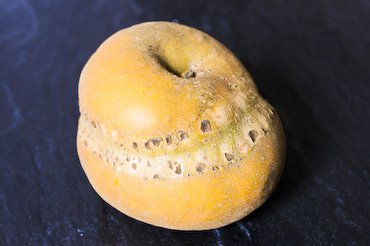 Patte de loup — literally, wolf's paw — is the name of an heirloom variety of apple that is chiefly grown in the Northwest of France, and is mentioned in horticultural documents as early as the Middle Age.
Small and oddly shapen, with a rugged, brownish yellow skin that often cracks and scars as if a wolf had clawed it, it is typically the kind of apple that did not stand a chance in the modern battle for glossy and perfectly calibrated specimens.
And yet the patte de loup is very close to apple perfection in my book: sweet and tart, with a firm flesh that is juicy but not too crisp, it does equally well eaten au couteau, i.e. sliced with a knife and munched on out of hand, or baked into a tarte tatin or an apple cake.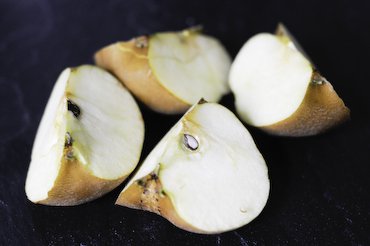 With thousands of known cultivars, the apple has to be among the most diverse of all fruits, and browsing through the poetic names of different varieties brings me about as much joy as I am saddened by the depressing uniformity of supermarket selections.
This is why I make it my mission to seek out unconventional apples at greenmarkets, organic stores, and apple farms*, and I hope you do, too.
Any favorite heirloom variety with a quirky name or blissful flavor you want to tell me about?
~~~
* The particular apple pictured above I got from Alain Milliat's Paris restaurant the day I was invited to try out their new Sunday brunch. Milliat is known for producing remarkably flavorful fruit juices from carefully chosen varieties and origins he indicates on the label, so it made complete sense there would be patte de loup apples in the fruit bowl.