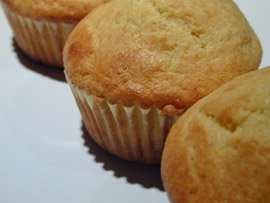 Oh. My. Muffin.
These corn muffins you see here were made with the mix that Alicia sent me a little while ago, as part of her Maryland Delights food package.
I hadn't had a corn muffin since my California days, and they were as excellent as I remembered, if not even more so. This mix is made by a brand named Washington, and boasts golden sweet corn as its first ingredient — while the Jiffy Corn Muffin Mix lists Enriched Flour, Niacin, Iron, Thiamine Mononitrate, Riboflavin and Folic Acid before cornmeal even shows up! This may very well explain the taste difference.
And um, as enthusiastic a baker as I am, there is definitely something to be said for baking mixes : you dump the mix in a bowl, add a beaten egg and a half-cup of milk (which was, quite eerily, exactly the amount left in the carton), and then stir-pour-bake. The most time-consuming thing was, possibly, lining the muffin pan with paper cups.
Nice and golden, subtly sweet with a great corn flavor, they developped the tastiest crust on top. We ate them still warm, just out of the oven. Maxence seems to be a horizontal muffin eater, but I am most definitely a vertical muffin eater, bottom-to-top : remove the paper liner, but gently, to minimize the amount of muffin that stays stuck on, for grating the paper cup with your teeth isn't acceptable in all situations, and just isn't as enjoyable as you might expect. Flip the muffin upside down and bite into the bottom of the muffin, gnawing at the moussy yellow goodness, until you are left with the top crust and just the right amount of remaining muffin flesh. Take a moment to admire your crispy flying saucer with the eyes of love, and eat it blissfully in a circular motion, crusty side down.
And now, dear and resourceful readers, my question to you is : does anyone have a from-scratch recipe that makes corn muffins as delightful as these?