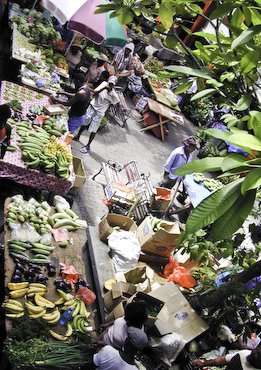 On the last Saturday of our Seychelles vacation, we were on the island of Mahé, the largest and most populated of the archipelago (ooh, a good 150 km2 and 70,000 inhabitants!), which holds the small capital city, Victoria. Only a handful of streets, but still, it's the biggest in the country. It has a daily food market, and Saturday mornings are the busiest, so that's the moment we chose to visit.
This is a covered market mostly, held in an airy building painted with bright colors and full of palm trees, but some of the food stands sprawl out onto the neighboring streets.
The fish section was very impressive: on wooden tables lay huge fish, whole or cut, and smaller ones, held in bunches with straw passed through their gills, as well as stacks of dried and salted fish. I would have been hard-pressed to recognize any of those types of fish, and no name or price tag was to be seen. A strong smell and a cloud of happy flies hovered above it all.
The meat section was in a separate building. The air was chilly from the air-conditioning, and it smelled heavily of raw meat. The merchants, most of which looked to be Chinese, chatted with the customers, letting them handle the meat enthusiastically, looking for the perfect piece.
The bulk of the stands were held by a multitude of merchants selling their small crop of produce : bananas, papayas, caramboles (starfruit), pineapple, jamalacs (small hard fruits, strawberry-shaped), tomatoes of various colors, slices of giraumon (pumpkin), cabbage, squash in all shape and form, cucumbers, okra, small heaps of tiny multicolored pimentos, and a host of others, unknown to me, shaped like ribbed cucumbers, mini-artichokes, mini-cauliflower bouquets, round puffy eggplants… All this made for a very colorful sight.
At one end of the market, a few stands sold a variety of local spices, sauces, teas and jams. We spent a while there, trying to decide what to get. We ended up going for papaya jam, vanilla essence, cinnamon powder and cinnamon bark, methi seeds (a.k.a. fenugreek), curry powder, dried chili peppers, and bunches of dried lemongrass strings.
In a street right outside the market, we stumbled upon a small and busy bakery. A crowd of customers stood, lined up in no apparent order along the large counter, money in their hand, extending their arm to catch the saleswomen's attention. I imitated them, had to fight a bit to hold my ground, and bought an assortment of sweet things that we enjoyed over the next couple of days: crumbly shortbread with a light coconut taste, flaked pastry strips sprinkled with sugar, moist banana poppy seed bread, small banana fritters of a texture resembling that of French canelés, and strips of sweet brioche.
Whenever we travel, I love to visit markets, it's always a great way to get in touch with the local way of life, and this one was no exception.