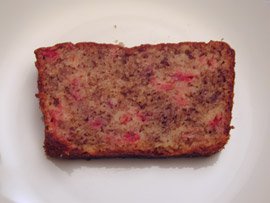 I had read about this recipe a little while ago on Mariko's blog. She credited Melissa for it, who had herself gotten it from Wilson's Farm in Lexington, MA. I'd always wanted to make a banana bread but never had, and the addition of cranberries sounded great. A few months ago, my grocery store was selling cranberries, very uncharacteristically I might add, and I had bought a basket with this bread in mind, and frozen it until the occasion arose to make it.
And arise it did! On Sunday night, my friend Marion invited me to dinner at her appartment, along with our other friends Stéphane and Caroline. The three of them had spent the day having a picnic and hiking in Fontainebleau and they'd be home just in time for dinner, so it would be a simple, whip-something-up affair.
No reason to skip dessert though, and around seven, I looked at the clock and thought : by golly, there's just enough time to bake a Cranberry Banana Bread! So I did, giving a call to Marion to let her know dessert was in the oven. The news was met with a little shriek of joy.
The batter was very easy to assemble, and by the time the bread was done, the apartment was filled with a very, very promising smell. I unmolded the banana bread cautiously, wrapped it in foil, placed it in a bag and took it with me on the metro ride to Marion's place. I could tell people were trying to locate where the yummy smell came from, while I kept a straight face, with the precious but innocent-looking bundle, still warm on my lap.
After a delicious dish of pasta alla carbonara, we dug into the banana bread. It turned out to be delicious : not too sweet, with the tartness from the cranberries well balanced by the stable banana taste. It was baked just right, nice and moist, with a slightly crispy outer crust. The slices also looked very appetizing, with pretty cranberry red freckles in the brown and white cake. I will definitely make it again, possibly substituting other berries or cherries for the cranberries, as they're not so easy to find.
Cranberry Banana Bread
– 1/4 C (55 g) butter, softened
– 1 C (200 g) sugar
– 2 eggs
– 2 small bananas, sliced
– 1 C (110 g) cranberries
– 1/4 C water
– 1 tsp vanilla extract
– 1 3/4 C (200 g) flour
– 1 1/2 tsp baking powder
– 1/2 tsp baking soda
– 1/2 tsp salt
– 1/4 tsp cinnamon
(Serves 6.)
Preheat the oven to 180°C (360°F). Grease a 9 by 5 inch (22 by 12 cm) loaf pan.
Cream the butter and sugar together in a food processor. Add in the eggs one by one, mixing well between each addition. Add in the banana slices, the cranberries, the water and the vanilla extract. Mix again until blended, but not too much : it's nice if the banana and cranberries are not completely mushed.
Sift together the flour, baking powder, baking soda, salt and cinnamon. Add the dry ingredients into the batter, and mix until just combined — do not overmix.
Pour the batter into the pan and bake for approximately 55 min or until the top of the cake is nicely brown and a cake tester comes out clean.
Let rest for ten minutes, then run a knife around to loosen the sides, remove from the pan, and transfer to a rack to cool completely.
Original recipe : Wilson's Farm, Lexington, MA. Via Melissa.