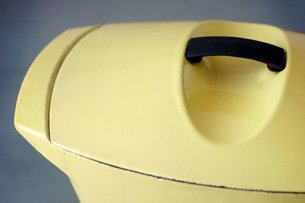 [Chick Yellow Coquelle]
Please join me in welcoming this yellow addition to my cocotte collection! Coquelle is a line of Le Creuset cast-iron pots designed by Raymond Loewy in 1958. They come in different colors, shapes, and sizes, but all of them share the same old-fashioned futuristic look, as if they were just about to take off from your stove and fly away to some distant planet where unattended stews do not scorch enamel and milk does not boil over.
I had spotted a re-edition at a Parisian department store earlier this year, and it looked glossy and seductive, but what I really wanted was one from the original production, in good enough a shape that I could use it, but with enough signs of wear to show it had been previously loved.
I first turned to a small store in my neighborhood called Et Puis C'est Tout! that specializes in objects and furniture from the 50's to the 70's — Ricard pitchers, plates with disco flower patterns, and bright orange plastic lamps. The owner knew what I was talking about, he didn't have any in stock, but he explained that he did come across these cocottes from time to time, and that I should check back. And check back I did, every week or so, until I didn't even need to ask anything anymore. I would pop in, wearing my most hopeful smile, but he would invariably shake his head with sympathy, "Sorry, no luck so far."
Meanwhile, being a girl of my time, I was also keeping an eye on a certain popular auction website, the French version of which occasionally offered what I was looking for. On a handful of occasions I had the naivety to believe I was very close to winning the ticket, but it turns out I am not very good at what they call "sniping" — not such a bad thing when you think about it, but I still mourn for a medium cocotte in the elusive pale violet shade. Whoever got it, I hope he's treating it kindly.
And then last week, this yellow specimen appeared on the website, with a reasonable price tag and the "Buy it now!" logo that promises an easy, heartbreak-free purchase. And a few days later, just in time for my birthday, my very own Coquelle landed on my doormat (remind me to buy flowers for my building's superintendant, who must be getting a little tired of lugging packages up the stairs for me).
My new/old Coquelle is just what I hoped it would be. It is one size smaller than my Staub cocotte so they are quite complementary, it has a few token scratches around the lid and handles, and the inside is nicely seasoned from years of use: the French word for that is culotté (which also means "cheeky" if applied to a person), and as popular wisdom tells us, c'est dans les vieux pots qu'on fait les meilleures soupes — old pots make the best soups. I shall make it my duty to check the accuracy of that saying.
Et Puis C'est Tout!
72 rue des Martyrs, 75009 Paris