Pissaladière is a specialty from Nice, in the South of France. It's a thin-crust onion tart topped with black olives and anchovies, baked on a pizza-style dough.
The name comes from pissalat (pee-sah-lah), a Provençal condiment of puréed anchovies, cloves, thyme and bay leaves that used to be spread on the dough before baking. Nowadays, it's rare for the cook to actually make this condiment; it's more common to feature the anchovies whole and on top, as I'm showing you here.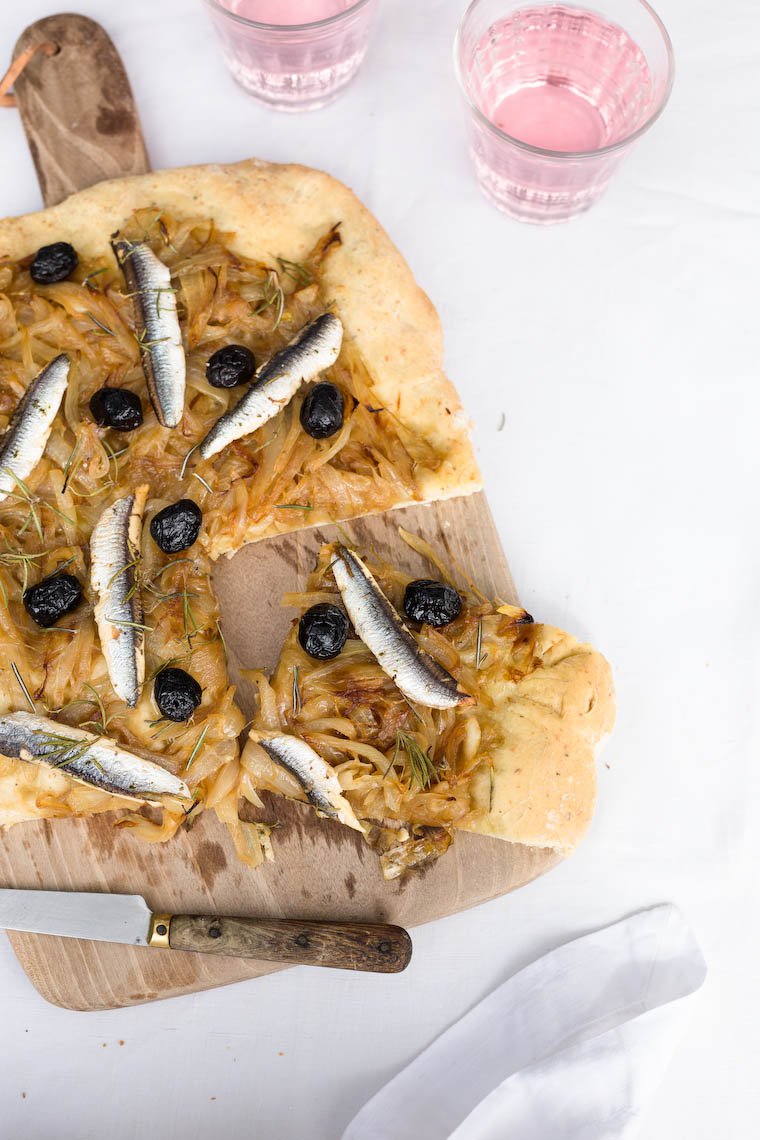 My paternal grandmother was from the North of France originally, but she lived in the South for decades — in Marseille as a newlywed, then in Vence when my grandfather retired. As a result, her cooking repertoire was full of Provençal hits, and my mother, who learned a lot about cooking from her, made many of the same dishes when I was growing up. (Hence the zucchini bias.)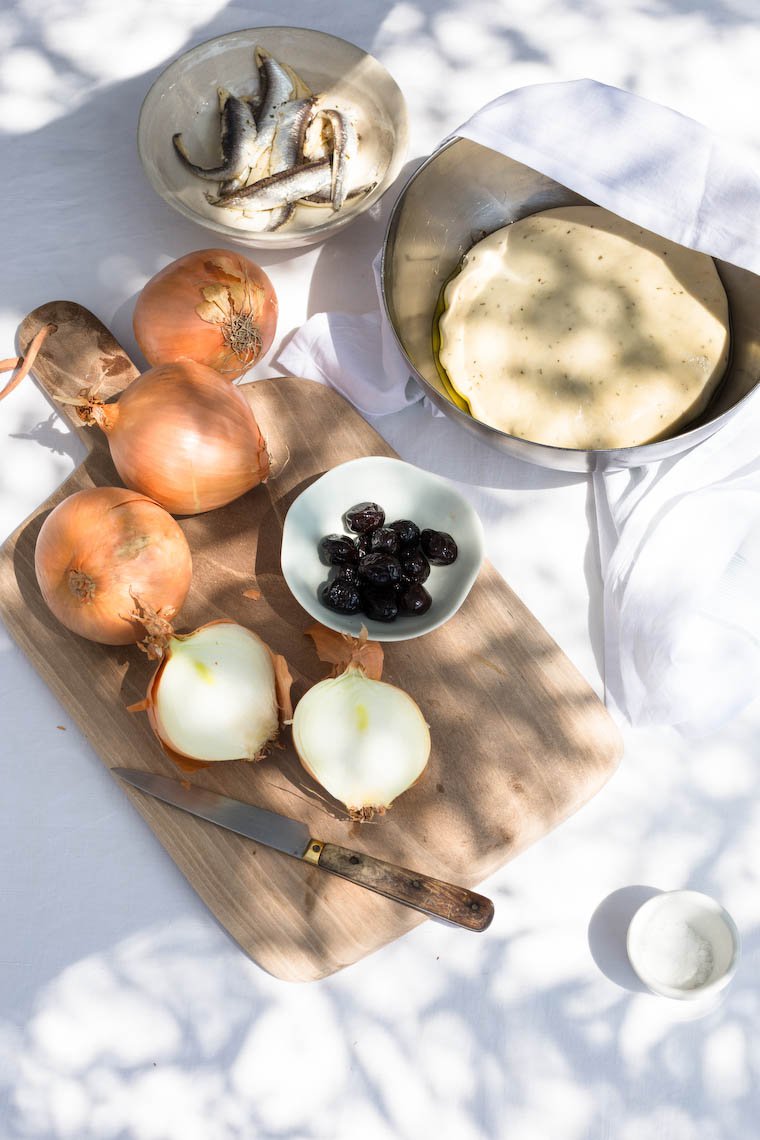 Pissaladière was a favorite as soon as the days got a little warmer: the ingredients for it are available year-round, but it is definitely a summery dish in spirit, one that is best enjoyed when you make it — if at all possible — on vacation with your mother and sister, while your father prepares his signature vinaigrette for the greens you will serve on the side.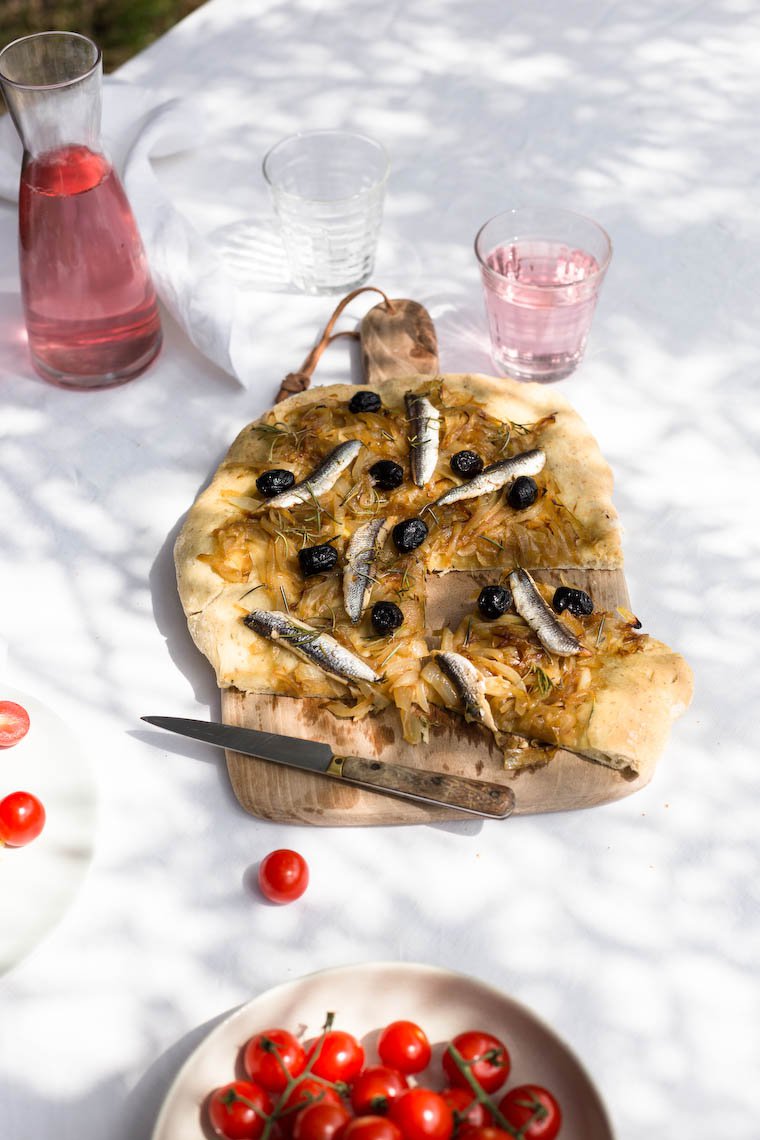 Who among you remembers that I had first posted a recipe for pissaladière back in 2004? Fourteen years ago, my friends, fourteen years ago! But naturally the photo was hideous, and the recipe wasn't very precise, so I thought it was high time for a fresh take on this timeless treat.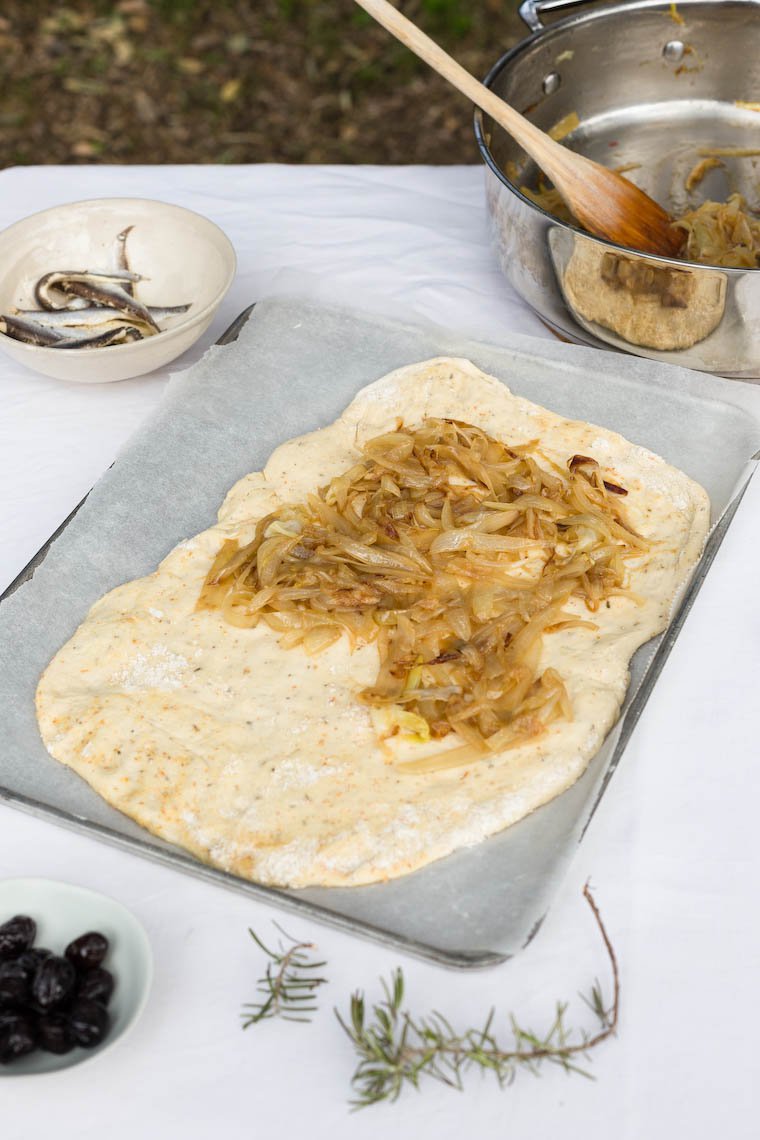 And I am delighted to present it to you with the gorgeous photos that my photographer-friend Céline de Cérou took in the shade of her very own olive tree, in her beautiful garden in Marseille, the very city where my grandmother likely made her first pissaladière back in the 1930's.
Full circle indeed.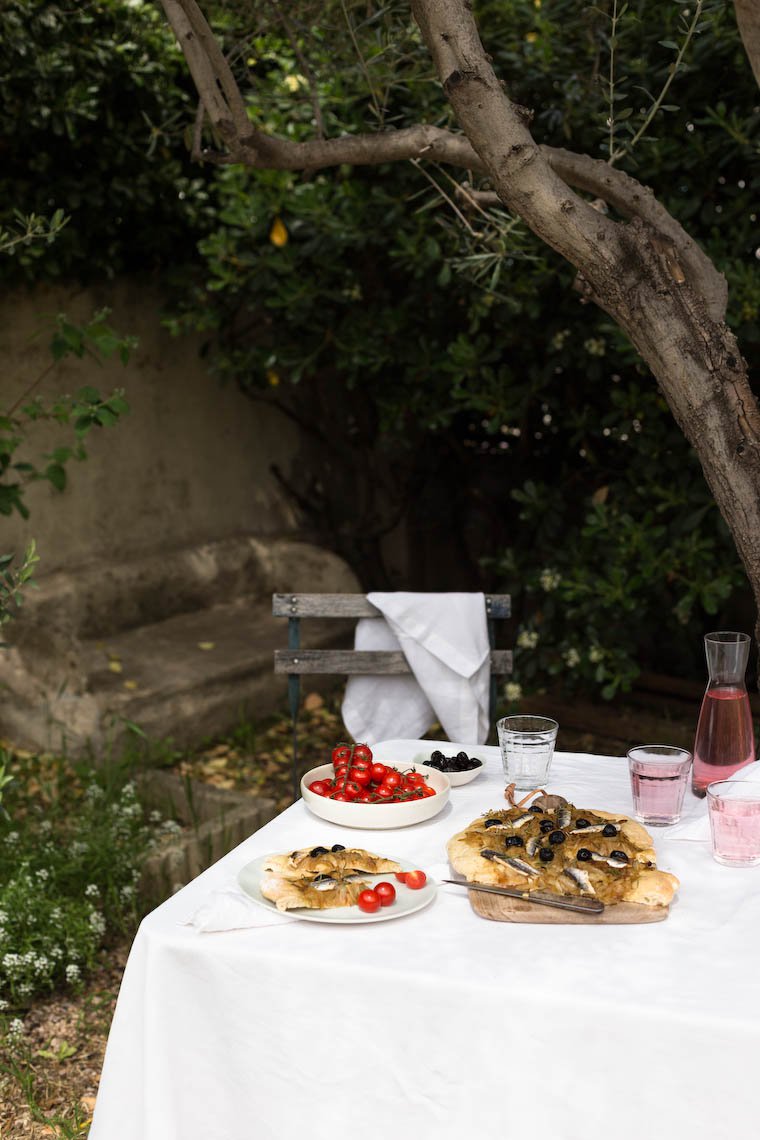 Have you tried this? Share your pics on Instagram!
Please tag your pictures with #cnzrecipes. I'll share my favorites!
Pissaladière (French Onion Tart) Recipe
Ingredients
For the bread dough:

250 grams (about 2 cups) all purpose wheat flour (I use T65 flour)
1 teaspoon instant yeast
120 ml (1/2 cup) lukewarm water
1/2 teaspoon fine sea salt
1 tablespoon olive oil
1/2 teaspoon herbes de Provence (mix of dried herbs such as thyme, rosemary, basil...)

For the topping:

1 tablespoon olive oil
600 grams (1 1/3 pounds) yellow onions, thinly sliced
1/4 teaspoon fine sea salt
50 grams (1 3/4 ounces) fillets of anchovies packed in olive oil, drained
A dozen black olives
Fresh thyme or rosemary
Fleur de sel
Instructions
Start preparing the bread dough 2 hours before.
Place the flour in a large bowl and form a well in the center. Pour the lukewarm water into the well, add the instant yeast, and let rest for 5 minutes.
Add the salt, rosemary, and oil, and mix with a fork until it comes together. Knead on a clean countertop or in a stand mixer fitted with a dough hook, until the dough is smooth and elastic, about 8 minutes with a mixer and 12 to 15 minutes by hand.
Gather the dough into a ball.
Clean the bowl, grease it with a little oil, and add the ball of dough. Cover with a kitchen towel and allow to rise at room temperature for 1 hour.
In the meantime, prepare the sautéed onions.
Heat 1 tablespoon olive oil in a skillet. Add the sliced onions and the salt. Cover, switch to low heat, and cook for 30 minutes, stirring every now and then, until the onions are tender and translucent.
Remove the lid, switch to medium heat, and cook for 5 more minutes, stirring regularly, until almost all the cooking juices have evaporated.
Preheat the oven to 200°C (400°F) and line a baking sheet with parchment paper.
On a lightly floured work surface, roll out the dough into a circle, about 25 cm (10 inches) in width, and transfer to the prepared baking sheet. Spread the sautéed onions on the circle of dough, leaving a margin of about 1 cm (1/3 inch) around the edge.
Bake for 20 minutes, until the edges of the crust have risen and turned golden brown.
Add the anchovies on the pissaladière in a star pattern, top with the olives, and bake for 10 more minutes.
Add a little fresh thyme or rosemary, and a pinch of fleur de sel. Serve hot, slightly warm or cold, with a green salad on the side.
https://cnz.to/recipes/starters/pissaladiere-french-onion-tart-recipe/
Unless otherwise noted, all recipes are copyright Clotilde Dusoulier.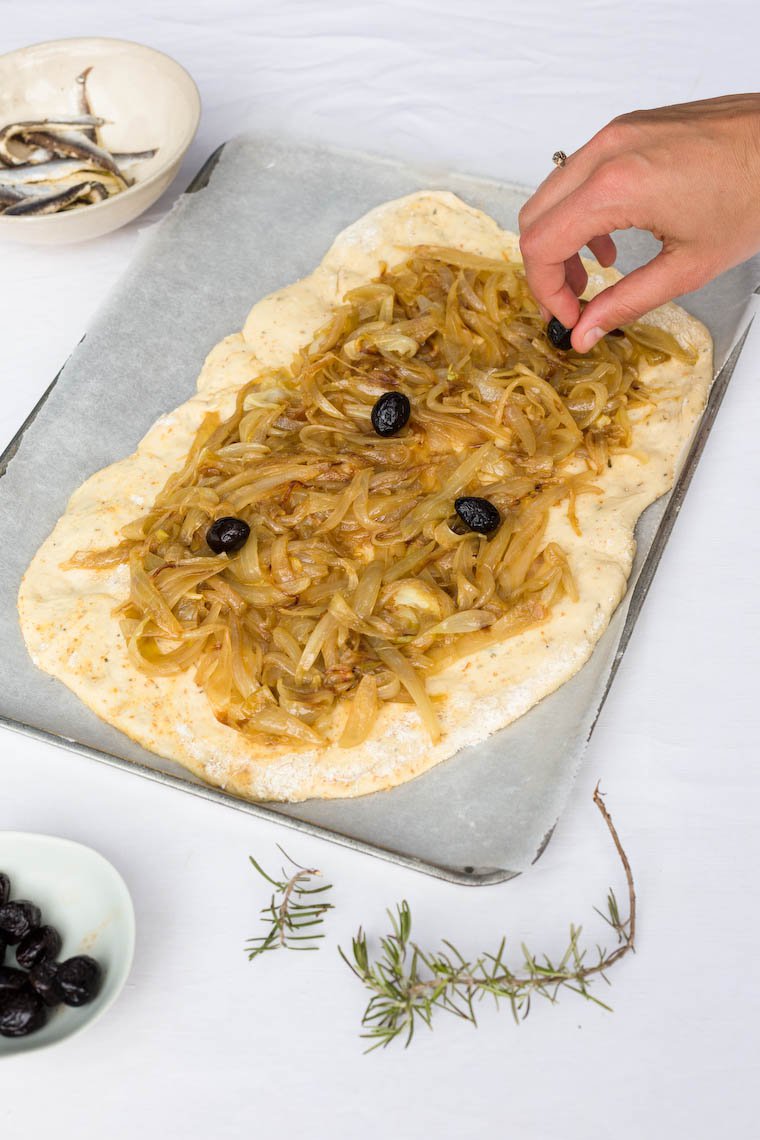 Photography by Céline de Cérou.