Did you know you can actually make your own mustard? From mustard seeds? And that it's fun, and easy, and really really good?
I sort of knew but didn't try it until I found a recipe for whole-grain fermented mustard in an excellent little book called Aliments fermentés, aliments santé, by Marie-Claire Frédéric, that's all about fermented foods.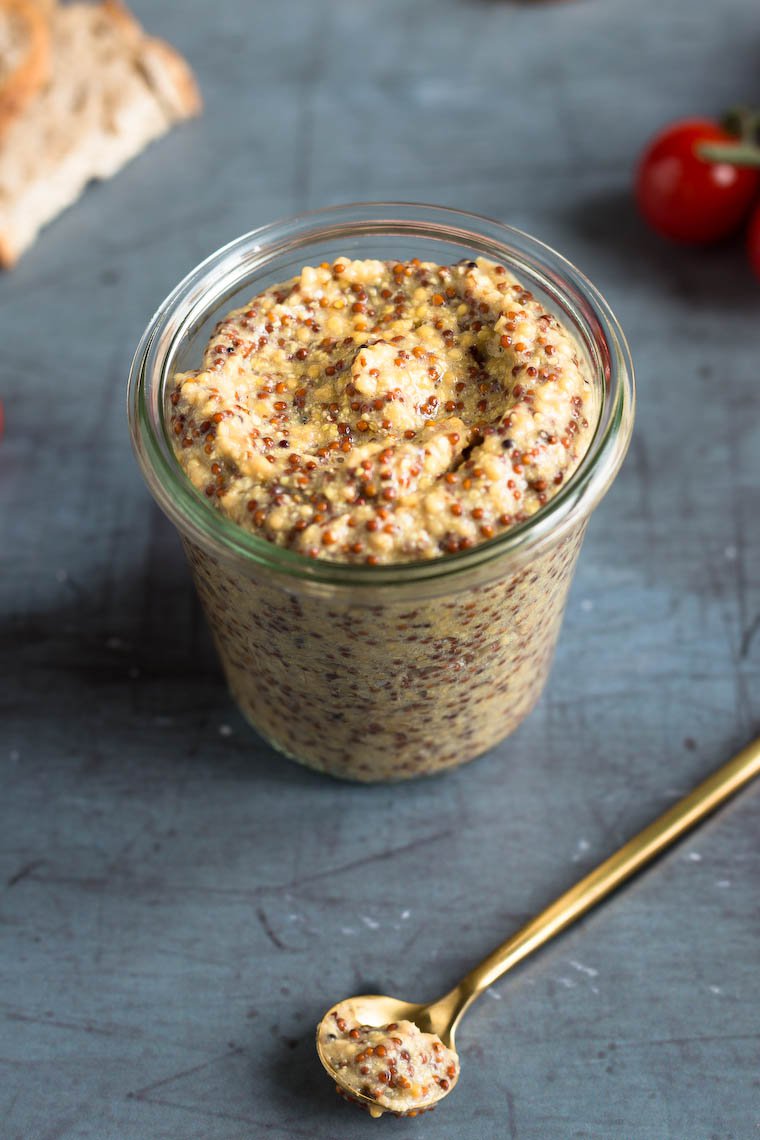 This recipe is specifically for whole-grain mustard, which we call moutarde à l'ancienne or old-fashioned mustard in France. It is the attractive kind of mustard that is often served at restaurants, and in which you can still make out the mustard seeds. It has a lovely texture, slightly nubby, and looks very sophisticated.
In this recipe, you really make it the old-fashioned way, by fermenting the mustard seeds for five days, to allow them to develop their flavor and, of course, all the good probiotics that fermented foods offer our bodies.
What happens next is you'll simply drain the fermented mustard seeds and process them with apple cider or white wine vinegar, and there you have it: homemade fermented mustard that has all the qualities of store-bought mustard, with an added layer of flavor from the fermentation. The mustard will be sharp to begin with, and will grow milder over time, as some people do.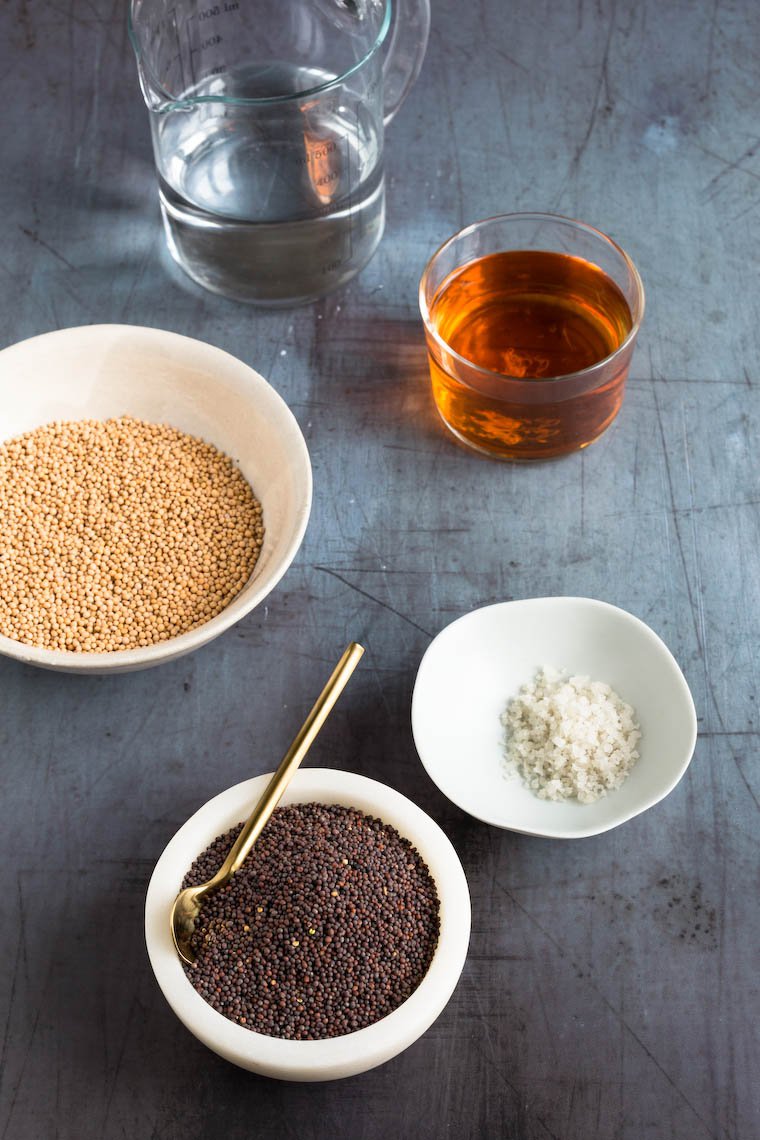 The recipe makes two jars, and you can keep one for yourself and give away the other as an unexpected and very cool gift to those friends who appreciate that sort of thing.
At my house, we eat this mustard with just about everything. It is especially good in vinaigrettes, in croque-monsieur and grilled cheese sandwiches, in a sauce for roasted vegetables, in the mustard chicken recipe from my first book, or classically served with cold cuts and roasted meats.
Are you game to try it?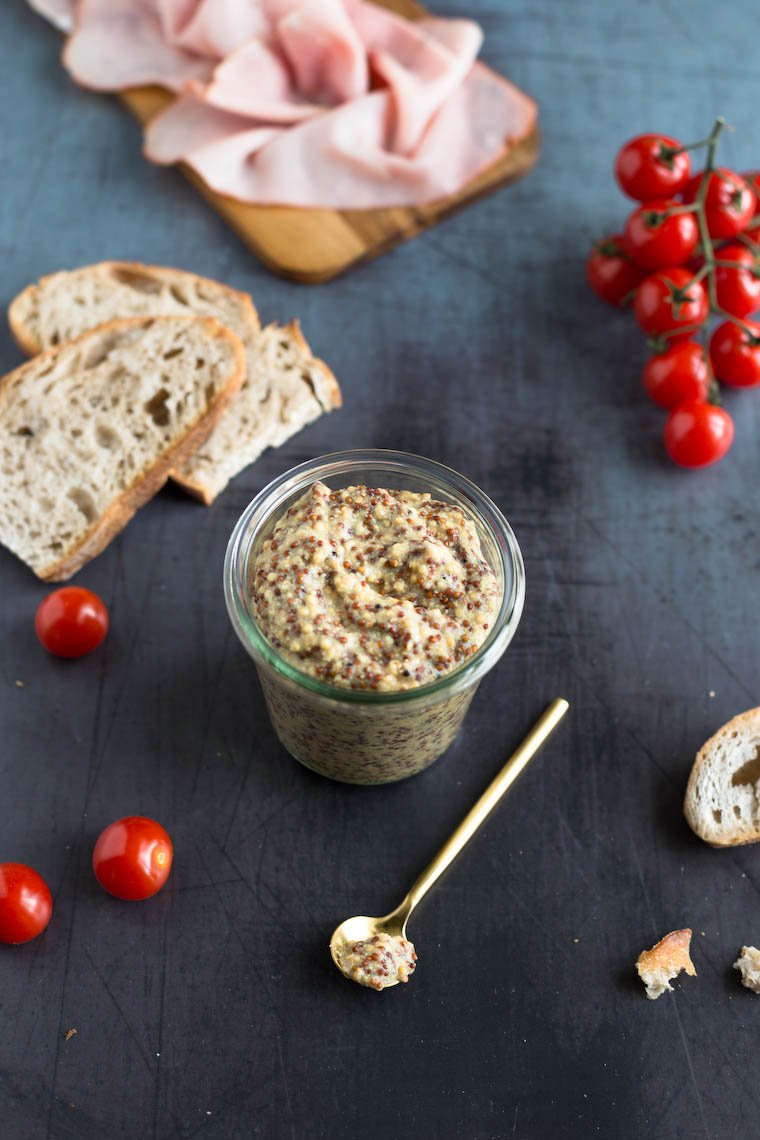 Photography by Céline de Cérou.

Have you tried this? Share your pics on Instagram!
Please tag your pictures with #cnzrecipes. I'll share my favorites!
Whole-Grain Fermented Mustard Recipe
Ingredients
10 grams (2 teaspoons) coarse sea salt
300 ml (1 1/4 cups) non chlorinated water
200 grams (7 ounces) organic mustard seeds, half black and half yellow
140 ml (1/2 cup plus 1 tablespoon) apple cider vinegar or white wine vinegar
Instructions
Dissolve the salt into the cold water; this liquid is called the brine.
Place the mustard seeds in a large 1/2-liter jar (about 2 cups), and add the brine to cover the mustard seeds by 1 mm.
Close the jar tightly, and allow to ferment for 5 days at room temperature. (After 48 hours, the mixture will become fizzy; this is normal.)
Have ready two thoroughly clean 200-ml (about 3/4 cup + 1 tablespoon) jars, glass or earthenware, with lids.
Drain and transfer the mustard seeds to a blender or food processor, and pulse until coarsely crushed. Add the vinegar and pulse again until you reach the consistency you like.
Divide among the jars. Tap them on a wooden counter or board to remove any air pocket.
Close tightly and keep refrigerated.
https://cnz.to/recipes/sauces-condiments/whole-grain-fermented-mustard-recipe/
Unless otherwise noted, all recipes are copyright Clotilde Dusoulier.