I only ever buy meat from Mathieu, my butcher of choice at the organic greenmarket on Saturday mornings. I used to stop by every week and get enough for two meals or so, but the line is so long these days — word must have gotten out that his stuff is good — that I had to change my strategy: I go less frequently, buy a little more, and freeze the extra. (On the weeks that I don't buy meat, I get eggs directly from Mathieu's wife, Laure, who stands at the register, thus skipping the line. This is accepted practice and can be done without feeling wrathful gazes flare up your back.)
My favorite items to get are duck breasts, which I rub with spices and roast, pork tenderloin, boudins blancs, and andouillettes (chitterlings sausage), all of which freeze very well. And every once in a while, when I'm in the mood for red meat, I get slices of bavette (flank steak) or merlan (a lesser-known, tender cut from the inner thigh) to have for lunch when I get back from the market.
Because this is very flavorsome meat, I usually cook it in the simplest of ways, by just searing it in a grill pan. But the other day I decided to try something a little different and marinated the meat in a paste-like, miso-based marinade. It was so quickly assembled and yielded such savory results it may well become a Saturday lunch staple around here.
If you take a look at the ingredients' list for the marinade, you'll notice that I used fresh turmeric, found at the organic store. The skin was a little wrinkled, but it was the first time I'd seen any for sale, so I jumped at the opportunity anyway. As the young man who rung up my purchases remarked, the rhizomes look like cut fingers (he's lucky it's my kind of humor). They can be peeled, grated, and used much like ginger, and just like ginger, the fresh stuff has little to do with its dried and ground persona, which I've always thought tasted a bit musty. The one caveat is that fresh turmeric is a powerful tincture that will, if you're not careful, stain your countertop, hands, sleeves, food processor, left cheek, and favorite napkin with highlighter yellow, near indelible blotches. Just thought you might like to know.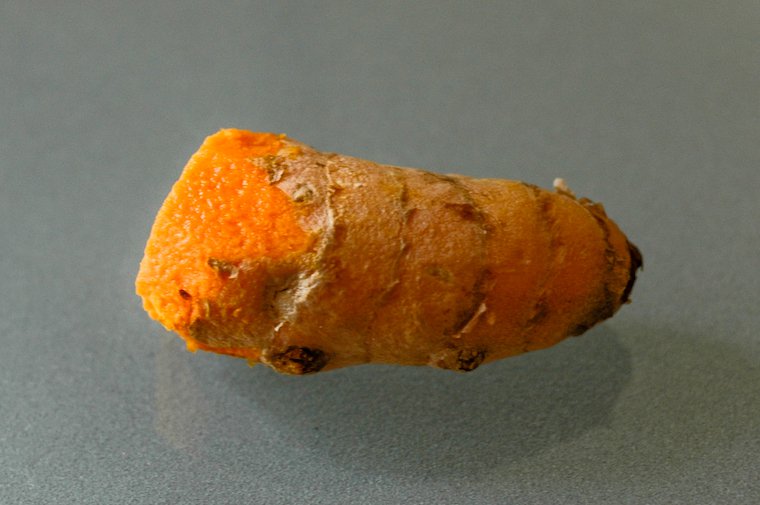 Have you tried this? Share your pics on Instagram!
Please tag your pictures with #cnzrecipes. I'll share my favorites!
Miso Glazed Flank Steak Recipe
Ingredients
1 tablespoon miso (a paste of fermented soy, barley and/or rice; pick one that's gluten-free as needed)
1 tablespoon mirin (sweet rice wine)
1 teaspoon soy sauce (I use a low sodium tamari; pick one that's gluten-free as needed)
1 teaspoon sesame oil
shichimi tōgarashi (or other type of ground chili pepper, with or without added spices), to taste
A small section of fresh turmeric or ginger, peeled and finely grated
2 slices flank steak (bavette in French), about 260 grams (9 ounces) total
Instructions
In a medium bowl, whisk together the miso, mirin, soy sauce, oil, tōgarashi, and turmeric to form a paste. Add the meat, stir and flip to coat well on all sides. Cover and leave to marinate at room temperature for 20 to 30 minutes, stirring once or twice during that time. (You could prepare this in advance and marinate the meat for a few hours; keep the bowl in the fridge then and take it out 20 minutes before cooking.)
Place a lightly greased skillet or grill pan over high heat. When it is very hot, add the steaks to the pan and cook for 1 1/2 to 2 minutes without disturbing. Flip the meat, brush it with what's left of the marinade (see note), and cook for 1 1/2 to 2 minutes on the other side. (Depending on the thickness of the steaks and the hotness of your stove, this will produce rare to medium-rare meat; adjust the cooking time to the desired doneness).
Transfer the steaks to a plate or cutting board, cover with foil to keep warm, and let rest for 2 to 3 minutes before serving. Serve with a salad of mâche, or slice into crosswise strips to eat with chopsticks over Japanese rice.
Notes
For food safety reasons, most recipes instruct that the marinade in which meat has been marinating be cooked, but this is meat so fresh I would feel comfortable eating it raw, and very little marinade is left in the bowl, so I don't feel it's necessary to cook it off. If you prefer to be on the super-safe side, skip the brushing step.
https://cnz.to/recipes/meat-charcuterie/miso-glazed-flank-steak-recipe/
Unless otherwise noted, all recipes are copyright Clotilde Dusoulier.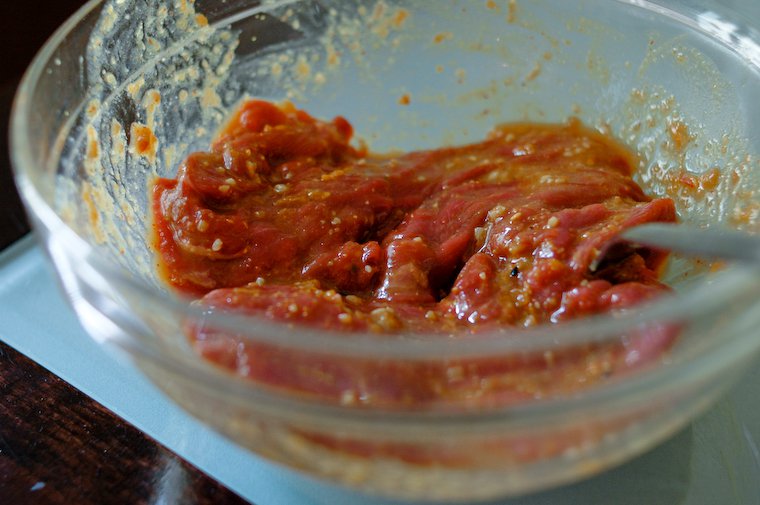 This post was originally published in March 2009 and updated in April 2015.