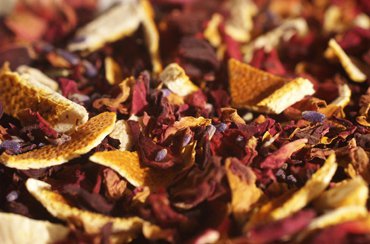 [Homemade Tisane]
Sometimes it worries me how much herbal tea I drink.
You see, I love coffee, I adore tea, and nothing warms my heart and my quill like having a hot mug within mitten's reach. But as I get older*, it seems I can't drink caffeine like I used to could**.
Maxence and I share a pot of light-brewed American-style coffee — also known to the French as jus de chaussette — over the course of the morning, and I'll have the occasional espresso after lunch, or I might steep myself a cup of tea at some point in mid-afternoon. But the rest of the time, if I want the "off" button in my brain to function when I go to bed, I must turn my affections to other beverages — namely, herbal teas.
I know, I know, herbal tea can be frightfully boring, and just uttering the words — whether you say "herbal tea," or "tisane," or "infusion" — can make you feel about a hundred years old.
However, I have found that, just like vitamins can be added back to nutrient-stripped processed foods, the fun can be added back to the tisane by the simple process of mixing your own blend — think of it as designing your own fragrance, yes?
I buy my ingredients in bulk from specialty stores (see Paris sources below), combine them to suit my taste, and keep my custom-made tisane in a tea canister, in which it barely has time to settle before it's time to mix some more.
These days, my basic formula is as follows:
– 3 parts dried hibiscus,
– 2 parts dried rose petals,
– 1 part dried orange rind***, snipped into small pieces.
It makes a delightful ruby-red iced tea in the summer, and would work well as a granita, too, as this week's ELLE suggests.
Depending on my mood, I'll add:
– dried peppermint leaves,
– dried lavender buds (they have a soothing effect),
– dried thyme (particularly if I feel a cold coming on),
– dried cacao bean husks (bought at the Salon du Chocolat last year, and I've never found anything similar since, so I'm making a very prudent use of these).
Try it sometime, and once you've experimented and designed your signature blend, would it not make the perfect homemade gift for your friends, especially the ones who own fluffy slippers and a matching cat?
* I love that phrase; it makes me feel like such a grown-up.
** Please watch Dead Man at your earliest convenience.
*** I buy it pre-dried, but I plan to try and dry my own soon using this technique. Update. Following my mother's suggestion in the comments below, I tried letting the rind of an (organic) orange dry out for a few days on a plate placed in a warm spot in my apartment. It works beautifully!
~~~
Paris sources for tisane ingredients in bulk:
L'Herboristerie du Palais Royal / map it!
11 rue des Petits Champs, 75001 Paris
01 42 97 54 68
La Graineterie du Marché / map it!
8 place d'Aligre, 75012 Paris
01 43 43 22 64
Le Comptoir Colonial / map it!
22 rue Lepic, 75018 Paris
01 42 58 44 84