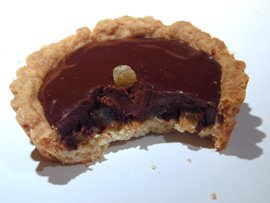 Joyeuse St-Valentin!
Head over to NPR's website for a special Valentine's Day commentary and the Chocolate and Candied Ginger Tartlet recipe I created for the occasion!
NPR (National Public Radio) is a nonprofit producer and distributor of radio shows that serves over 750 independant radio stations in the US. In particular, their shows are broadcast on KQED, which was my radio of choice while cruising the Silicon Valley freeways — ah, "Fresh Air" and "All Things Considered"!

NPR also offers web-only content to their online visitors, and this is where I gladly step in. The article and recipe will be back announced on today's "All Things Considered" V-Day special…
And for my dear metric-minded readers, here is a converted ingredients' list:
Crust:
– 35 g salted butter, room temperature
– 35 g sugar
– 70 g all-purpose flour
– a dash of milk
Filling:
– 125 ml whipping-cream
– 70 g dark chocolate
– 35 g butter, room temperature, diced
– 3 Tbsp candied ginger
Oven temp: 180°C
Diameter of tart tins: 10 cm